Gazprom Starts Exporting More in May
On May 15, the German energy market regulator – Bundesnetzagentur – denied[1] the 55bn m³/yr Nord Stream 2 gas pipeline derogation from EU regulation. And on May 20 the General Court of the EU declared[2] that the actions brought by Nord Stream against the 2019 directive, which extends certain rules of the internal market in natural gas to pipelines from third countries, are "inadmissible."
Even if the German ruling can be appealed, it is therefore highly improbable that Nord Stream 2 will be in full operation before H2 21 and makes my 2018 fictional saga even more possible, and this even without factoring some US interferences…
The long-term gas transit contract between Russia and Poland for the use of the Yamal-Europe (33bn m³/yr capacity) expired on 18 May 2020. With the pipeline's capacity now auctioned and booked fully in line with EU law, this translates into flows redistribution away from Belarus. Transit has fallen from its long-term average of 90mn m³/d to less than 25mn m³/d only in the last week, translating into a -11% in our monthly data. And this will probably fall further in June as Gazprom has now more incentive to maximise the pre-paid Ukrainian transit.
The transit deal signed on December 29 last year between Gazprom and Naftogaz provides for 65bn m³ transit volumes for 2020. As that should be on a uniform flow of 178mn m³/d[3] or 5.5bn m³/month, any lower historical flow cannot be offset by higher contracted flows later. With lower contracted transit flows, this means that the maximum contracted volume via Ukraine could now only be 57bn m³ for 2020.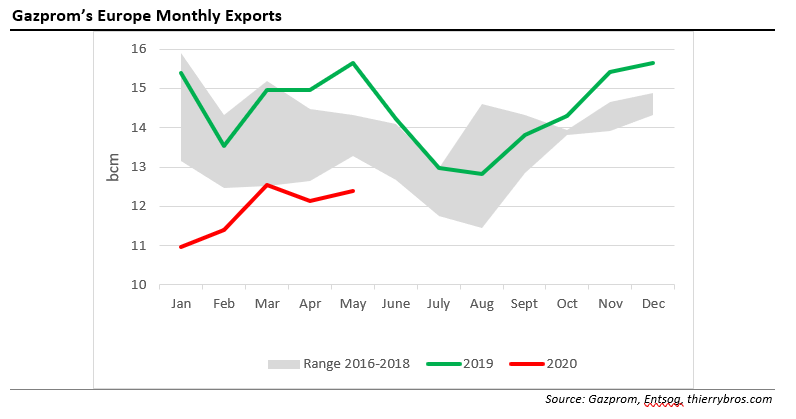 Gazprom's flows were in May 2020 again down massively vs last year (-20.8%) but slightly up vs last month (+2%). The Coronavirus-impacted-demand will continue to restrain EU imports needs, this should now be at the expense of Belarussia and in favor of Ukraine…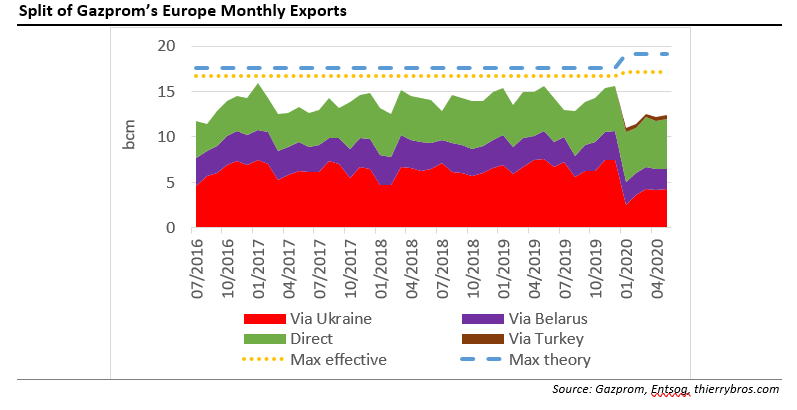 As for storage, since the 54% minimum reached on 2 April, level has increased to 72.8%. The main question left is when is storage going to reach full capacity…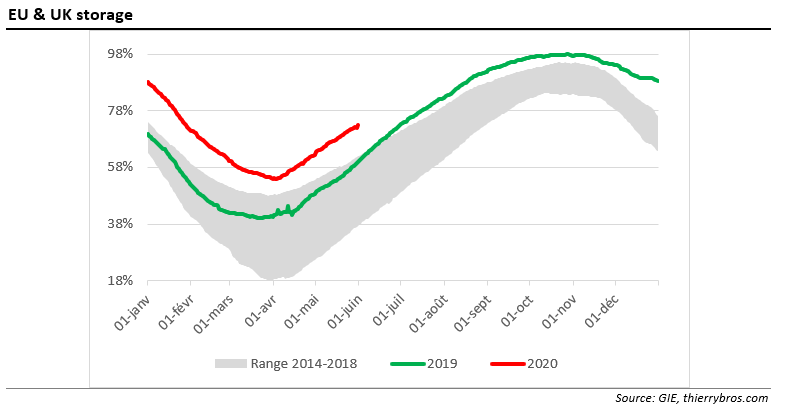 As we have been writing since early this year and contrary to consensus, Gazprom is not the only producer to swing supply any longer. For the first time ever, Gazprom could only hold half of the global spare capacity. All producers are sharing the burden of reducing volumes to the EU and this translate also in less pipe gas and LNG imports. With more and more US LNG cargoes cancelled, we should expect LNG send outs to be materially below last year level this summer.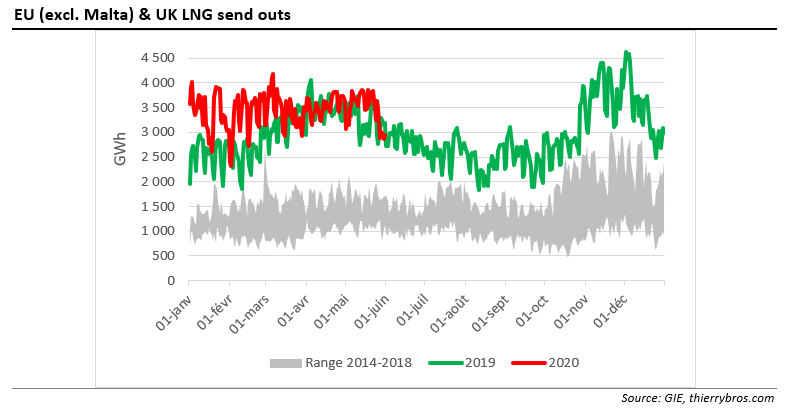 Thierry Bros
2 June 2020
Advisory Board Member, Natural Gas World
---
[3] https://interfax.com.ua/news/interview/635485.html