Gazprom goes green [NGW Magazine]
The toughening of European legislation regarding carbon dioxide emissions (CO2) and, consequent rise of aggressive decarbonisation policies, make the future of fossil fuels – and natural gas in particular – increasingly questionable.
The large-scale deployment of renewable energy sources, whose costs have been consistently falling in recent years, has already reduced the demand for hydrocarbons, notably in power generation. If current trends continue it would entail serious and far reaching consequences for the whole European gas community, which will be obliged to significantly cut production.
Many European oil and gas companies have already started to prepare for a post hydrocarbon future and seeking new sources of revenue. Thus, German energy giant E.ON opted for the separation of the company's fossil fuel assets from its emerging low-carbon business.
The fossil fuel assets have been transferred to newly-created company Uniper. That leaves E.ON actively involved in wind, solar and battery storage generation across Europe and the US.
Its peers have embarked on similar transformations. Norway's Statoil has become Equinor and is world leader in carbon capture and storage technology (CCS). French Total has intensified its expansion into solar through the acquisitions of Tenesol (100%), Off Grid Electric (15%), and Powerhive (15%) in 2016, as well as of Eren RE (23%) in 2017.
A DIFFERENT STRATEGY
The decrease in natural gas consumption in Europe could have even greater implications for Russia's Gazprom. The company is the largest supplier to the continent; it exported 200bn m3 in 2018.
Gazprom is a big energy company with a well-diversified business portfolio, which includes power generation, storage, media and even sport. However, its core business still relates to gas extraction and marketing, providing more than three-quarters of the company's profits.
State-owned Gazprom has a special role in the Russia, being a major driver of the economy. That means that events affecting Gazprom automatically have a knock-on effect on the federal budget and the economy as a whole. In this context, even modest actions by the EU that reduce gas demand have a significant impact on the country's hydrocarbon wealth.
Contrary to EU energy companies' efforts to diversify their businesses, Gazprom's adaptation to the EU's climate-centred policies revolves around the promotion of natural gas as the 'greenest' of the fossil fuels and the most cost-effective solution for reducing greenhouse gas (GHG) emissions. Therefore, to maintain demand in European markets, Gazprom tries to promote gas as a part of the EU low-carbon energy mix.
Senior executives rarely miss an opportunity to stress the strategic importance of gas in contributing to global climate change action. In January 2019 at the European Gas Conference in Vienna, deputy chairman Alexandr Medvedev presented Gazprom's vision of the future role of gas.
"In Gazprom's view, natural gas can and must play a key role in Europe's shift to a low-carbon economy," he said. "Natural gas can substitute coal in power generation and oil products in transportation. Thus, Europe will be able to meet 2020 climate targets."
As part of this strategy Gazprom has also been looking for the ways to decarbonise natural gas. The production of hydrogen is viewed by the company as a prime option, since it can be produced using gas without generating additional carbon emissions.
"A new elegant technological solution is introduced with hydrogen," Medvedev continued. "The use of methane-hydrogen fuel in energy and transport, without costly infrastructural changes, will result in a 25-35% reduction in emissions, thus allowing Europe to achieve 2030 climate goals. Finally, a full-scale transition to hydrogen from methane offers the feasibility of the EU's challenging 2050 targets".
GAZPROM'S TRANSPORT VISION
Transport was responsible for almost a quarter of 2017 EU GHG emissions, rendering it the second largest polluter after the energy industry. According to European Environment Agency statistics, emissions from transport generally present an upward trend. They showed continuous growth between 1990 and 2007, followed by a slight decrease of 6% which persisted until 2014 driven mainly by global economic recession. Since then they have risen again.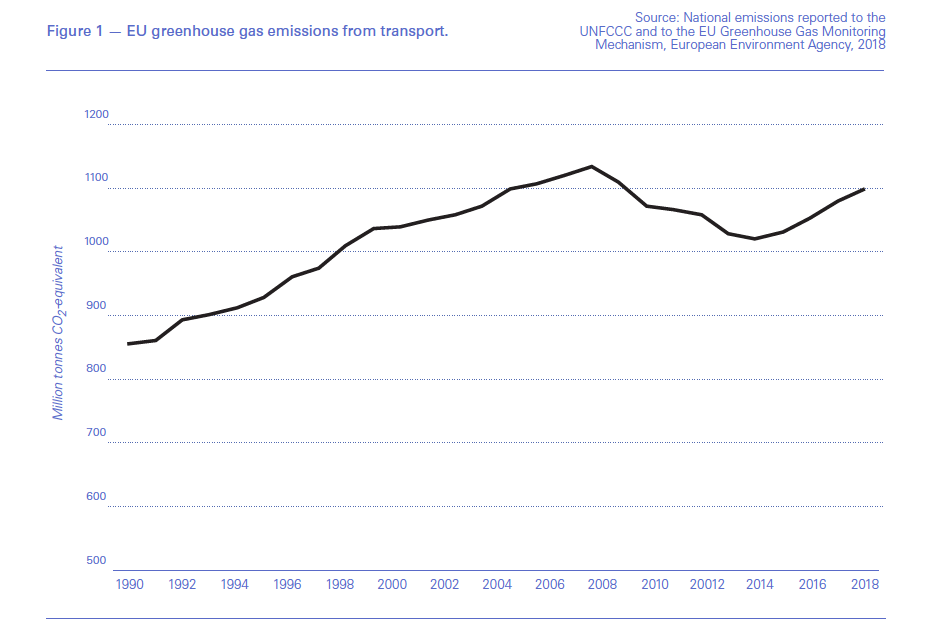 Within the sector, road transport is by far the biggest emitter, accounting for more than 72% of all GHG emissions from transport, followed by maritime (13.6%) and aviation (13.3%).
The 'Strategy for Low-Emission Mobility' is shooting for a reduction of 60% from 1990 levels by 2050. To achieve that, the European Commission encourages the further shift to lower and zero-emission energy for transport.
The priority is being given to advanced biofuels, renewable electricity and renewable synthetic fuels. Natural gas is expected to be increasingly used as an alternative to traditional petroleum-based marine fuels in shipping and to diesel in heavy-duty vehicles, mainly trucks and buses.
These policies offer significant opportunities for Gazprom to maintain its gas exports to the EU. According to Gazprom, gas-fuelled vehicles comply with the highest emission standards (Euro 6), while also being much cheaper than those running on gasoline or diesel.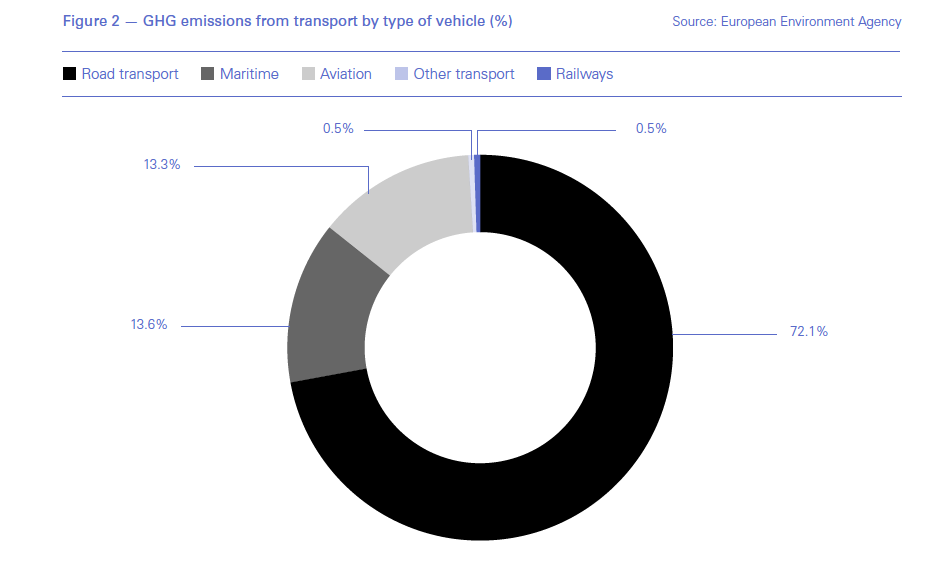 To promote the use of gas as engine fuel in Europe, where the natural gas vehicle (NGV) market is still at an early stage of development, Gazprom has started to invest in gas fuelling stations. By 2017, Gazprom NGV Europe – a wholly owned subsidiary of Gazprom Germania - operated more than 60 compressed natural gas (CNG) filling stations across Germany, the Czech Republic and Poland. That year, CNG and LNG sales in the region via Gazprom Group-owned fuelling stations reached 12.3mn m3.
In 2013, Gazprom and Polish bus manufacturer Solbus introduced Europe's first 11 LNG-powered city buses to the streets of Olsztyn. A similar project in Warsaw resulted in the commissioning of another 35 LNG-powered buses.
Meanwhile, in co-operation with Uniper, Gazprom regularly organises "Blue Corridor" gas-powered car rallies across Europe. In 2016, the events focused on the promotion of LNG for bunkering, which is especially relevant in the context of recent tighter emission control standards for marine vessels, due to take effect in 2020.
The key stages of the rally took place across the whole Baltic Sea region, taking in large cities in Russia, Estonia, Poland, Germany, Denmark and Sweden. The 2017 Blue Corridor "Iberia-Baltia" started in Lisbon and involved both LNG-powered trucks and CNG-fuelled cars. According to Gazprom's estimates, from 2009 to 2015, EU countries participating in the rallies saw a 70% increase in gas filling stations, while the number of gas-powered vehicles almost doubled.
BANKING ON BUNKERING
The international shipping sector has not been affected by the drive to reduce emissions. In 2008, the Annex VI "Regulations for the Prevention of Air Pollution from Ships" of the Marpol Convention was revised by the Marine Environment Protection Committee (MEPC) to tighten emission control standards for sea vessels.
Thus, since 2010 a gradual reduction of sulphur oxides (SOx), nitrogen oxides (NOx) and particulate matter (PM) emissions has been targeted. Emission Control Areas (ECA) to further cut emissions in designated maritime areas have been set up. ECA's cover the North and Baltic Seas, as well as most of US and Canadian coasts and the US Caribbean maritime area. Emission limits for SOx and PM in these areas were reduced from 1% to 0.1% in January 2015. Globally, SOx emissions should be reduced from current 3.5% to 0.5% by January 1, 2020.
These tighter regulations oblige ship owners in these ECAs to drop cheap high-sulphur fuel oil in favour of more environmentally-friendly fuels such as high-purity diesel or "marine diesel" (SOx 0.1%), and LNG (SOx 0%). Operators can also add stack emissions control technologies, the installation of scrubbers in the exhaust systems for example, to prevent harmful emissions. Converting the fleet to LNG-powered ships is another option. However, all the choices are expensive.
Yet from an environmental and economic perspective, LNG is well placed compared with traditional petroleum-based fuels. It releases the lowest emissions of all three major pollutants. The International Energy Agency suggests the use of LNG in maritime transport is 30% more efficient than heavy fuel oil.
The more stringent Marpol standards on SOx and other potent emissions therefore encourage the development of the LNG bunkering market. By 2017, 117 sea vessels had switched to LNG, two-thirds of them in Europe. The continent is the fastest growing LNG bunkering market in the world, with major sea ports going through infrastructural changes to incorporate LNG facilities. LNG refueling stations should be installed in all EU maritime ports by 2020 and all large inland ports by 2025. The majority of planned LNG bunker-filling infrastructure projects are located in the Baltic Sea region, with facilities in Denmark, Sweden, Finland, Estonia and Poland all due. Many of them make up part of the EU's TEN-T Programme, and benefit thus from financial support from Brussels.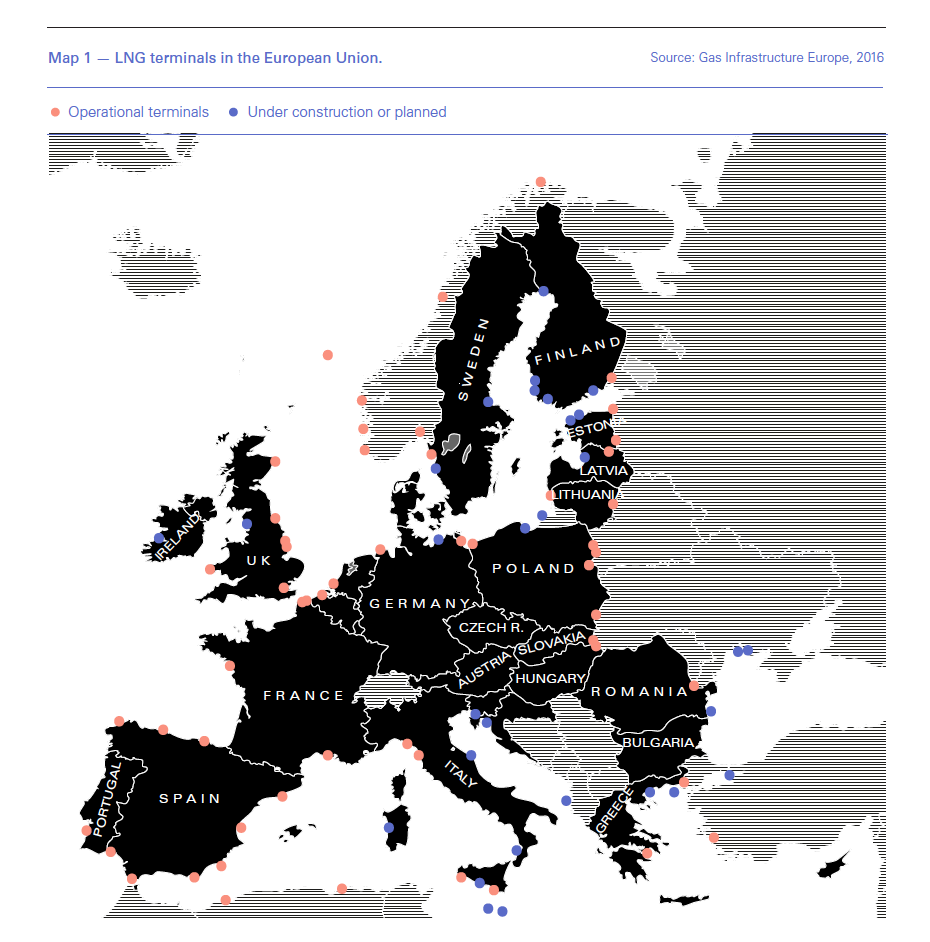 According to the Danish Maritime Authority's estimates, LNG consumption in bunkering in Europe will reach around 10bn m/yr by 2030. This offers an opportunity for Gazprom to benefit from European demand for LNG.
Gazpromneft Marine Bunker, a wholly-owned subsidiary of Gazprom Neft, is one of Russia's leading bunkering companies, operating both at home and in European sea ports such as Riga, Tallinn and Constanta. In 2018, the company's sales of low-sulphur marine fuels at the Baltic sea ports of St-Petersburg, Ust-Luga and Primorsk grew 26% year on year to reach 200,000 tons.
The development of small-scale LNG is a growing part of Gazprom's strategy to expand its bunkering business. The majority of small-scale Russian LNG projects are located in the north-west. LNG plants in Kingisepp Pskov were put into operation in 2016 and 2013, respectively, by Kriogaz, a wholly-owned subsidiary of Gazprombank.
Production at both plants is aimed at bunkering ferries in the Baltic Sea. Since January 2017, Kriogaz has supplied 20,000 metric tons/yr to Estonian energy company Eesti Gaas for bunkering of passenger ferries. Around 2,000 mt are delivered to Kriogas Poland. Gazprom is developing other small-scale LNG projects in Petrozavodsk, Kaliningrad and Vysotsk. Another Gazprom-developed LNG plant, Portovaya-LNG in the St-Petersburg area, is expected to be commissioned in Q2 2019.

Olga Gerasimchuk
---
GAZPROM URGES CAR-MAKERS TO PICK GAS
The chairman of the Gazprom board of directors Victor Zubkov told a conference of motor manufacturers in Togliatti that the country needed to up its game in terms of gas-fuelled vehicles.
Speaking at the Avtovaz site early April, Zubkov said that a wide choice of modern, gas-fuelled vehicles was one of the necessary preconditions for the market. It is important to focus the efforts of all actors on this effort, and to do so in a co-ordinated, systematic way, he said.
Both commercial and private buyers had to have the confidence that the economical to run, ecologically sound and critically, reliable vehicles were also attractive in terms of price and serviceability, he said.
The conference considered how best to develop a domestic market that stimulated demand and encouraged innovation in this transport sector.
Present were officials from the ministries of trade, transport and energy; representatives of domestic and foreign vehicle makers: Avtovaz, Gaz, Kamaz, Hyundai, KIA, Renault and Volkswagen; and financial organisations.
Russian makers today offer over 220 models of gas-fuelled vehicles, mainly passenger vehicles such as buses and minibuses, but also some delivery vehicles, lorries, and specialised 'yellow goods' such as bulldozers.
But for gas to become widespread in this sector, there has to be a wide range of affordable light passenger vehicles.
Between 2014 and 2018, only 20,000 vehicles were made in Russia, which is not enough, the conference was told.
Attendees considered plans whereby domestic and foreign makers could develop the technology within Russia, focusing on cost. They also discussed the concurrent development of a network of filling stations for the vehicles to use.
William Powell