Gazprom Eyes More Sales to EU
Russian gas export monopoly Gazprom will increase export to Europe by 2-3bn m³/yr by 2021, the chairman of its board of directors, Viktor Zubkov, said at the Petersburg Dialogue forum. "Our estimates and long-term contracts prove that we should not reduce volume of gas supplies to Europe. On the contrary, we need to add 2-3bn m³/yr in the coming three to five years," Zubkov said.
In 2015 Gazprom supplied 158.56bn m³ to the far abroad (European countries outside the former Soviet Union and Turkey). In 2016 exports are expected to reach between 166bn m³ and 170bn m³.
During the first five months of this year, Gazprom's export revenues stood at $12.87bn, down 31% on the year, according to the federal trade commission statistics. From January to May, Gazprom's gas export increased by 7.9% and totalled 81bn m³, of which 66bn m³ were delivered to the far abroad, which indicated 16% growth. By contrast exports to CIS member states dropped by 18% to 15.1bn m³.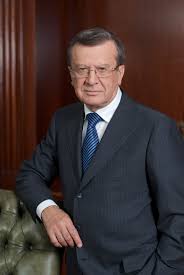 Viktor Zubkov (Credit: Gazprom)
During that period the average price of exported gas was $158.8/'000 m³ ($4.50/mn Btu), 36.4% less than the same period in 2015, according to the FTC.
Gazprom's 'stress case' scenario for this year is based on an export gas price of $151/'000 m³ while the finance ministry's budget envisages a price of $199/'000 m³.
The rise in oil prices since the start of the year could feed through into slightly higher gas prices although most of its European sales have been indexed to spot gas prices, so growing demand especially in northwest Europe and Italy will be critical to its actual receipts. Cuts in Groningen output from October, and the reduction in peak winter gas in the UK thanks to problems at Rough storage, are both bullish signals.
Ilham Shaban