Gazprom Exports up on Higher Transit
The 55bn m³/yr Nord Stream 1 pipeline has two onshore offtake pipes: NEL (which flows west, with a capacity of 62mn m³/d) and Opal (which flows south with a capacity of 100mn m³/d). But the European Court of Luxembourg annulled September 10 the European Commission (EC)'s 2016 decision that allowed Russia's Gazprom to book all the capacity it had in Opal.
The court's ruling means Gazprom is now restricted to 65mn m³/d, the volume it was allowed under a 2009 decision exempting it from EU internal energy market rules approved by the EC and the German regulator. This is a clear win for Poland, Latvia and Lithuania against the EC and Germany as the court recognised that the 2016 decision was taken disregarding the solidarity principle.
The court applied the article 194 of the Treaty on the Functioning of the European Union in a much broader way than EU energy directives that rely on a solidarity mechanism only for extraordinary situations. On September 13, the German federal network agency finally ordered the operator of Opal and Gazprom to implement this EU court decision or face fines.…
Gazprom's flows were up in September compared with August (7.8%) but down compared with last year (-3.5%).
Gazprom's western exports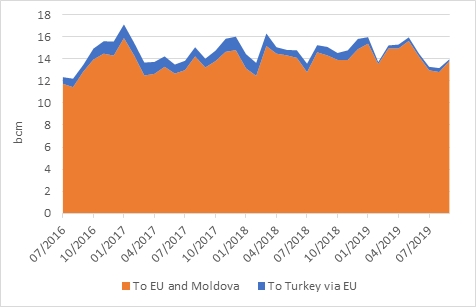 Source: Gazprom, Entsog, Thierrybros.com
After low transit to Turkey via EU since February, transit completely stopped September 17.
Split of exports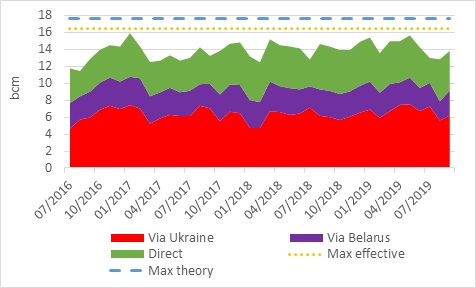 Source: Gazprom, Entsog, Thierrybros.com
This means that Nord Stream 1 is now limited to 127mn m³/d out of a total 151mn m³/d or 84% on an annual level. This is reflected in the actual data with direct flows down 5.9% month on month while transit via Belarus and Ukraine has gone up by respectively 31.2% and 10.6%. As the Opal decision was implemented in mid-September, we can expect this trend (lower direct flows and more transit) to continue in October.
Thierry Bros
October 2, 2019
Advisory Board Member, Natural Gas World
Source: Gazprom, Entsog, thierrybros.com