Gazprom exports slump to record low in November
Gazprom's flows to Europe reached a six-year record low in November, down 24% year on year and 2% month on month. Since the end of September, when the energy crunch started in Europe, Gazprom significantly reduced its supply. Analysts can only wonder why the world's biggest gas producer is tightening the global gas market so much, as EU policymakers fail to publicly question the Russian government about this strategy.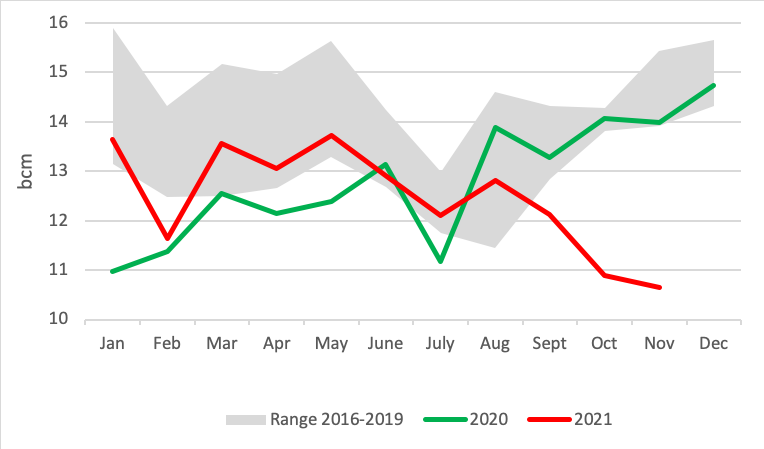 Source: Gazprom, Entsog, thierrybros.com
Gazprom's monthly exports to Europe
Year-to-date, Gazprom has exported a record low volume to Europe. Exports in January through November are down 11% or 17bn m3 versus the pre-COVID level.
Gazprom's Jan-Nov exports in 2017-2021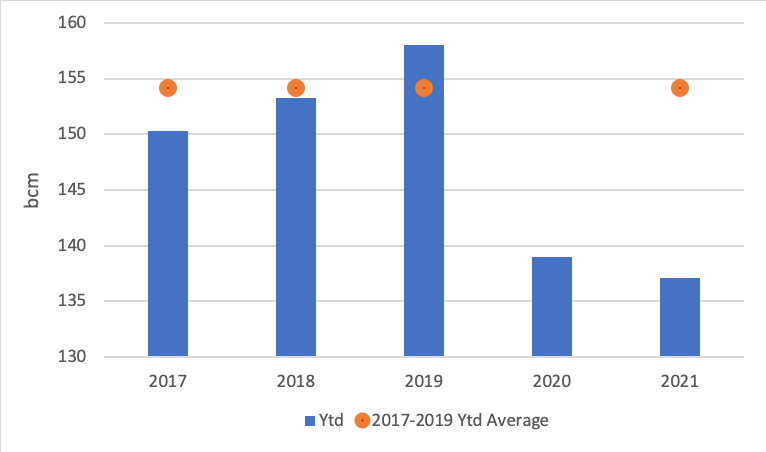 Source: Gazprom, Entsog, thierrybros.com
The transit deal signed in December 2019 between Gazprom and Naftogaz provides for 40bn m3 transit volumes for 2021. As the 40bn m3 should be on a uniform flow of 110mn m3/day, any lower historical flow cannot be mitigated by higher contracted flows. For higher flows, Gazprom needs to book additional capacity with Gas Transmission System Operator of Ukraine (GTSOU), as it already did last year. But Gazprom seems, so far, unwilling to do so, with transit volumes via Ukraine capped at the maximum contracted allowances.
Split of Gazprom's monthly exports to Europe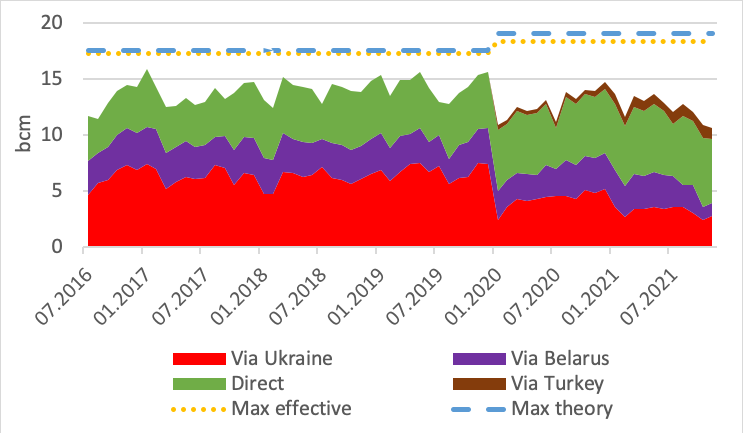 Source: Gazprom, Entsog, thierrybros.com
LNG send outs were in November up 16% month on month and 54% year on year as record prices are making Europe now more attractive. Year-to-date, Europe LNG regasification is down by 21bn m3 compared with the same period of 2020, but fortunately up 7bn m3 versus the historical pre-COVID average. LNG supply has been reacting more than the Russian pipe imports vs the spike in prices.
European LNG send outs (excluding Malta)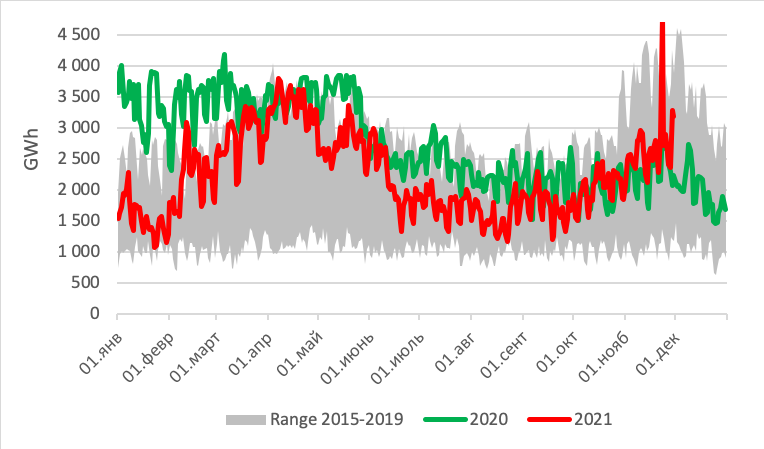 Source: GIE, thierrybros.com
On April 19, Europe's gas storage was at its lowest level, only 29.1% full, before a delayed and feeble injection period. Persistent limited Russian and LNG flows have pushed storage lower than its 2015-2019 historical range, leading to record high TTF prices. Storage started the withdrawal period on October 21 at a worrying mere 77.5% full. We have now 21bn m3 less gas in stock than the average volume for this period of the year. With 68% storage full on December 1, can we get through winter with such a tight balance and low Russian imports?
European storage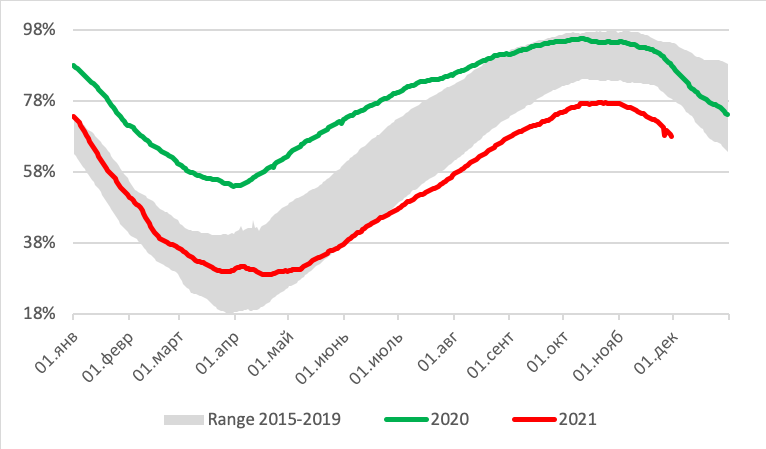 Source: GIE, thierrybros.com
In November, contrary to President Putin's promise, Gazprom did not refill its EU storage. Is Gazprom merely mastering its "uncertainty strategy"[1] that is providing it with added benefits and forcing everyone to react to its unexpected moves, or could there also be a hidden agenda?
Gazprom's nine-month results were published on November 29. The average price of gas sold in extended Europe was a record high of $313/'000 m3 ($9/mn btu) in Q3 versus a record low of $110/'000 m3 ($3$/mn Btu) in Q2 2020. We can expect Gazprom's realised price to be much higher in Q4. As the gas is a rent-seeking industry and as Gazprom is profitable above $125/'000 m3 ($3.6/mn Btu), all price increases translate into increased profits. During this energy crisis, Gazprom's profits could have financed the entire construction of Nord Stream 2!
Gazprom's quarterly exports and realised price in Europe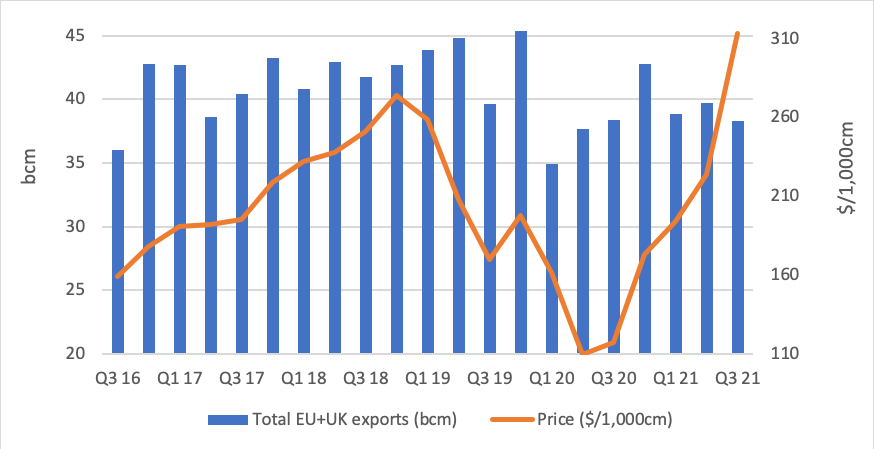 Source: Gazprom Export, Entsog, Gazprom, thierrybros.com
The Nord Stream saga continues. On November 15[2], German regulator BNetzA accepted Naftogaz's involvement in the Nord Stream 2 AG certification process. On November 16, the German regulator suspended the procedure to certify Nord Stream 2 AG as an independent transmission operator. Following a thorough examination of the documentation, BNetzA concluded that it would only be possible to certify an operator of the Nord Stream 2 pipeline if that operator was organised in a legal form under German law. "The certification procedure will remain suspended until the main assets and human resources have been transferred to the subsidiary and BNetzA is able to check whether the documentation resubmitted by the subsidiary, as the new applicant, is complete. When these requirements have been fulfilled, BNetzA will be able to resume its examination". This is likely to delay further the regulatory approval of Nord Stream 2 and reinforces my 2020 views that this pipe is not going to be operational in the near future.
The grand EU 'Green Deal' or 'fair energy transition' launched by Ursula von der Leyen when taking the helm of the EU Commission back in December 2019 is turning under her own eyes into an unfair climate disaster where customers pay more and EU emissions are getting worse. But the recent suspension of the procedure to certify Nord Stream 2 AG could be a good opportunity for the commission to restart direct high-level talks with the Russian government to find a broad agreement on energy as we now all know that gas is needed in the energy transition.
Dr. Thierry Bros
Professor at Sciences Po Paris & Energy Expert
---
[2] As defined by Sadek Boussena and Catherine Locatelli in 2017 in "Gazprom and the Uncertainty of the European Gas Market: Towards a Market Share Strategy?" available in French at https://journals.openedition.org/rei/6513