Gazprom Exceeds Production Forecast for 2016
Russian gas giant Gazprom ramped up gas production to over 419bn m³ in 2016, exceeding 2015's output; and also the planned output for 2016 by 11bn m³, CEO Alexei Miller said in a December 30 address.
A key source of new gas is the Bovanenkovskoe field on the Yamal Peninsula, producing 264mn m³/d of gas. Gazprom also increased its gas reserves in 2016, with a ratio to production for the period of 1.09.
To deliver the gas through its northern route to feed Nord Stream 2, it is expanding the Bovanenkovo – Ukhta 2 and Ukhta – Torzhok 2 lines. The Bovanenkovo – Ukhta 2 pipeline is nearing completion, and "we will soon celebrate the commissioning of new gas transmission and production capacities at the Bovanenkovskoe field," he said.
It will largely reshape gas flows as regards Russian consumers and international markets. Among other things, by expanding the northern corridor and gradually constructing new facilities in the northwestern part of the Unified Gas Supply System, "we are building up capacities for gas deliveries via the offshore Nord Stream 2 gas pipeline," he said.
"The Nord Stream 2 project is running strictly on schedule. The gas pipeline will be brought online in late 2019. I am absolutely convinced that we will put onstream new gas export capacities in a timely manner and in full. The amount of gas to be supplied across the Baltic Sea via Nord Stream and Nord Stream 2 will total 110bn m³/yr."
Exports were also up, Miller said. The aggregate amount of gas exported to Europe in 2016 is expected to exceed last year by 12%, or above 179bn m³ in total, a record. Of that, Germany is the biggest, taking 50bn m³ this year, also a record, with deliveries there set to grow further.
"According to the data obtained this morning, the Nord Stream line has been operating above nameplate capacity, supplying upward of 150mn m³/d [54.7bn m³/yr, compared with design of 55bn m³/yr]. The growing consumption in our key partner countries is yet another proof of the fact that the Nord Stream 2 project is extremely important to the European market," he said.
Gazprom CEO Alexei Miller in celebratory mood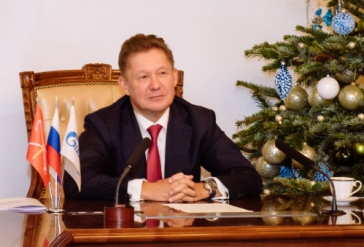 (Credit: Gazprom)
Gazprom's working gas storage capacity grew by 1.26bn m³ over the year and as of the end of the injection period, its facilities contained 72.1bn m³, "an all-time high for Russia's gas industry. Meanwhile, the potential daily deliverability of our UGS system reached a record 801.3mn m³," he said. As well as Russia,Gazprom is also responsible for winter deliveries in Belarus, Kyrgyzstan and Armenia.
Throughout this year, Gazprom continued to successfully implement the eastern gas program, including the Power of Siberia line, of which 445 km have been laid. It has been drilling gas development wells at the Chayandinskoe field as well as carrying out predevelopment work at the Kirinskoe and Yuzhno-Kirinskoe fields on the Sakhalin shelf; and the Kshukskoe and Nizhne-Kvakchikskoe fields in Kamchatka. To treat the gas it is building the 42bn m³/yr Amur gas processing plant, Russia's largest.
Gazprom also completed the construction of Russia-based transmission capacities for the supply of 31.5bn m³ into the Turkish Stream gas pipeline. That includes the linear part and compressor stations. "Our operating results in 2016 indicate that the Russian party is fully ready to start delivering gas via Turkish Stream," he said.
Gazprom has also carried on with the government-mandated gasification program, laying pipelines in rural areas, and by the end of 2016, Russia's average gas penetration level will have exceeded 66.5%.
William Powell