Gazprom, Engineers India to Study Gas Pipeline Feasibility
Gazprom and Engineers India will look to explore the routes for a pipeline to transport gas from Russia and to India.
The two parties on October 15 signed a memorandum of understanding on the sidelines of the 8th BRICS summit in Goa, India regarding the same. Alexey Miller, chairman of the Gazprom Management Committee, and Sanjay Gupta, chairman and managing director of Engineers India signed the MoU, Gazprom said in a statement. A working group will be set up to define the modalities of collaboration.
"India is among the largest modern economies. At present, India ranks fourth in energy consumption worldwide, with the annual consumption growth averaging 6.33%. As of last year, India consumed 56.5bn m3 of gas, which was merely 7.14 per cent of its energy mix," Miller said. "India's indigenous gas production is steadily declining. The share of gas imports in the country's energy mix is rapidly growing. According to experts, India's need for gas imports will increase threefold as early as 2022 and more than sixfold by 2030. I am convinced that Gazprom and Indian companies have significant prospects for mutually beneficial cooperation in the gas industry."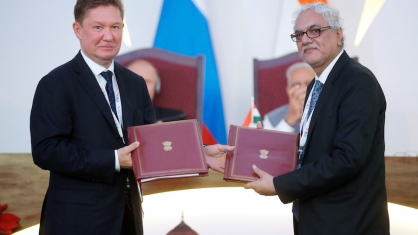 Alexey Miller (left) and Sanjay Gupta (Credit: Gazprom)
While Russia is keen to exports gas to India, New Delhi too is keen to increase the share of gas in its energy mix. "India is moving towards becoming a gas based economy and the government is working aggressively to increase the share of gas in the country's energy basket," country's oil minister Dharmendra Pradhan said on September 6 while launching Gas4India campaign in New Delhi.
However, the ambitious pipeline could be non-starter because of severe logistical challanges it could face in actual implementaion. One route that could be considered is that via China and cutting through the Himalayas. This could be a very expensive option and most likely unviable. The other option could be central Asia but the TAPI gas pipeline is already reached the construction phase which will carry Turkmen gas to India..
Shardul Sharma