Gazprom Clears Nord Stream 2 Deal
Gazprom's board of directors February 4 formally approved the purchase for €30mn of the remaining 50% stake in Nord Stream 2 AG, the developer of the NS2 project to add an additional 55bn m³/yr of subsea gas transmission capacity between Russia and Germany.
Gazprom acquired the first 50% stake in Nord Stream 2 AG in December 2016.
Nord Stream AG 2 was created for the planning, construction and use of the NS2 pipeline. The company's headquarters are located in Zug, Switzerland. Originally, Nord Stream AG 2 was 100% owned by Gazprom Gerosgaz Holdings BV – a Netherlands-registered subsidiary of Gazprom.
Polish anti-monopoly regulators last year withheld their consent from five western companies to become NS2 shareholders. Engie, OMV, Shell, Uniper and Wintershall still back NS2 but how they provide future financial support, and the project's final method of financing, have not yet been determined.
The Nord Stream-2 (NS2) project involves the construction of two pipeline strings with a combined 55bn m3/yr, which would effectively double the capacity to flow gas from Russia beneath the Baltic Sea to the German coast to 110bn m³/yr. The new pipe will have a different starting point but it will be built substantially parallel to the existing NS1.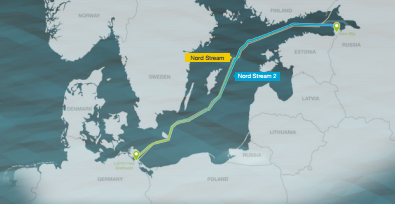 Routes of the existing NS1 (yellow) and planned NS2 (blue) pipelines (Map credit: Nord Stream 2 AG)
The total NS2 project cost is up to €9.9bn, inclusive of financing costs. Construction of the 1,200-km pipeline is scheduled to begin in 2017 and Nord Stream-2 is planned to become operational by the end of 2019.
NS1's first pipe started flowing gas in November 2011, while the second parallel pipe started flowing in October 2012.
Azerbaijan desk