Gazprom Buys Uzbek Gas in 5-yr Contract
Russian state Gazprom has signed a short-term gas purchase agreement with Uzbekistan, buying 4bn m³/yr for five years starting in 2018, it said April 5. Most of Uzbekistan's exports flow to China, along with gas from other former Soviet central Asian republics.
The signing ceremony took place in Moscow in the presence of Russian president, Vladimir Putin and Shavkat Mirziyoev, the president of Uzbekistan.
Gazprom also signed an agreement on joint geological exploration and engineering and innovation work within Uzbekistan and possibly co-operation in engineering and training of personnel. "Russian-Uzbek cooperation in the gas sector is thriving and expanding to new areas," said Gazprom CEO Alexei Miller (pictured, below). He did not say what the gas would be needed for. A number of other Russian companies are expanding output at home while Gazprom has spare production capacity.
He also did not take the opportunity in the statement to mention Lukoil, another Russian company which has been producing gas in Uzbekistan for some years and is planning to produce more.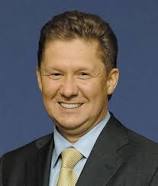 (Credit: Gazprom)
Meanwhile, the European Bank for Reconstruction and Development (EBRD) said April 6 that it and other co-lenders are providing $158mn to Tajikistan for the upgrade of its Qairokkum hydropower plant, with $50 million to come from the EBRD's Green Climate Fund. The London-based multilateral bank said that hydropower provides 98% of Tajikistan's electricity and that the loan would help safeguard supplies and keep them climate-friendly.
William Powell