Gazprom: a weakened leader
Gazprom exported 2.5bn m3 of gas to Europe in September 2023, versus 2.3bn m3 in the same month last year, marking the first time in two years that the company's exports to the continent are up year/year, by 9.4%.
Gazprom's monthly gas exports to Europe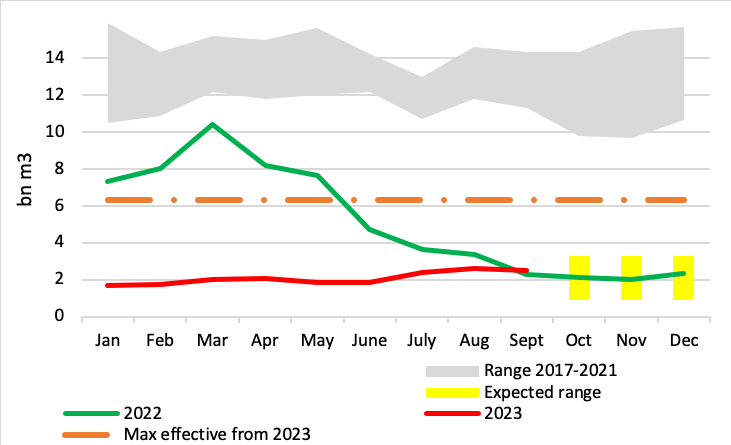 Source: Gazprom, Entsog, thierrybros.com
As forecasted back in 2022, Gazprom's narrow export flow range to Europe remains between 0.9 and 3.3bn m3/m.
Split of Gazprom's monthly gas exports to Europe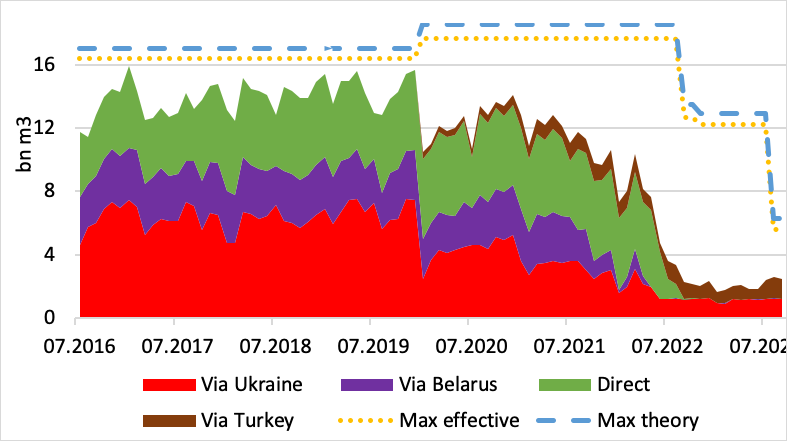 Source: Gazprom, GTSOU, Entsog, thierrybros.com
Assuming flows to Europe to stay from now at the same level as last year, Gazprom production for 2023 could be around 355bn m3, and Gazprom would only account for 9% of total worldwide production. This is in stark contrast to prior to the Ukrainian war, when Gazprom accounted for 13% of worldwide gas production. After a drop of 20% in 2022 versus 2021, we should expect an additional 14% decline in Gazprom's gas production in 2023. But the main problem is not so much the volumes of gas sold but the profitability. In the second quarter of 2023, Gazprom was in the red, though not for the first half of the year. To stay profitable, Gazprom must sell gas for more than $21bn/quarter.
The weaponisation of gas by the Russian state has tremendously weakened Gazprom, which will find it more and more challenging to stay profitable. On top of that, in the EU, Gazprom should be overtaken in volume terms this year by Algeria's Sonatrach as the bloc's top gas pipeline supplier. Since 2022, on top of its historical sales under long-term contracts, Sonatrach has developed a new business to sell additional pipe quantities on the EU spot market.
Gazprom's gas production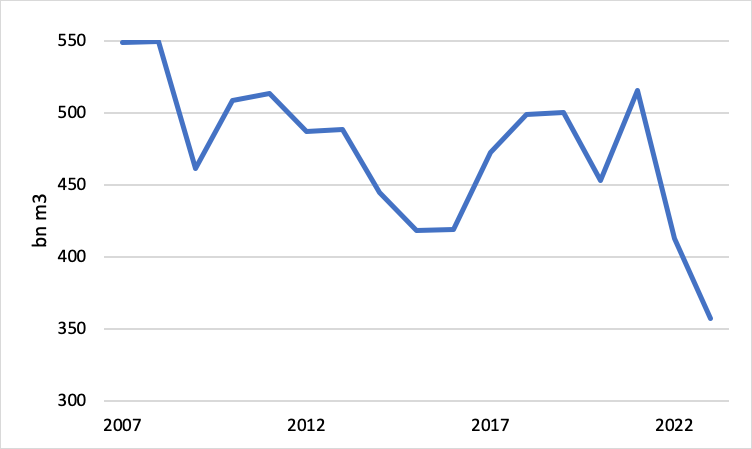 Source: Gazprom for historical data, thierrybros.com
April LNG send-out was at an all-time high, with a maximum daily record seen on April 20. Since July, LNG send-out is down versus last year.
EU LNG send-out (excluding Malta)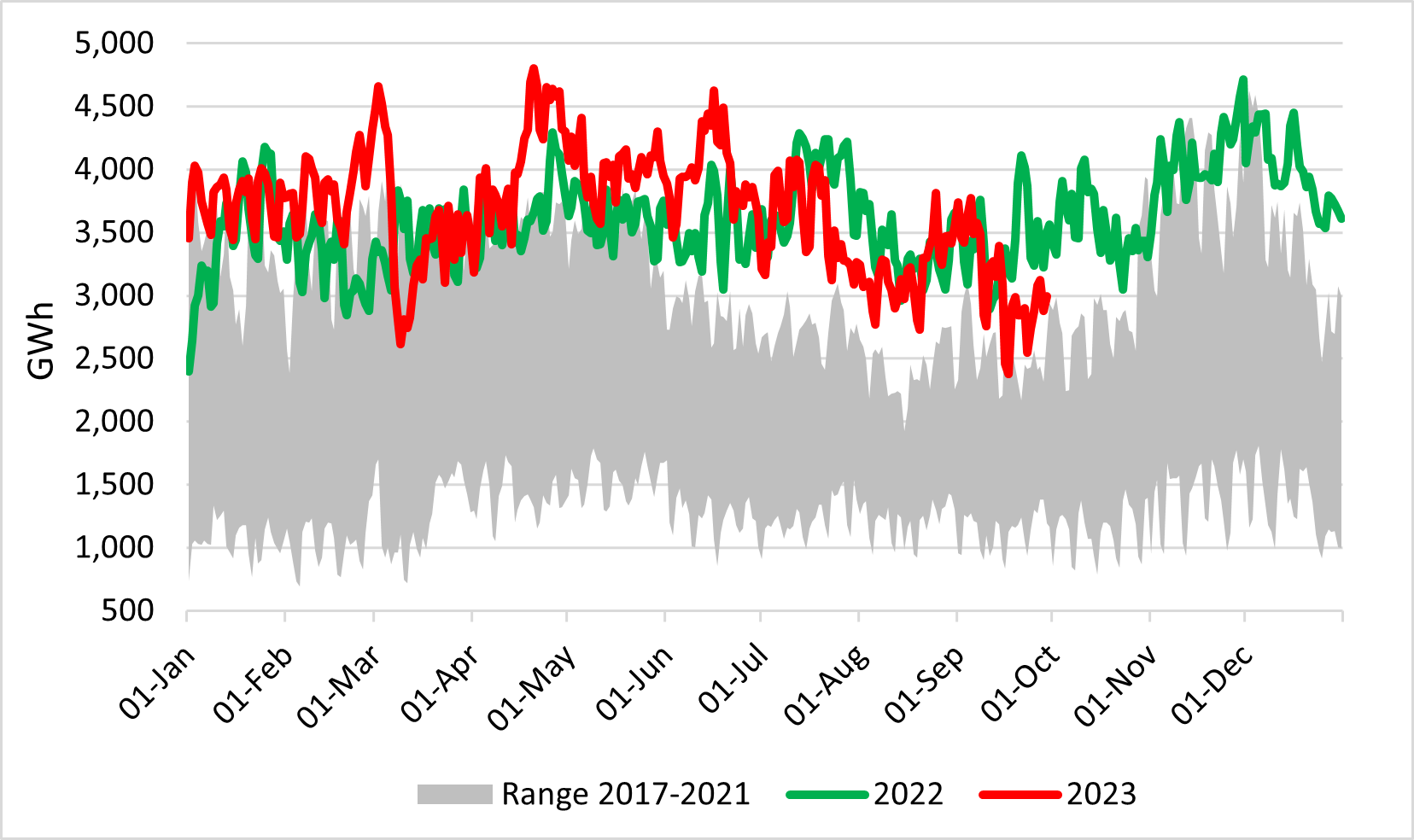 Source: GIE, thierrybros.com
EU gas storage utilisation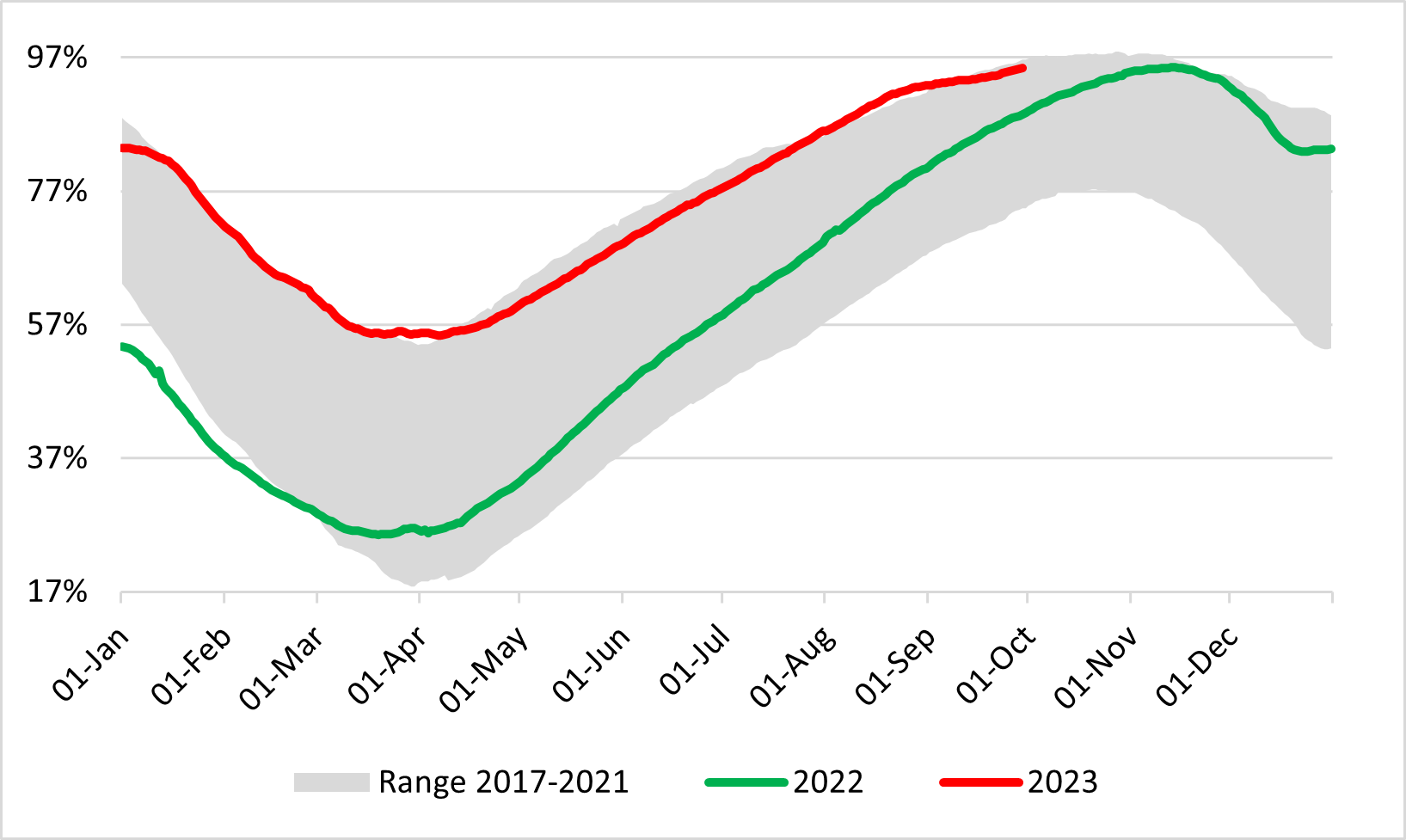 Source: GIE, thierrybros.com
From July 28 to September 8, EU storage level was above historical range. The New Gas Year starts with storage 95% full and warm weather… Stay tuned!
Dr. Thierry Bros
Energy Expert & Professor
October 2, 2023