Innovations in Natural Gas Alternatives [Gas Transitions]
Two weeks ago I raised the question in this column whether the world can do without natural gas. My answer was that 100% renewables scenarios seem a bridge too far – but the drive to expand fossil-free alternatives would continue. Last week I looked at the various ways in which solar+ alternatives (e.g. solar plus storage) are pushing out natural gas. This week I look at some of the innovations taking place in natural gas alternatives.
Green hydrogen (I)
In Australia researchers are not only producing hydrogen from solar power, but they are already exporting it to Japan. They use a system developed by Japanese company Sumitomo Electric Industries, writes Sophie Vorrath of Reneweconomy.com. The hydrogen is produced by "adding water and acid to a chemical called toluene using concentrated solar power as the energy source in the electrochemical conversion process. The toluene is converted to a substance called methyl cyclohexane (MCH), which is an energy efficient and safe method for transporting hydrogen."
The advantage of this method is that "in this form, hydrogen can be shipped using conventional road and pipeline infrastructure. Once it has arrived at its destination, the renewable hydrogen is extracted from the MCH and the toluene can be re-used in the transportation cycle."
The state of Queensland has announced A$250,000 ($170,000) in funding towards the establishment of a renewable hydrogen pilot plant at the government-owned Redlands Research Facility on the Gold Coast, on the same day it has marked the state's "first ever" delivery of green hydrogen, to Japan, reports Reneweconomy.
Rooftop solar
UK startup Naked Energy has developed a rooftop solar system that combines solar thermal with solar PV technology. "Combining PV and solar thermal collectors into a single product means significantly more heat and power can be produced than is possible with separate PV and solar thermal installations in the same roof space, says Naked Energy", according to a report on the independent energy website Foresight.
Virtu, as the system is called, "can typically produce some 40% more heat and power, or energy in kilowatt-hours, from a given flat roof area than a separate PV and solar thermal panel, claims Naked Energy. Fixed installation costs per unit of energy produced are also lower, helping to maximise investor returns."
Green hydrogen (II)
Belgian researchers have developed a solar panel that uses sunlight to make hydrogen from the moisture in the air, reports Steve Hanley on the website Cleantechnica. Hanley writes that Professor Johan Martens and his team at KU Leuven "have been working on this for a decade. At first, the amount of hydrogen produced was minuscule but in a recent demonstration on a cloudy day, observers could see large quantities of hydrogen bubbles appear almost as soon as the demonstration panel was rolled into the sunlight."
According to researcher Jan Rongé, "Over an entire year, the panel produces an average of 250 litres per day, which is a world record. Twenty of these panels produce enough heat and electricity to get through the winter in a very well insulated house and still have electricity left over."
"The panels are still a long way from commercial production", notes Hanley, "but a new prototype will soon be installed at the nearby home of Leen Peeters, an engineer who has turned her home into a living lab where she tests and evaluates energy conservation technologies. Her well insulated house has solar panels that power a solar water heater and a heat pump. It is not connected to the local natural gas supply. Only in the winter months does she use electricity from the grid."
"If the prototype panels work as well on her house as they do in the lab, more of them will be ground-mounted in her neighborhood and the hydrogen produced used to help heat the homes of Peeters' 39 neighbours. Any excess hydrogen can be stored and used the following winter."
Thermal storage
"A novel blend of old and new technology is helping Australian researchers combine renewable energy and low-cost thermal storage to deliver heat for industrial processes," writes Andrew Spence on Reneweconomy.
Developed at the University of South Australia in Adelaide, "the method involves using low cost renewable energy such as wind or solar PV to power electrical elements that heat rocks in a similar way to a sauna. The element and rocks are packed inside a stainless steel tank and heat air pushed through the tank with an ambient fan. The temperature of the exiting air can be simply adjusted between 200 °C and 700 °C by changing the fan speed."
"Rhys Jacob, from the University of South Australia's Barbara Hardy Institute, said the system developed by his team not only had environmental benefits but offered potential savings against increasingly unstable gas prices and was more cost-effective storage than battery technology.
"'One of the key elements of it is that it is easy – we're just taking ambient air so we don't have to worry about high-temperature fans and it's also just electrical elements that have been used in industry for a long time so it's fairly simple tech,' said Jacob. 'We're just using quartzite rocks for the filler material at the moment, which you can get at any scale you want for about A$72/metric ton.'"
"Jacob said the easy integration meant the system could operate in conjunction with existing gas-fired units or could be plugged into the grid if sufficient renewable energy were not available. He said farmers had already shown interest in applications such as seed or grain drying and other potential industries included paper, food and pre-heating for cement production and minerals processing.
"'We're using low-cost building materials, low-cost electrical elements, low-cost steel tank so there's not a lot there that is exotic or difficult or hard to maintain,' Jacob said. 'It doesn't require specialty people to set up, install or maintain – if you've only got five staff members the last thing you want to do is hire one or two more people to manage your thermal storage system.'"
Grid stability
"Production peaks with excessive electricity generation and lows with shortages are a key challenge for the use of solar power. Hailing from one of the leading locations for private solar power use, Australian company Planet Ark Power says it has developed technology that evens out these production amplitudes and reduces voltage volatility," writes the German website Clean Energy Wire, which spoke to founder and CEO Richard Romanowski of Planet Ark Power.
At present, notes Clean Energy Wire, "the grid has limitations on the amount of power that can be fed into it because it was designed and built as a one-way system. From a grid engineer's perspective, too much solar creates a voltage problem that hurts the grid and can lead to blackouts, machine problems and so on."
Planet Ark Power says it can "fix that problem with a digital device that facilitates a 100% electricity flow in both directions, as opposed to the limit that is set now. That allows us to increase the amount of rooftop solar in a suburb, and it also allows us to put virtual power plants into buildings and houses. We have various virtual power plants in Australia, for example by Tesla, but in effect they are not working effectively because of this voltage problem.… We can manage a 13-fold increase in the amount of rooftop solar that we can feed into the grid."
According to Romanowski, the main "roadblocks" the company is encountering are "about education and a huge paradigm shift. Before Uber came along, no one thought that you could order a car with an app. But now that it's there, everyone gets it. Our case is similar. But we're getting there. In Australia, we're working with the local distribution grid. We've installed a couple of demonstration sites, they're happy, and now we're going to 50 demonstration sites, each one 1 to 3 MW – so we're talking quite large installations. Our focus is filling big warehouse rooftops."
Green hydrogen (III)
To create a renewables-based hydrogen economy, it is generally assumed that electrolysis needs to be scaled up considerably. However, German start-up Enapter says it can usher in the hydrogen revolution with its specially designed small-scale electrolysers, reports Clean Energy Wire.
Enapter claims that its trademark AEM electrolyser is "the most cost-effective and high-performance solution" available in the sector. Company strategist Thomas Chrometzka told Clean Energy Wire: "We build electrolysers and want to make hydrogen affordable, which so far used to be an expensive product for making renewable power storable. The usual way to bring down costs is to scale up the size of projects. We, on the other hand, use a trademark technology, the Anion Exchange Membrane (AEM) Electrolyser, that turns electrolysers into a small and flexible product. Our approach is to bring down costs by providing small units in large numbers that customers can combine according to their needs."
According to Chrometzka, "our electrolyser is about as efficient as those from other providers, we produce 1 m³ of hydrogen with 4.8 kWh. For our customers this is efficient enough."
The company can provide its electrolysers "for home storage, commercial use, for cars, drones or infrastructure projects. There are many diverse cases where our product can be applied."
Asked if the hydrogen use case is already financially viable, Chrometzka answers: "That's a tricky question that could get a very long answer. To keep it short: in some use cases it already is but for others we still need a bit."
District heating
District heating is seen by many experts in Europe as the technology that has the most potential to heat our buildings 'sustainably'. But district heating networks are only sustainable of course if they are fed by sustainable energy.
In Denmark for example nearly two-thirds of homes are heated through district heating, but 40% of the energy mix used in these systems is still coal or gas, writes Karin Jensen on the website Foresight. Renewable energy supplies less than 2% of the energy in the country's heating networks: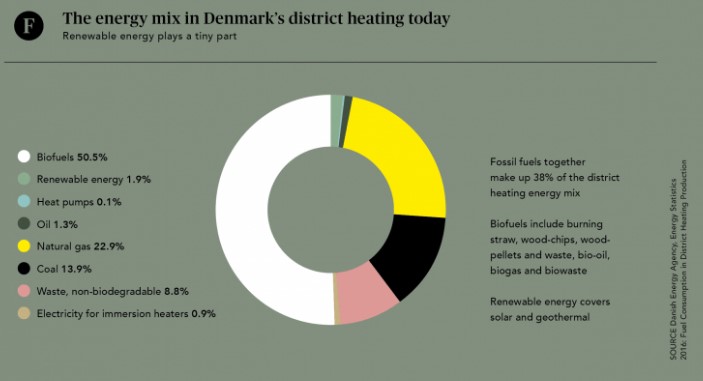 Although Denmark is known as a wind power country, the Danes actually embraced biomass even more than wind power, although they realise the climate credentials of biomass are questionable. "Biomass is a transition-stage solution," Knud Brandelev, sales manager of Siemens, is quoted as saying in the article.
What the German company proposes instead is to use large capacity (20-150 MW) heat pumps powered by renewable energy to be used in the district heating network. According to Brandelev, "heat pumps powered by renewable electricity are highly efficient. They provide a coefficient of performance factor – the relation between the energy input needed to operate the heat pump and its energy output – of over three and in some cases up to four. In comparison, today's energy mix of fossil fuels and biomass in the Danish district heating system has a factor of below one, says Siemens."
"For large heat pumps to work in district heating, a heat source is needed such as waste water, seawater or air," notes the article. "Geographically, many of Denmark's district heating plants are located almost perfectly, close to the sea, near a wastewater treatment plant or close to other sources of energy, such as surplus process heat.
"If there is no access to sea water, then air or even groundwater can be used as an energy source," explains Brandelev. The use of groundwater is increasing with more companies beginning to drill for warmer water, he adds.
If Siemens' solution is accepted, it means that first the coal-fired power station and then Denmark's gas-fired power stations can be dispensed with, according to Brandelev.
Green hydrogen (IV)
A German consortium is planning to build the world's first green hydrogen cavern storage, writes Clean Energy Wire. "Following a two-year research project, the partners of the Hypos alliance plan to build the storageand operate it for research purposes."
"The facility would be continental Europe's first hydrogen cavern storage, and the world's first cavern storage for green hydrogen made with renewables," according to a press release.
"We can store green hydrogen made with surplus power from renewable generation in the cavern, and discharge it when needed," explained project manager Stefan Bergander. "This gives us a large seasonal storage system that offers – in combination with power-to-gas – a unique possibility at this scale to avoid bottlenecks in the supply with intermittent renewable energies, and therefore guarantee supply security."
Hypos stands for Hydrogen Power Storage & Solutions East Germany and is a network of more than 100 partners. The aim of the project, which receives support from Germany's research and science ministry, "is to produce, store, distribute and widely use green hydrogen in the chemicals, refinery, mobility and energy supply sectors, according to its website."
Conclusions
This is just a sample of recent news items that happened to catch my eye. A lot of the technologies are still early stage, but we know that the energy transition won't be like the computing and communications revolutions we have witnessed. It will take much more time. Yet progress to gradually push out natural gas and other fossil fuels in our energy system is continuing. If temperatures are seen to rise further in the coming years, that progress is likely to accelerate.
---
How will the gas industry evolve in the low-carbon world of the future? Will natural gas be a bridge or a destination? Could it become the foundation of a global hydrogen economy, in combination with CCS? How big will "green" hydrogen and biogas become? What will be the role of LNG and bio-LNG in transport?

From his home country The Netherlands, a long-time gas exporting country that has recently embarked on an unprecedented transition away from gas, independent energy journalist, analyst and moderator Karel Beckman reports on the climate and technological challenges facing the gas industry.
As former editor-in-chief and founder of two international energy websites (Energy Post and European Energy Review) and former journalist at the premier Dutch financial newspaper Financieele Dagblad, Karel has earned a great reputation as being amongst the first to focus on energy transition trends and the connections between markets, policies and technologies. For Natural Gas World he will be reporting on the Dutch and wider International gas transition on a weekly basis.
Send your comments to karel.beckman@naturalgasworld.com