Gas Chief Named Pertamina Acting CEO
Yenni Andayani, the gas and renewables director at Pertamina, has been appointed the Indonesian state-owned LNG, gas and oil group's acting CEO in an unexpected reshuffle.
Indonesia's minister of state-owned businesses Rini Soemarno issued the decision, also dismissing Pertamina's CEO Dwi Soetjipto and deputy CEO Ahmad Bambang and abolishing the latter's job in order to streamline the company's management, according to a Pertamina statement February 3.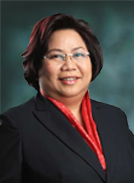 Yenni Andayani has become Pertamina's acting CEO in an unexpected shake-up (Photo credit: Pertamina)
Andayani joined Pertamina in 1991 after her law degree. She held senior positions for the company in Japan and later in charge of one of its LNG subsidiaries, before being named as gas/renewables director in late 2014. Soetjipto became CEO at around the same time, whereas Bambang had been deputy CEO for just three months.
Pertamina's (supervisory) board of commissioners named Andayani as acting CEO but said a definitive appointment would be made in the next 30 days.
Channel NewsAsia quoted Soemarno's deputy minister saying that the management board needed "a refreshment."
France's Maurel & Prom, since February 1 majority-owned by Pertamina, meanwhile said late on February 3 that M&P bondholders have a limited time only -- essentially the rest of this month -- in which to apply for the early redemption of their bonds.
Mark Smedley