Future for LNG Brighter than for Piped Gas: IGU
The International Gas Union says technology cost reductions have unlocked new supplies of gas, which have led to the global LNG market tripling since 2000. Meanwhile the cost of a new floating storage and regasification unit (FSRU) – including the necessary auxiliary facilities – can be half the cost of an onshore facility. And LNG tanker conversions into receiving terminals are even cheaper.
The report says out of 37 LNG importing markets in 2018, 11 gained access via floating capacity alone, and five had relied on both, on- and off- shore terminals. "Over the coming years, many more new markets will gain access to LNG via new FSRU projects," it said August 20.
In total, IGU sees the biggest growth among energy sources for gas, after renewables by 2040. According to BP, gas demand is expected to reach 5.4 trillion m3/yr in 2040, from 3.868 trillion m3 in 2018. "Gas demand growth is expected at 1.7% annually, increasing nearly 50% by 2040," it said.
But for international trade, pipelines are still the main route to market. Last year, about 431bn m³ of pipeline equivalent LNG were traded internationally, while pipeline gas sales were 804.5bn m3.
IGU also touches upon emissions, saying that the annual global cost of pollution was estimated at $3.8 trillion in 2015 and projected to go up to $30 trillion in 2060.
Offshore to become commoner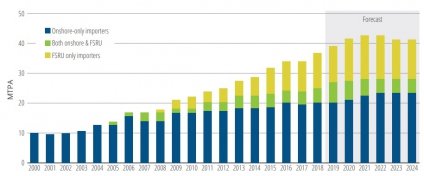 (Source: IGU)
IGU says replacing more polluting fuels like coal and oil by gas reduces the emission volume and costs. It cited the example of New York City, which converted 30% of its heavy-fuel-oil burning buildings to natural gas and cut sulphur oxide emissions by 69% in four years. Similarly, banning lignite in Istanbul and gradually replacing it with natural gas for residential heating cut sulphur oxide emissions by 98% in under a decade.
The report says globally almost a billion people have no access to electricity, while the global primary energy demand is expected to double by 2070. Gas-fired power plants can be built twice as fast as coal and nuclear plants, cost less to build and are cheaper to maintain.
Investing on energy efficiency is also another way to cut emissions: the average American home consumes 40% less natural gas than it did 40 years ago.