From methane to hydrogen [NGW Magazine]
Russian gas giant Gazprom presented its new technology to produce green hydrogen commercially from methane at the European Autumn Gas Conference in November in Berlin. It is based on a process known as thermal methane pyrolysis, which has the advantage that it does not produce greenhouse gas emissions (GHG).
Gazprom claims that it can do this at a low cost, enabling the company to develop a commercial market for hydrogen in Europe. This is timely, coming at a time when the EU is making commitments to achieve carbon-neutrality by 2050.
EU's clean climate targets
The European Parliament adopted November 13 its new Clean Climate targets to be achieved by 2030:
Mandatory and binding renewable energy target of at least 32%;
Energy efficiency target of at least 32.5%.
Both allow an upward revision by 2023. Under the new renewable energy target, at least 14% of fuel in the transport sector should be from renewable sources by 2030.
In addition, the European Commission (EC) has called for carbon-neutrality by 2050. The EC says its vision is "for a climate-neutral future that covers nearly all EU policies and is in line with the Paris Agreement objective to keep the global temperature increase to well below 2 °C and pursue efforts to keep it to 1.5 °C."
When fully implemented, these policies will lead to steeper emission reductions for the whole EU than foreseen earlier – some 45% by 2030 compared with the 1990 baseline, instead of the 40% target. To strive towards a long-term greenhouse gas reduction objective, the framework also sets up a robust governance system of the Energy Union.
Clearly, the argument that gas is the cleanest fossil fuel and should at the very least displace all the coal in the energy mix – especially in the power sector – is having little if any traction with European policy-makers. It still needs to satisfy the new EU targets and the pressure to do so is increasing.
The UN Inter-governmental Panel on Climate Change (IPCC) Special Report, issued October 6, brought home the impacts of global warming. The combination of this and the Katowice Climate Change Conference in Poland in December may lead to further upwards revisions of EU climate goals when governments review the Paris Agreement.
Achieving these targets, and particularly those relating to renewable energy and transport fuels, will require energy to be produced and consumed differently in future.
In terms of transport, the EU recommends that "second-generation biofuels can play a significant role in reducing the carbon footprint of transport and at least 14% of fuel for transport purposes must come from renewable sources by 2030." This also opens the way for increased use of hydrogen as energy feedstock or transport fuel.
In response to this, European natural gas utilities are looking to hydrogen as a way to decarbonise and extend the life of their distribution networks.
Addressing the Fuel Cells and Hydrogen Joint Undertaking (FCH JU) Stakeholder Forum in Brussels in November, the vice-president of the European Commission for Energy Union Maros Sefcovic said: "Hydrogen is a key technology for achieving Europe's climate and energy goals. Its potential benefits for the environment, consumers and European economy can power the transition of Europe's energy sector towards a green future." Responding, the chair of the FCH JU board, Valerie Bouillon-Delporte, added "As hydrogen becomes increasingly important in the energy transition, European industry is committed to investing in green hydrogen technologies and keeping its worldwide leadership."
Thermal methane pyrolysis
Thermal methane pyrolysis has been known for a very long time, but advances in the process that can make its use in transport commercially viable are very recent.
Most hydrogen produced today is made using steam-methane reforming or coal gasification. But one grave limitation of these processes is that they emit CO2 as a by-product. Another method is natural gas or water electrolysis using renewable electricity to bring production costs down. This is gaining traction as a means of creating value from surplus electricity produced by renewables.
Gazprom claims to have developed a process, based on thermal methane pyrolysis, which produces emissions-free hydrogen (Figure 1). And more important, it has the potential to do so at low cost, which could make this process commercially viable.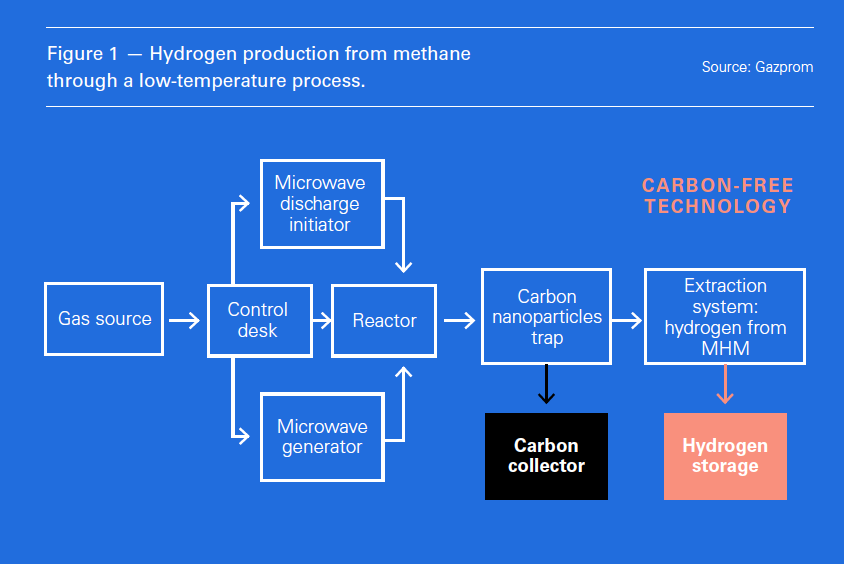 The hydrocarbon gas conversion takes place in a closed plasma-chemical flow reactor in the absence of oxygen and at ambient temperature and under high pressure, producing hydrogen and solid carbon. The process is CO2 emission-free and has already been tested successfully in a prototype plant.
Industry can use the solid carbon by-product as a raw material.
Based on this process, Gazprom is now making important strategic moves towards wider implementation of hydrogen production from natural gas and is exploring ways to create a market for it. This, it hopes, will lead to the use of hydrogen-methane mixtures as a high-tech and low-carbon energy product. The company counts on the synergy between the gas industry and hydrogen energy to ensure it remains a major energy player in a future low-carbon world.
The US Department of Energy is also supporting projects to produce low-cost, CO2-free hydrogen using methane pyrolysis, based on a promising new catalyst innovation for methane conversion developed by West Virginia University. Results are expected by October 2019.
Hydrogen – the missing link
In a commentary published in October, the International Energy Agency (IEA) called hydrogen the missing link in the energy transition. It notes that hydrogen is gaining momentum as an energy carrier and as feedstock.
The IEA bases this on three key reasons:
The huge decline in the cost of wind and solar energy in recent years, opening the prospect of large-scale production of green hydrogen.
The world cannot decarbonise the energy system just by greening electrons. Industry and heavy transport need green molecules.
And the existing gas infrastructure can be used to transport hydrogen, with limited adjustments and costs, and be blended in the gas grid in the transition phase
The International Renewable Energy Agency (Irena) shares the view that hydrogen produced by renewable energy may hold the key to successfully overcoming this challenge, and reducing end-use emissions.
Irena says hydrogen provides high-grade heat, helping to meet a range of energy needs that would be difficult to address through direct electrification. This could make hydrogen the missing link in the transformation of the global energy system.
Key sectors for renewable-based hydrogen uptake include:
Industry, where it could replace fossil-based feedstocks, including natural gas, in high-emission applications.
Buildings and power, where it could be mixed with natural gas or combined with industrial CO2 emissions to produce syngas.
Transport, where it can provide low-carbon mobility through fuel-cell electric vehicles.
However, Irena concludes that realising this potential requires the right policies and regulatory framework, to stimulate private investment in hydrogen production.
The Hydrogen Council expects hydrogen to cover at least 18% of final global energy demand by 2050.
A number of hydrogen pilot projects are already underway, with the Netherlands in the lead.
A future with hydrogen
With Europe committed to 40% reduction in CO2 emissions by 2030 and calling for carbon-neutrality by 2050, Gazprom is considering ways to make its gas green enough to remain part of the future energy mix.
These demanding GHG emission reduction targets mean that to continue 'business as usual' in terms of natural gas consumption in the EU will start becoming increasingly challenging as early as mid-2020s (Figure 2). This will require the development of new technologies to decarbonise gas and reduce or eliminate GHG emissions. Natural gas decarbonisation is becoming essential to its long-term survival as an energy fuel – without it gas in Europe is likely to decline.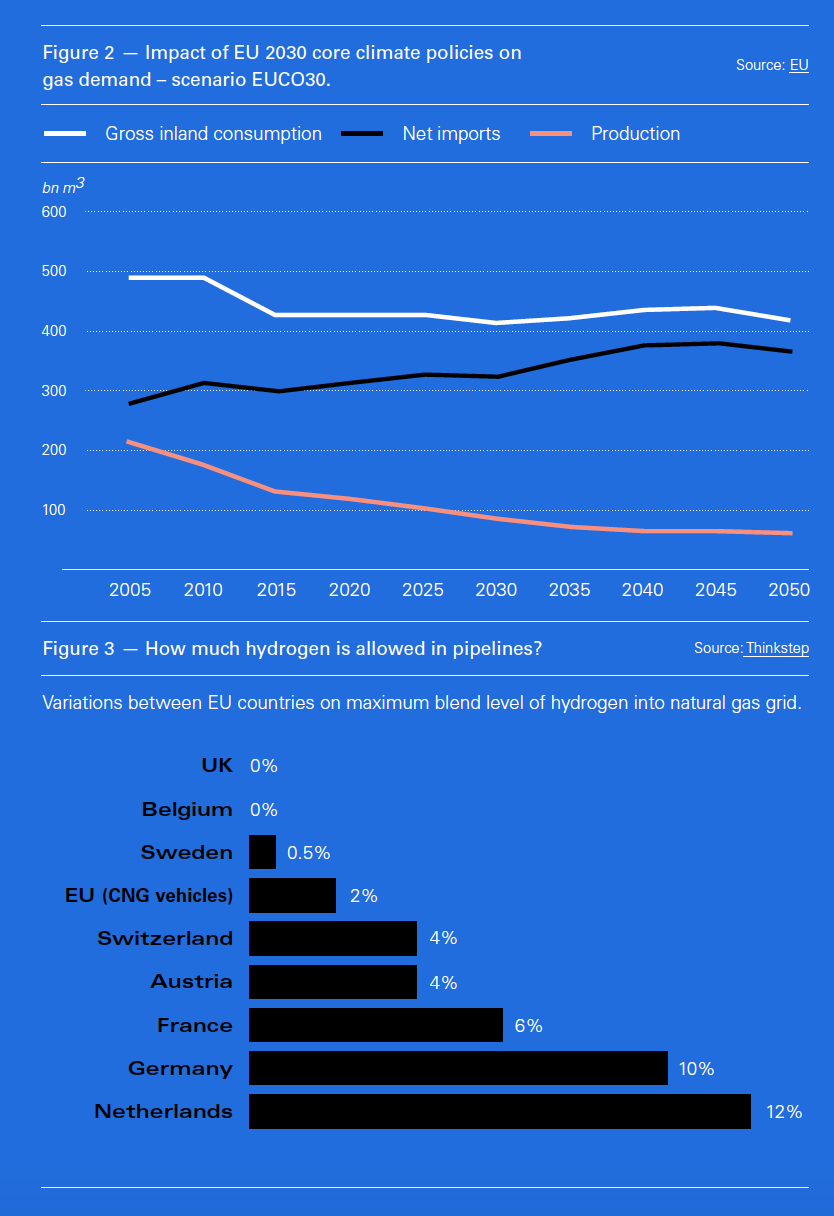 Emissions-free hydrogen would certainly help maintain demand for natural gas as the source fuel. This can start by adding hydrogen directly to natural gas to reduce GHG emissions. But its widespread use may initially be hampered by limitations in existing infrastructure in handling hydrogen.
Limits of blending hydrogen into gas grids vary from zero in the UK to 12% in the Netherlands (Figure 3). According to Gazprom, this can increase to 20% without requiring infrastructure changes. Once this exceeds 25%, it can lead to lower crack resistance in steel pipelines and increases over 30% may require adaptation of turbines and compressors. This would also require changes in regulations and pipeline materials.
In order to minimise impact on pipeline systems and challenges in storing and transporting hydrogen, it may be best to convert natural gas to hydrogen near the end-user.
In addition, if electricity from renewables is used to produce hydrogen from natural gas, then the entire process would become emission-free. Use of low-cost renewable energy, especially using excess wind and solar power, would also make the conversion process more cost-efficient, opening up hydrogen's wider use (Figure 4). Gazprom's advisors believe that future costs of producing hydrogen may be reduced to about $1.30/kg.
This has attracted EU interest. A sustainable hydrogen initiative funded by EU's 'Fuel Cells and Hydrogen Joint Undertaking' aims to support the development hydrogen technology.
Hydrogen Europe, representing the European hydrogen and fuel cell sector, is partnering the EC in this initiative and in the development of a regulatory framework for hydrogen and in removing barriers that will hinder the deployment of hydrogen.
A hydrogen market
The hydrogen industry is well established and has decades of experience in industry sectors using hydrogen as a feedstock (Figure 5), driven mostly by increasing adoption of fuel cell vehicles. Altogether, about 60mn mt/yr of hydrogen are produced globally today, used in oil refineries, in chemicals manufacturing, and in the production of iron and steel.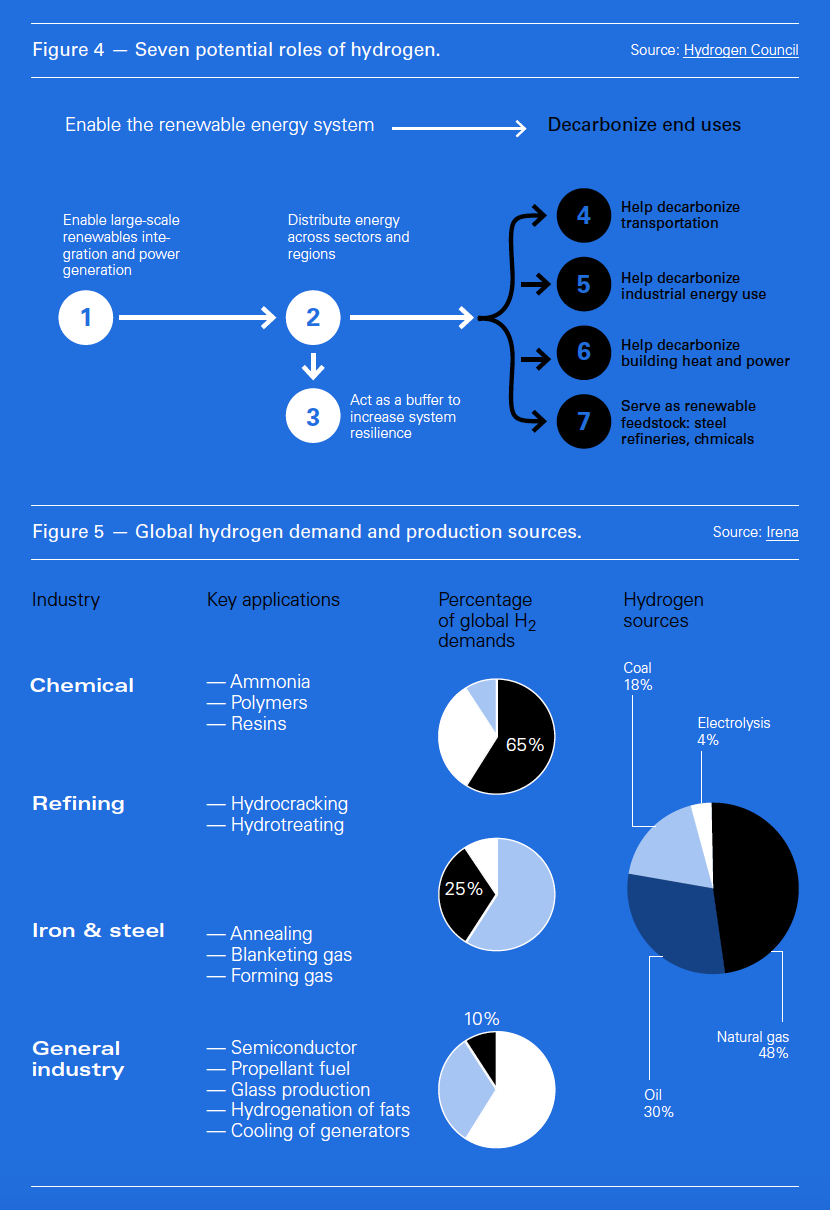 The global hydrogen generation market is $135bn in 2018 and it is expected to grow close to $200bn over the next five years.
Gazprom believes that there is potential to develop a $175bn/yr year hydrogen fuel market in Europe by 2050.
Other companies developing hydrogen and fuel cells as alternatives to fossil fuels in electricity generation and transportation include Anglo-Dutch major Shell; Norwegian state-owned oil and gas producer Equinor; and Japanese companies and their government.
Akzo and Gasunie in the Netherlands plan to build Europe's largest green hydrogen plant using water electrolysis to convert sustainable electricity into hydrogen. Industrial factories in the Netherlands today use more than 800,000 mt/ year of hydrogen produced from natural gas mostly in agriculture and refineries, making it Europe's leader.
Shell is providing hydrogen as a fuel. It is also part of a joint venture in Germany which is installing a nationwide network of 400 hydrogen refuelling pumps. It has also opened hydrogen refuelling sites in California, the UK and Canada and will be building four more stations in the Netherlands.
In the UK the Committee for Climate Change (CCC) released a report November 28, Hydrogen in a low-carbon economy. Among its conclusions were:
Hydrogen is a credible option to help decarbonise the UK energy system but its role depends on early government commitment and improved support to develop the UK's industrial capability.
Hydrogen can make an important contribution to long-term decarbonisation if combined with greater energy efficiency, cheap low-carbon power generation, electrified transport and new 'hybrid' heat pump systems, which have been successfully trialled in the UK.
Hydrogen could replace natural gas in parts of the energy system, where electrification is not feasible or is prohibitively expensive, for example in providing heat on colder winter days; industrial heat processes; and back-up power generation.
The report concludes that even though hydrogen is not a 'silver bullet' solution, it is a credible option for a carbon-neutral future. It recommends that the UK government must commit to developing a low-carbon heat strategy within the next three years.
Chairman of CCC John Selwyn Gummer (Lord Deben) said: "Hydrogen has the potential to contribute to near-zero carbon energy emissions if used strategically. The government must now decide whether it wishes to develop a UK hydrogen option, taking decisions now that will see the first deployment in the 2020s. This must be in parallel with efforts to improve energy efficiency, build further low-cost renewables and get carbon capture and storage underway. The time for the government to move from theory to practice has arrived."
One of the world's largest hydrogen projects was announced in November in the UK. Two gas distributors -- Northern Gas Networks and Cadent -- and Equinor issued a proposal 'H21 North of England' that detailed plans to convert the UK's residential gas system to a hydrogen delivery system. They suggested that an initial roll-out of the programme to 3.7mn homes and 400,000 businesses in northern England could start as early as 2028.
Industrial consultant DNV GL claims that the project is technically and economically feasible. It will produce hydrogen from natural gas feedstock through methane reforming, with CO2 disposed of using carbon capture and storage (CCS).
The proposal states that: "This project could represent the foundations of a deliverable, large-scale, deep decarbonisation of heat policy for the UK government." It is estimated that the project would cost £22.7bn ($29bn) and take seven years to complete. This could become the first project to fully displace natural gas used in residences and businesses and could displace as much as 6.5bn m3/yr natural gas.
Hydrogen's possible uses include:
As an energy storage for surplus renewable energy;
As an energy carrier;
In sectors that are otherwise difficult to decarbonise through electrification.
Hydrogen can also have an important role in decarbonising mobility, helping achieve the EU's 14% reduction in the carbon footprint of transport.
Hydrogen vehicles hold the promise of reducing transport-related air pollution and CO2 emissions, especially where hydrogen is produced from renewable sources of energy.
With an increasing shift to renewables, with a mandatory 32% by 2030 and carbon-neutrality by 2050, it is inevitable that this will impact future natural gas demand, with reductions becoming noticeable in the mid-2020s. It is expected that part of the energy gap left by natural gas will increasingly be replaced by use of hydrogen.
But, as a recent report by E3G identified, there is so far no clear consensus on which forms of decarbonised gas are most likely to succeed: "Each form of renewable or decarbonised gas comes with infrastructure challenges and choices of its own…. In many sectors, renewable or decarbonised gases would compete with alternatives such as fossil gas itself, electrification or demand side measures." This would require decarbonised gases to be commercially competitive.
It is becoming increasingly likely that, without change, Europe's demand for unabated natural gas is set to decline in the context of meeting 2030 and 2050 decarbonisation targets. Decarbonisation of natural gas to produce hydrogen, without CO2 emissions, is a technological option that looks increasingly viable and offers a way forward for gas in a carbon-neutral world.