French Parliament to Discuss Fracking Ban
Just 100 days before the presidential election, the shale gas debate makes the headlines again in France, as parliament this week considers an amendment of the mining code to ban any development of non-conventional hydrocarbons by any technique.
The last time shale gas opponents strengthened the anti-fracking law was in 2011, when they banned hydraulic fracturing but allowed exploration for the purposes of scientific research or through potential alternative techniques.
The amendment, passed by the environment commission of the National Assembly on January 17, was presented by several socialist lawmakers including Sabine Buis (pictured below). The congresswoman from Ardeche, an area where exploration permits were granted to Total and Schuepbach in 2010, was one of the architects of the mining code reform aimed at enhancing the environment dialogue and making the process more transparent.

"It's a belt and braces approach, an added precaution to the existing law which only makes mention of the hydraulic fracturing technique," Buis said in an interview with a local radio station on January 18.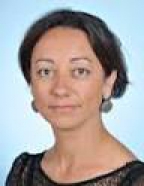 (Credit: Assemblee Nationale)
The socialist lawmaker was asked whether it would be a lost opportunity if an alternative technique was found in the future. "We are being told for a while that another technique would be developed but it has not happened yet. It would still be fossil fuel. It would be a regrettable choice not to pull out all the stops on renewable energy," she added.
Royal: 'Shale gas is behind us'
France's energy and environment minister Segolene Royal reacted to the commission vote on January 18 after the weekly cabinet meeting at the Elysee Palace. "The issue of shale gas is behind us," she told reporters. The former presidential candidate who ran against Nicolas Sarkozy in 2007 went further while defending clean energy policies set during Francois Hollande term as president. "France will no longer deliver permits to explore or exploit fossil fuels energies especially offshore licenses. We are sending a message to companies to invest in renewable energies, energy efficiency, France's new energy model," Royal added.
The minister response does not a come as surprise. In March 2016, Royal promised to include a ban of non-conventional hydrocarbons developments in the mining code reform following the legal decision to reallocate to Total a permit owned by the oil company but repealed after the implementation of the fracking ban in 2011.
The bill might never become law
Though only one reading will be required by both chambers of the parliament, the bill may not be able to pass before the end of the legislative session at the end of February. The ongoing session will be shortened because of the election season. France's presidential contest will be held on April 22 and May 6. The control of the National Assembly will be up for grabs in June. The centre-left Socialist party could lose both the presidency and the parliament majority. If so, the bill may be shunted aside for a long time.

Most politicians on the right support shale gas exploration including Francois Fillon, the right wing presidential candidate. "We cannot bar researchers from looking for new technologies. A state that limits the opportunity for research in any area has lost its common sense. A researcher must always be able to research. It does not mean we are going to conduct shale gas operations to run our power plants," he told BFMTV on November 18.

Though Francois Fillon was France's prime minister in 2011 when the parliament passed a fracking ban, in 2012, he described the then new government approach as "criminal "showing a "medieval mentality." A balance of power would not necessary mean a major shift of policy. Just over three quarters (77%) of French citizens oppose shale gas developments in the coming years, according to a recent poll.
Kevin Bonnaud
---
Follow NGW on your phone/tablet via Google Newsstand or Flipboard.
Natural Gas World welcomes all viewpoints. Should you wish to provide an alternative perspective on the above article, please contact editor@naturalgasworld.com
Kindly note that for external submissions we only lightly edit content for grammar and do not edit externally contributed content.