Finland on the acquisition trail [NGW Magazine]
Gasum expanded its gas business in mid-November with two acquisitions from German Linde. It bought LNG bunkering fuel operator Nauticor (see box) and Sweden-based industrial gas supplier AGA. These form a platform for a broader offering to meet the growing demand for low-carbon energy in the Nordics.
CEO Johanna Lamminen said the deal "will enhance the development of the Nordic gas market and create a platform for Gasum to provide a broader offering to meet the increasing demand for low-emission energy solutions from customers in industry, maritime and road transport. The transaction will improve access to competitive natural gas and biogas, multiply the available LNG logistics capacity and expand Gasum's Nordic gas filling station network."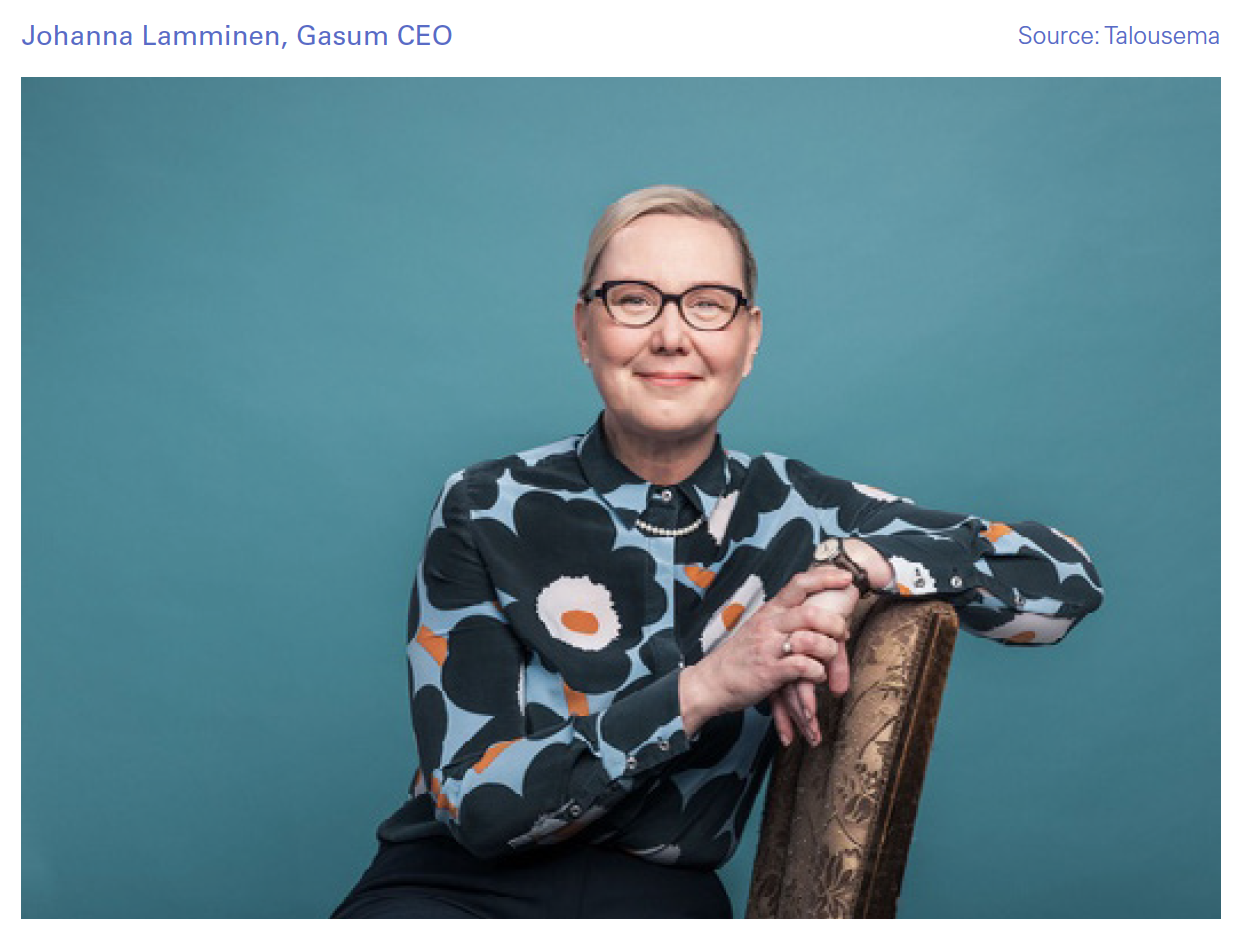 Together, the businesses have 35 employees and generate annual revenues of more than €100 ($110)mn. The deal brings Gasum a natural gas liquefaction plant, two LNG terminals, two LNG bunkering vessels -- the large Kairos and the small Seagas– and 48 gas filling stations in Sweden and Norway.
Lamminen said the deal was "an integral part of our growth strategy. The acquisition enables Gasum to supply and to ensure the availability of a competitive, low-emission form of energy to meet the demands of industrial, maritime and road transport customers in the Nordic countries."
In an interview with NGW, Lamminen said: "Gasum buys all its pipeline gas now on from Russia. When the Finnish market opens up to competition in the beginning of 2020, the gas used in the common Finnish Baltic market will come from Russia and the effect of possible LNG deliveries will be small."
She declined to comment on the terms of the contracts, but as LNG deliveries grow in the Finnish-Baltic market area and the infrastructure develops, gas prices will come to be more closely linked to the market, she said.
Last year, Gasum sold 24.7 TWh in Finland, as pipeline gas. This went to industry and combined heat and power plants – the most efficient way of using gas. LNG sales in the Nordic countries were just over a quarter, at 6.3 TWh; and biogas sales were 517.7 GWh
"It is very important to see that the growth in Nordic gas markets will come from maritime and road transport and industrial consumers," she said. "Unlike central Europe where gas is used a lot for household heating, this has never been the case in Norway, Sweden or Finland. Which is why for us the off-grid market, bringing LNG and biogas to new consumers, is also important.
"Gas is about 6% of Finland's total primary energy supply. But we see gas having an excellent future, for heavy-duty vehicles and maritime transport. These are hugely important sectors for reducing greenhouse gas emissions. Gas has excellent potential for helping us to reach the targets set at the European Union and at the national level. And Finland has decided to close all its coal fired power plants by 2029 and that gives gas an opportunity to replace coal.
"We buy LNG from several different sources and we have a liquefaction plant at Risavika in Norway which produces 320,000 metric tons/yr. We have two terminals in Finland with combined capacity of 80,000 m³ – Pori with 30,000 m³ and Tornio with 50,000 m³. There is also one terminal in Sweden and another in Norway in addition to the Risavika plant. What matters though is less the capacity of the terminals than the withdrawal rate. We distribute LNG to our customers and we are building 50 filling stations for heavy-duty vehicles in the Nordic countries."
Among its other sources is the Vysotsk plant, a small-scale terminal operated by Russian Novatek. Novatek is also entering the LNG filling-station business, having opened its first in early December – but in Germany.
The chicken-or-egg problem is a common one in the gas-for-transport market, but one that is being solved in Finland by competition. She said she welcomed other companies' efforts in this regard, "as it all helps promote gas and builds consumer confidence that they will be able to refuel easily."
Unbundling
From the start of next year the transmission system operator will be a wholly state-owned firm and Balticconnector, the subsea line to Estonia, will be part of it. "This will link us into the Baltic gas grid and a common market area will be set up with Estonia and Latvia at the start of next year. There is also a link to the Klaipeda terminal in Lithuania but that will not be part of the common market area."
The government can help to promote its business through tax mechanisms, she said. "Taxation of gas is crucial to its use. This year the government increased the tax on coal-fired combined heat and power plants by €3/MWh while the tax on gas was decreased by €0.7/MWh. This was obviously a good change but we have to remember that in general, the taxation of natural gas has increased by over 1000 % over the past eight years. The current government has set up a work group to look at energy taxation and we have targets to be carbon neutral as a country by 2035.
"There is a workgroup looking at biogas and its report should be ready in January. I hope it will outline concrete measures to expand biogas production as well as the use of biogas especially as a transport fuel in Finland," she said.
"In Sweden, Norway and Finland, the home market – everyone is very committed to winning the battle against global warming, as citizens, as corporations. We are very pragmatic, customers see that gas has a great opportunity to build a bridge so we can stop using coal, diesel and propane and reduce emissions.
"But we need to act now. For example replacing coal with gas already brings the CO2 emission down by 40%. Biogas carries us much, much further in that direction. We are currently the biggest biogas producer in the Nordics and we are investing and building new capacity all the time. Biogas has good potential to grow, we will produce around 1 TWh of biogas next year, but the potential in the Nordics is a multiple of that. And it is part of the circular economy. We are currently investing in Sweden and Finland, increasing the facilities for biogas production. We need gas to serve renewables. Biogas is also a part of renewables," she said.
Fortum takeover of Uniper
Fortum's takeover of German fossil fuel generator Uniper is nearly in the bag. It has dramatically undone the state-owned company's green credentials and is not universally popular at home. It was also fiercely resisted by Uniper, many of whose top officials have resigned over the last year.
But the deal is now near completion. Russia's government commission for monitoring foreign investment cleared it mid-November, subject to conditions. The commission had previously blocked Fortum from raising its stake in Uniper above 49.99% because of a strategic water licence held by the German group's local subsidiary Unipro which had earnings of about €70,000. Still to come is official notification of the approval from Russia's anti-trust agency.
In the US, Uniper is a trader. But the US approved Fortum's minority acquisition of 47% from EON and some minority shareholders in 2017 and so this is likely to be just a matter of time.
Uniper 'comes with risks': MP
Fortum said that the Finnish state-backed company fully supported Uniper's gas strategy, which includes its financing of the Nord Stream 2 gas pipeline, as European gas production declines. But a Finnish MP has said the deal brought unquantified risks.
In a blog post, Hjallis Harkimo said: "With sales approaching €80bn, it [Uniper] is a major player in the European energy market and a bigger emitter of CO2 than Finland."
The German energy conglomerate emitted a total of 59.5mn metric tons of CO2 equivalents, over three times more than Fortum's, and a little more than Finland itself, he said.
Fortum has now paid a total of €6.2bn for its stake in Uniper, according to Harkimo.
"It's a huge sum of money. The acquisition seems awful. If the prices of emission rights go up – as they surely will – it will have a negative effect on the result. Uniper also has major assets in Russia. That is an uncertain country and, with the economic sanctions in place, how does the government feel about buying energy from there?" he wrote.
The Finnish government, he said, will inevitably find itself in a situation where it is forced to operate on a double standard: while Finland is striving to achieve carbon-neutrality by 2030, Uniper is appealing against a decision to ban coal use in the Netherlands by 2030.
Fortum told NGW: "We fully understand the rationale of Uniper: the importance for natural gas will increase. It will be the main provider of flexibility as the share of intermittent renewables increases, especially where there is not enough hydro." The spokesperson added that Fortum knew the challenges that NS2 posed, particularly the hostility to the project in eastern Europe. Uniper is also sponsoring an LNG terminal in Germany.
At time of press the government had resigned over a separate issue and did not comment to NGW on its joint management of Gasum and Fortum. But its views are aligned with the new European Commission on climate change: Ursula von der Leyen has proposed that a quarter of the EU's budget expenditure should be used to support climate objectives, while Finland's presidency proposes that should be the minimum for the new multiannual financial framework (2021–2027).
BOX: Nauticor catches the wave
"The market conditions are currently very favourable for LNG," Nauticor's senior manager for sales and business development, Jan Schubert, told NGW. He said: "The number of companies that have decided in favour of using it as alternative fuel are growing, as it not only reduces the environmental impact of shipping but offers also a competitive advantage since fuel prices are lower than those for oil-based fuel options. There are three market trends that we see:
1. The number of LNG fuelled vessels in operation or on order is growing.
2. LNG is no longer a fuel for small vessels operating along the coast, but instead LNG fuelled vessel projects exist in all shipping segments and now more and more also in global container liner shipping.
3. LNG is no longer a Norwegian or northwest European topic, since about half of the fleet (in operation or on order) is going to, or already does, operate globally.
"This is reflected in our experience of supplying marine customers with LNG by truck for several years and – since March 2019 – with the world's largest LNG bunker supply vessel Kairos. We can say that the interest from shipping companies has exceeded all expectations. As it looks now, Kairos will have conducted more than 100 LNG bunkering operations by the end of 2019. Customers amongst other are product tankers, ferries, bulk carriers and special purpose vessels.
"Furthermore, the number of ports where LNG bunkering is a reality is growing every day, which is also a result of some ports being the frontrunners and the others being able to learn from best practices and copy those regulations that have proven to be functional for customers, suppliers and authorities.

"I don't see structural drawbacks for the use of LNG, but in the end each LNG project still requires a case-by-case analysis regarding the feasibility of using the alternative fuel. The feasibility is less a problem for newbuilding projects, but for the retrofit of existing vessels, since each project is different regarding the availability of space onboard to install tanks and LNG equipment as well as the operational profile and the development of the LNG supply chain.
"Nevertheless, we have seen some successful projects over the course of the last years and having not only supplied the retrofitted ferry Ostfriesland and the container feeder vessel Wes Amelie, we can conclude that it is important to prepare such a project carefully and bring together the right project partners. If that is the case a retrofit project can be a great success as we have seen in those examples given before."