Faroe Wildcat Strikes Oil, Gas off Norway
Faroe Petroleum found oil and gas with a wildcat well in good-quality sandstone, 13 km south of the Brage field in the North Sea, it said July 11.
Total gross volumes of recoverable hydrocarbons in the Brasse discovery are estimated to be 28-54mn barrels of oil and 89-158bn ft³ gas (43-80mn barrels of oil equivalent in aggregate).
The primary exploration target for the wells was to prove and delineate petroleum in Middle Jurassic reservoir rocks (the Fensfjord formation). The second and third exploration targets were dry.
Discovery well 31/7-1 was drilled to a vertical depth of 2750 m below the sea surface, and stopped in the Statfjord group in the Lower Jurassic. It found a gas column of about 18 metres and an oil column of about 21 m in sandstone in the Middle Jurassic Fensfjord formation.
Delineation well 31/7-1A was drilled to a vertical depth of 2270 m below the sea surface and stopped in the Fensfjord formation in the Middle Jurassic. It encountered a gas column of 6 m and an oil column of 25 m at levels equivalent to those of the discovery well.
Faroe CEO Graham Stewart said: "This discovery, in one of our core areas, builds, via this low cost exploration and appraisal well, on Faroe's already significant position in the Norwegian North Sea. Work will now begin on assessing options for monetising this important new asset, given its significant resource estimates and close proximity to existing infrastructure." The well was drilled on May 24 with co-venturer Core Energy. They each own half the licence.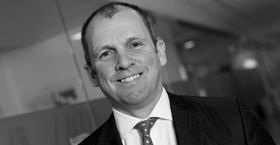 Faroe CEO Graham Stewart (image credit: fp.fo)
The Brasse discovery is 13km from the Brage field platform, in which Faroe holds 14.3% working interest; 13km east of the Oseberg Sor field platform; and 13km southeast of the Oseberg field platform.
Water depth at the site is 140 m. The wells will now be permanently plugged and abandoned. The wells were drilled by the Transocean Arctic drilling facility, which will now drill wildcat well 36/7-4 in production licence 636 in the North Sea, where French Engie is the operator, according to the Norwegian Petroleum Directorate in a statement July 13. It said the wells were the first and second exploration wells in production licence 740, which was awarded in 2013.
William Powell