FAR Expands from Senegal into Gambia
Australian explorer FAR has expanded its acreage in what it calls "a West African hot spot".
It said March 28 it will acquire an 80% operating interest in the "highly prospective" offshore Blocks A2 and A5 in The Gambia from US firm Erin Energy Corporation. Water depth ranges from 50 to 1,200 meters. The farm-in, which remains subject to approval by the Gambian government, requires FAR to fund Houston-based Erin up to $8mn through an exploration well expected to be drilled late in 2018.
A2 is adjacent to Senegal offshore blocks in which FAR already has an interest that contain the world-class Cairn-operated SNE oil and gas field.
FAR said that, in combination, Gambia "blocks A2 and A5 have potential to contain prospective resources in excess of one billion barrels of oil -- on an unrisked, best estimate, 100% basis." The area further north on the Mauritania-Senegal offshore border has several gas and oil prospects.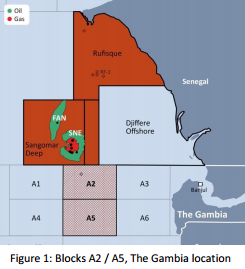 Map credit: FAR Ltd
Erin is listed on the New York and Johannesburg stock exchanges and has exploration acreage offshore Ghana and Gambia and onshore Kenya.
Oslo-listed London-based African Petroleum Corp still retains 100% of adjacent Gambia blocks A1 and A4; shallow blocks A3 and A6 are believed to be open. Adama Barrow replaced incumbent Yahya Jammeh as Gambia's president in January 2017 after a stand-off of several days during which veteran Jammeh refused to give up office to his elected successor. Jammeh has since left the country.
As part of BP's roughly $1bn farm-in to Kosmos assets offshore Senegal and Mauritania, completed February 2017, BP and Kosmos agreed to cooperate not only offshore both those countries but also offshore Gambia.
Mark Smedley
Update: FAR said April 4 it had increased its interests in Guinea-Bissau offshore areas 2, 4a and 5a with its joint venture partner Svenska Petroleum.
FAR will now have a 21.42% participating and paying interest in the permits, an increase from the 15% participating and 21.42% paying interests as previously reported, it said. These changes reflect the fact that state-owned Petroguin will no longer having a participating interest in the joint venture prior to a commercial discovery. Upon making a commercial discovery, Petroguin will have a reduced participating and paying interest of 10% and FAR and Svenska will respectively have interests of 19.28% and 70.71%.
In view of the SNE finds off Senegal, and to provide adequate time to further evaluate the newly acquired 3D seismic data offshore Guinea-Bissau, the joint venture -- which is targeting oil -- has been awarded a three-year extension to the current licence periods, now ending on 25 November 2020