Exxon Boss Tillerson Accepts US Top Role
ExxonMobil CEO Rex Tillerson has accepted nomination as Secretary of State, offered December 12 by president-elect Donald Trump.
Another deal maker like Trump, Tillerson has no apparent experience of statecraft although his career at the top of the world's biggest publicly-listed oil and gas company will have acquainted him with many of the world's leaders in business and politics, such as Russia's president Vladimir Putin, who awarded him with a medal of friendship.
A statement from Trump's office said he was one of the "most accomplished business leaders and international deal makers in the world" and that his "tenacity, broad experience and deep understanding of geopolitics make him an excellent choice for secretary of state... He will promote regional stability and focus on the core national security interests of the US."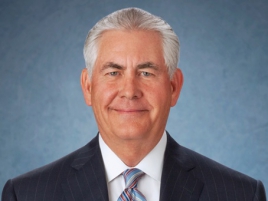 ExxonMobil CEO Rex Tillerson - now officially nominated as the next US Secretary of State (Photo credit: ExxonMobil)
Tillerson was against sanctions on Russia when forces that it backed took over Crimea. Sanctions forced ExxonMobil to abandon work with Russia's Rosneft in the Kara Sea but, like other foreign operators, has continued existing joint venture oil and gas operations on Sakhalin Island.
He joined Exxon, as it then was, in 1975 and has not left for government service since; so his critics will be watching – assuming he receives approval of the Senate – for policies or decisions that favour his old employer. Like other US majors, ExxonMobil is not part of the oil companies' climate initiative, most of whose members are Asian or European companies. At time of press, ExxonMobil could not tell NGW when he would leave the company if successful; or who would replace him.
William Powell