German Gas Grid 'Could Achieve €12bn/yr Savings' by 2050: Report
Germany's long-distance gas transmission operators have published a report, via their industry association FNB, claiming that optimisation of the country's existing gas grid could save €12bn ($14.1bn at present rates) annually by 2050.
It is the main conclusion of a report (in German only) authored by consultancy Frontier Economics and published by FNB on October 9.
Owners of gas infrastructure have an interest in justifying its continued use to regulators, especially at a time when natural gas use is expected to decline. The report must necessarily have had to make assumptions about how reliable future sources of gas imports will be relative to low-carbon power sources.
The report contends that cross-sectoral coupling of Germany's electricity and gas networks is the key to an efficient, viable and affordable energy system – and that optimal use of the existing gas system could reduce, by 40%, any need for a future expansion of the electricity transmission network; and of the power distribution network by 60%. "The study shows the value of existing gas infrastructure in achieving the 95% maximum CO2-reduction target set by the federal government for 2050," FNB managing director Inga Posch said.
The report argues that savings of €10bn/yr can be achieved by 2050 by encouraging end-users to use 'green gas' in the heat and transport sectors rather than always, by default, using 'green electricity' (the study assumes that 'power to gas' will penetrate the road and marine fuel markets, but that trains will be 100% electric). Savings from significantly lower power grid deployment – by a greater use of the gas grid – would save a further €6.3bn by 2050, the report said.
These are partly offset by costs of €4.3bn/yr by 2050, of which €4.2bn/yr will be for additional power generation and power-to-gas facilities, plus €0.1bn/yr for the maintenance of existing gas networks, plus their partial conversion. The net result presented by Frontier Economics is an annual saving of €12bn by 2050 (see graphic below). All values are in 2015 euros.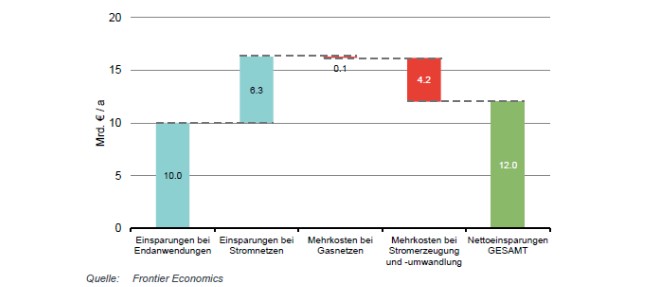 Annual savings by 2050 in system costs for the 'Power and Green Gas' scenario, relative to the 'Power and Gas Storage' scenario, expressed in 2015 euros (Graphic credit: Frontier Economics/FNB, from report 'The Value of Gas Infrastructure to Germany's Energy Transformation' )
Mark Smedley