Europe's Gas Industry Questions Its Future - NGW Magazine
This article is part of Volume 2, Issue 10 of Natural Gas World Magazine.
This year's Flame conference in Amsterdam, although better attended than some in recent years, did little to dispel the sense of foreboding hanging over Europe's gas industry.
While the European Union's gas demand is growing and may well remain strong until the end of the next decade, a lot of that is to do with replacing declines at home.
After that point, it will probably be a different story: from 2040 the promised decarbonising measures will limit appetite for new investment in pipelines and power plants, even before the fruits of future technological advances in power storage and energy efficiency have been considered.
But someone has to pick up the cudgels and defend gas' corner, and this year that role fell first to Statoil's Tor Martin Anfinnsen. His opening salvo was that low carbon future can happen only with gas as part of it. Realities are now beginning to sink in: gas is a necessary part of any low-carbon energy mix. The industry needs to make sure that gas has a future by confronting misconceptions about renewables and gas and instead promoting the synergies between the two.
Gas came to the rescue of Europe in 2016. In Germany for two weeks there was no wind or sun. How does one deal with this when batteries alone cannot? Natural gas is essential as it can respond quickly to power demand changes. Gas infrastructure in Europe is extensive and does not need significant new additions; gas trading hubs are functioning well and prices respond to fundamentals.
Gas has a positive impact on emissions reduction. In the UK coal-to-gas switching has been achieved through low gas prices and the carbon floor price. It has produced significant reductions in CO2 emissions, but also the lethal SOx, NOx and particulates; and as a result it has contributed to clean air. Emissions in 2016 were reduced to 1894 levels, down 45% from their peak in the 1970s.
From Germany, Uniper CEO Klaus Schafer made the case that the energy future of Europe will be driven by the three Ds: decarbonisation; decentralisation; and digitalisation. New technology is key.
The gas industry can achieve quick wins by embracing decarbonisation and ramping up innovation activities for the low-carbon energy world of the future.
The EU's 2030 decarbonisation targets provide an opportunity for gas through coal-to-gas switching for power generation and oil-to-gas switching for heating and transport. Within this context the gas industry needs strong advocacy work to demonstrate how gas can support the targets of EU's policy-makers.
A lot going on
According to Jonathan Stern of the Oxford Institute of Energy Studies, a part of the reason for the higher turnout was that there is a lot going on.
He identified the main ones: two Russian pipeline projects – TurkStream and Nord Stream 2 – which are progressing, with opposition from central Europe in particular; wholesale gas prices are falling; and there are growing LNG exports from the US, some of which will come to Europe.
There are also the uncertainties posed by Brexit; investment in infrastructure, including storage and security of supply; and the anti-trust probe into Gazprom.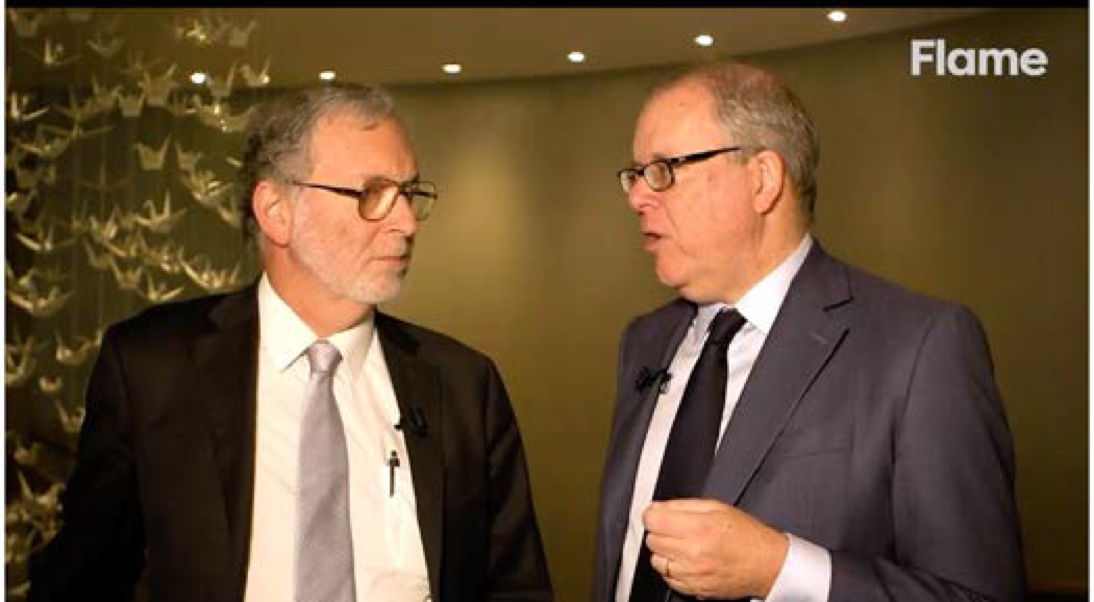 Several delegates thought that the closure of the giant UK seasonal Rough storage facility, if it became permanent, would spur interest in new transport contracts for the UK-Belgium gas interconnector post-2018; while the operator of the similarly financed Balgzand-Bacton Line, running from the UK to The Netherlands, might also view this as the time to install compression so that it too becomes bi-directional.
The European Commission's consultation process on Gazprom's settlement proposals closes May 19 and Gazprom hopes they will be accepted without an additional financial punishment of up to a tenth of its annual turnover.
The Polish Oil & Gas Company (PGNiG) did not settle for that, however, demanding a fine and a series of other measures be imposed on Gazprom. These include divestment of its Polish and German pipeline assets, full compliance with the Third Energy Package where its pipelines enter the EU.
Of the settlement proposal, Stern told NGW that the Bulgarian section on long-term contract pricing was of note, as it is conceptual, apparently relying on the Dutch title transfer facility (TTF) as the most liquid continental hub, although the nearer Central European Gas Hub would be a more natural way to go, if it were more liquid, he said: "Commercial negotiations cannot be conceptual, they need to spell out the specific terms."
Hubs are the future: Gazprom
Nevertheless the use of hubs shows that Gazprom is accepting what others have for some time: oil plays a role in price formation; but so too does coal; and hubs are where the market clears – and these days this is at low prices relative to what would be needed to attract much LNG from the US.
The CEO of Gazprom Export, Elena Burmistrova, said in her Flame presentation that Gazprom was not dumping its gas – indeed Gazprom itself was surprised too by the failure of US LNG to arrive in volume but Russia could not be the Saudi Arabia of the gas world. Instead of war, there is peaceful competition with other suppliers to and within the EU; and hubs, while generally imperfect now, are the future, she said.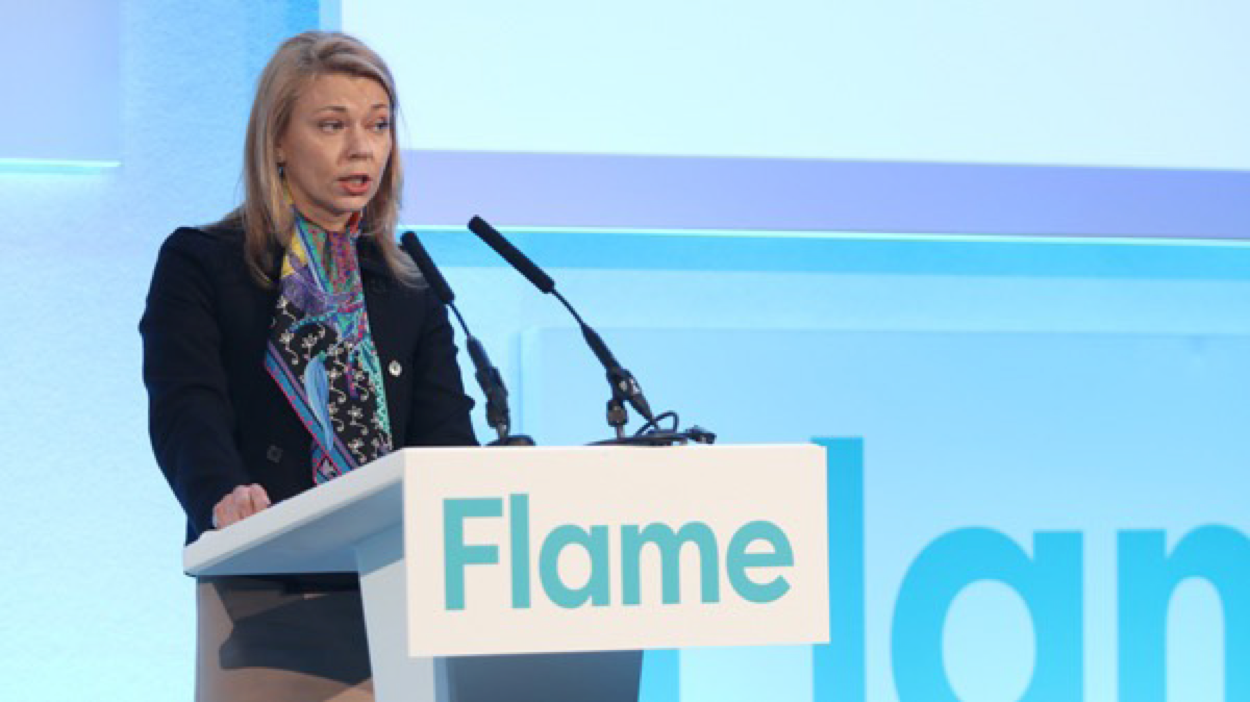 The weak Russian rouble enables Gazprom to make more profit from its euro-denominated gas sales to Europe, all other things being equal, say observers. Gazprom may on occasion have been delivering at below National Balancing Point but that is because of low oil prices, which still directly affect a little over half of the gas it sells, combined with the six or nine month time lag meaning that summer oil prices set the price of winter gas contracts.
But Burmistrova said: "Market share is not a goal in itself." She also said that even if Gazprom wanted to account for more than its present third of Europe's import slate, it was not certain that the EC would like that. Nevertheless Gazprom is heading for another historically high export figure this year following two previous record years.
So it was not price wars with the US that are keeping LNG out of Europe: instead, it is demand for gas from South Korea, where there is a nuclear outage; under-performance from the Gorgon field; and demand from new importers.
US exports may be on the rise, the new regime approving its first export licence in April – for Magnolia LNG, yet to take final investment decision – and declaring that gas exports were good for the economy. But the checks and balances for which the US is famous mean that the Federal Energy Regulatory Commission must be quorate to approve.
There is some $50bn of applications on hold, and it will take several months for each of the missing commissioners to be appointed, according to Keith Larson, a partner at Hogan Lovells. Plant developers might not be in a rush though, given the time taken to develop demand in consuming countries and the stagnation of existing demand growth.
Still the US could be exporting 65mn mt/yr of Henry Hub-priced LNG by the end of this decade, with most of the pipeline infrastructure in place and the reserves known. This is the primary source of global supply diversification, and will have a major impact on the market.
Small LNG is acceptable: Kapsarc
In this generally bearish context, small LNG projects may have the edge on other schemes. Kapsarc LNG researcher Anne-Sophie Corbeau told NGW that the advantage of Fortuna, the Ophir-led project off Equatorial Guinea, was its small size and proximity to Europe. "This is the kind of project the market needs," she said. "It does not want to commit to large volumes for long term."
With a buyer or buyers for the output of at least one and possibly two trains each of 2.5-2.8mn mt/yr each expecting to sign a heads of agreement this month or next, Ophir's Nick Cooper said the plant can claim cost competitiveness against US LNG delivered to Europe. It was far down the cost supply stack at $500/mt/yr of capacity, compared with estimates of $1,500/mt/yr for Eni's Coral project, even though that LNG has been sold to BP.
Having failed to sell the output of its fields to the existing Equatorial Guinean liquefaction plant for a number of reasons, including the distance and the seabed contours that made the pipeline expensive, he said he had "tried to kill the project" repeatedly, as oil had been the original target.
But finance covering 60% of the $2bn cost has been arranged, thanks to Chinese lenders, had been arranged and the likelihood is that the LNG will cost $1/mn Btu less to produce and deliver to Europe from there, than from the US.
Corbeau said: "This is the kind of gas we need now. It is the cheapest source of LNG." But she cautioned that it still had to be proven, as these "are new players, looking for oil but completely new to LNG." Otherwise though she said nobody else is willing to take a final investment decision.
She also made the point that LNG exports should not be the sole object for an asset holder as power prices were not that low in many African countries and the gas price could be based on that. A number of companies such as Victoria Oil & Gas in Cameroon were selling gas output to local industry; and Anadarko is selling gas produced in Mozambique to GL Africa, operator of a 103-MW power plant in Zambia.
And in Tanzania, much of the electricity comes from hydro, which can be hit by droughts: "You need something more reliable for power generation. Countries that want to grow need a reliable source of power for industry and commerce round the clock," she said – never mind potential gas demand growth in "megacities such as Cairo and Lagos", where gas for transport, such as buses running on compressed natural gas, would help combat air pollution.
William Powell
This article is part of Volume 2, Issue 10 of Natural Gas World Magazine.