Europe sees rebound in industrial gas demand in May even as Russian pipe gas supply dips
Gazprom's pipeline natural gas exports to Europe were down 11% in May versus last month but down a massive 76% versus last year. Gazprom's export volumes are staying in the expected range forecasted to be between 0.9 and 4.5bn m3/month, with this month seeing a decrease via Turkey of 30%.
After more than a year of war in Ukraine, it is important to note that more than half of Gazprom's exports to Europe are still transiting via the Ukrainian grid.
Gazprom's monthly gas exports to Europe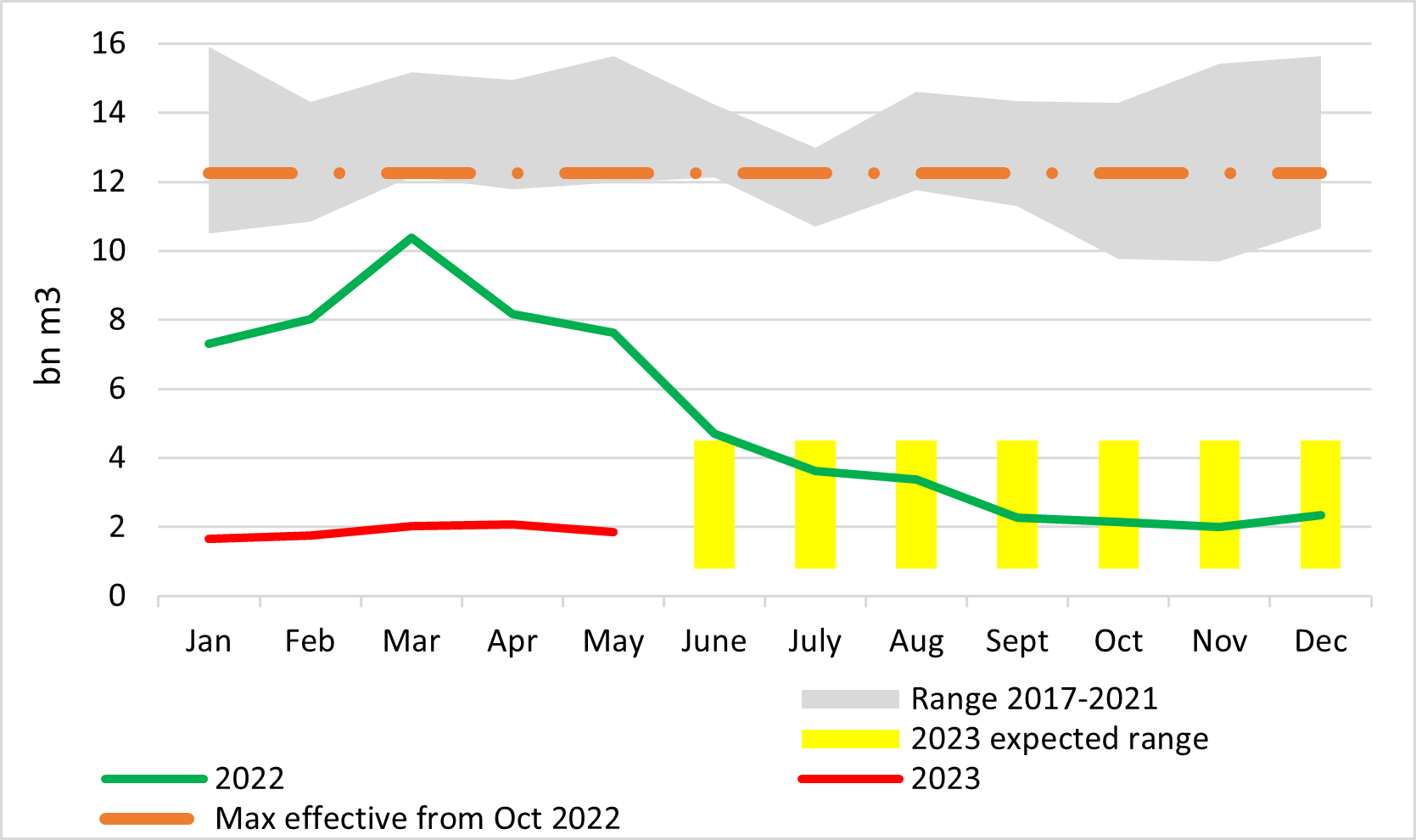 Source: Gazprom, Entsog, thierrybros.com
With 1.8bn m3 exported in May 2023 versus 7.6bn m3 exported in May 2022, the drop year/year is 5.8bn m3.
Gazprom's export volumes should stay much lower than those witnessed last year until the end of summer.
Split of Gazprom's monthly gas exports to Europe via route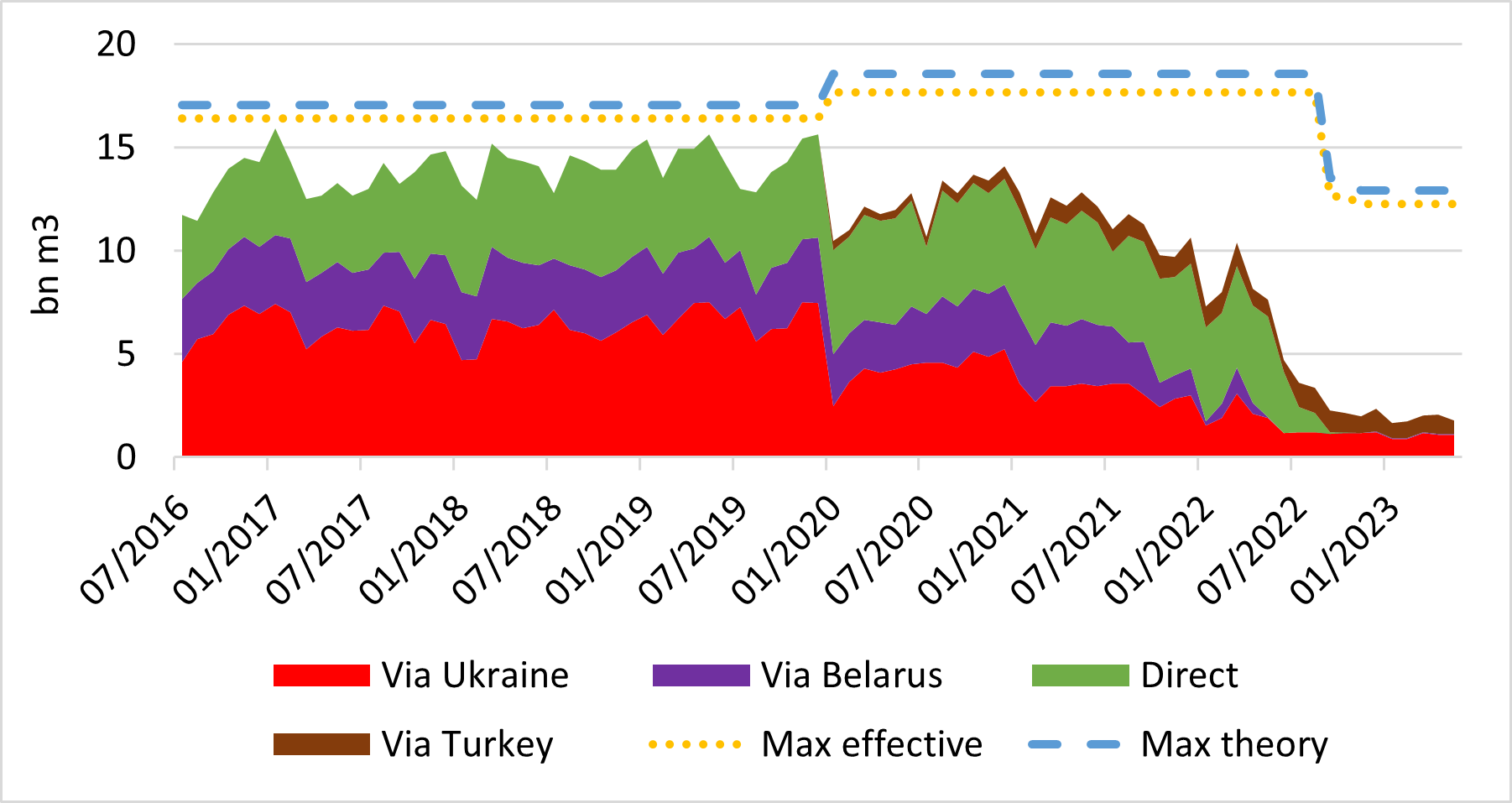 Source: Gazprom, GTSOU, Entsog, thierrybros.com
April LNG send-out to Europe was at an all time high with a maximum daily volume recorded on April 20. In May send-out was 1.4bn m3 more than last year.
EU LNG sent-out (excluding Malta)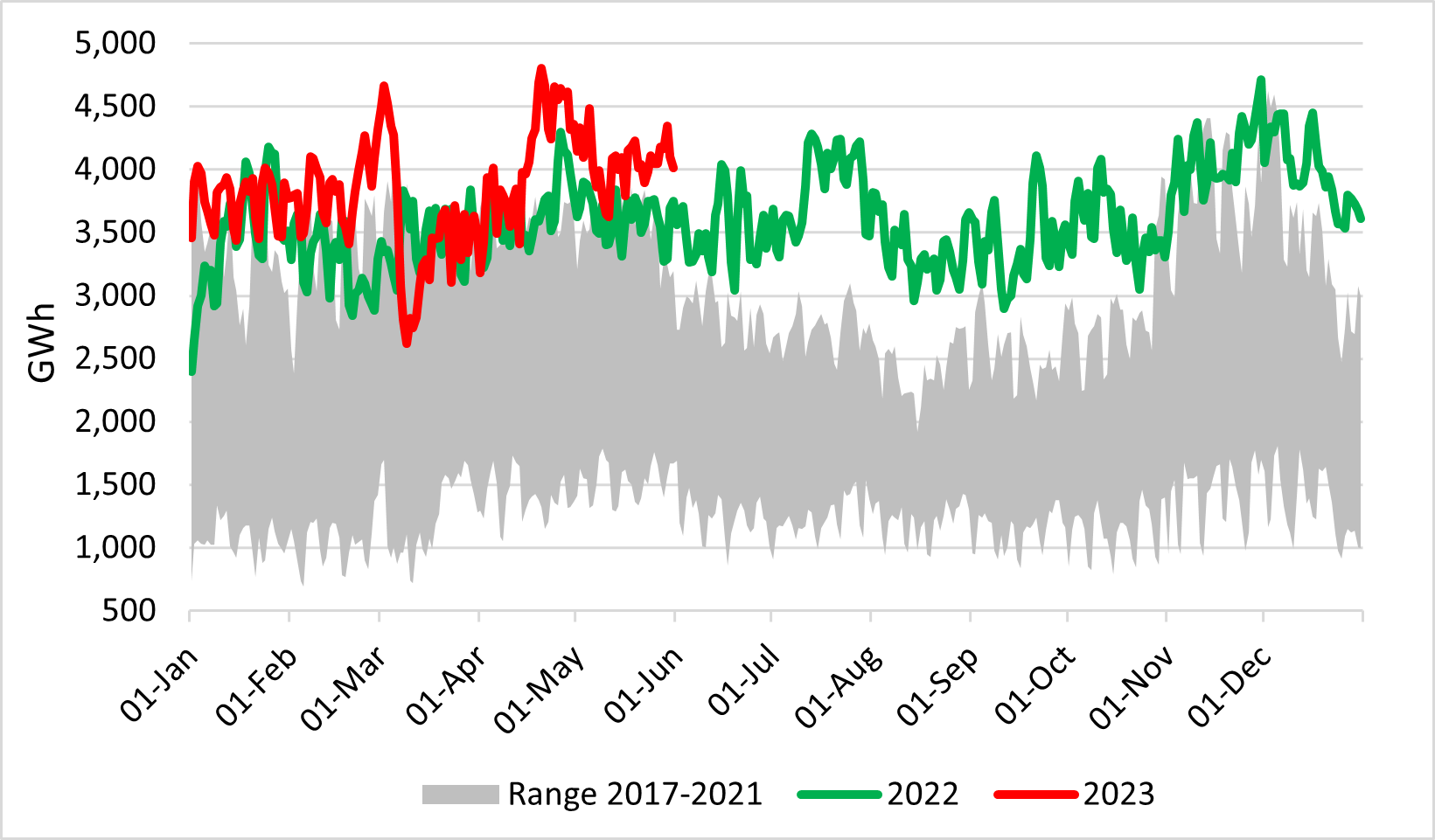 Source: GIE, thierrybros.com
Together with BP, PetroChina has supported the capacity expansion of the Gate LNG terminal in the Netherlands by winning a tender for 20-year access to the facility. If no European utilities invest in gas for Europe, in the future it will be in the hands of portfolio players and China. Portfolio players are doing this for profit. China could do it for geopolitical reasons. It makes little sense for the Chinese Communist Party to invest in energy in Europe when we all know that the worldwide capital expeniture will not be enough to meet growing energy needs, to invest in Europe instead of concentrating investment in China (and Africa for raw materials access) unless it has a hidden agenda. In short, if Europe fails to reduce its gas demand it will move from a Russian gas dependency to a Chinese energy dependency (as China has already bought stakes in electricity production and transmission). This should be a wakeup call for EU leaders that need to foster energy sovereignty.
EU gas storage utilisation
Source: GIE, thierrybros.com
EU gas storage volumes dropped to their lowest (55.4% full) on April 7 (versus 25.5% on March 19, 2022) and ended May at 69%.
The injection rate accelerated in May versus April and if this continues at the same level, the EU-required 90% filling target should be reached in early October. But this would be lower than the 97% reached last year. Europe will be ready for winter but not for any unexpected risks (low temperatures, additional supply disruptions).
In May 2023, storage refilling was 5.4bn m3 less than at the same period last year.
EU monthly gas demand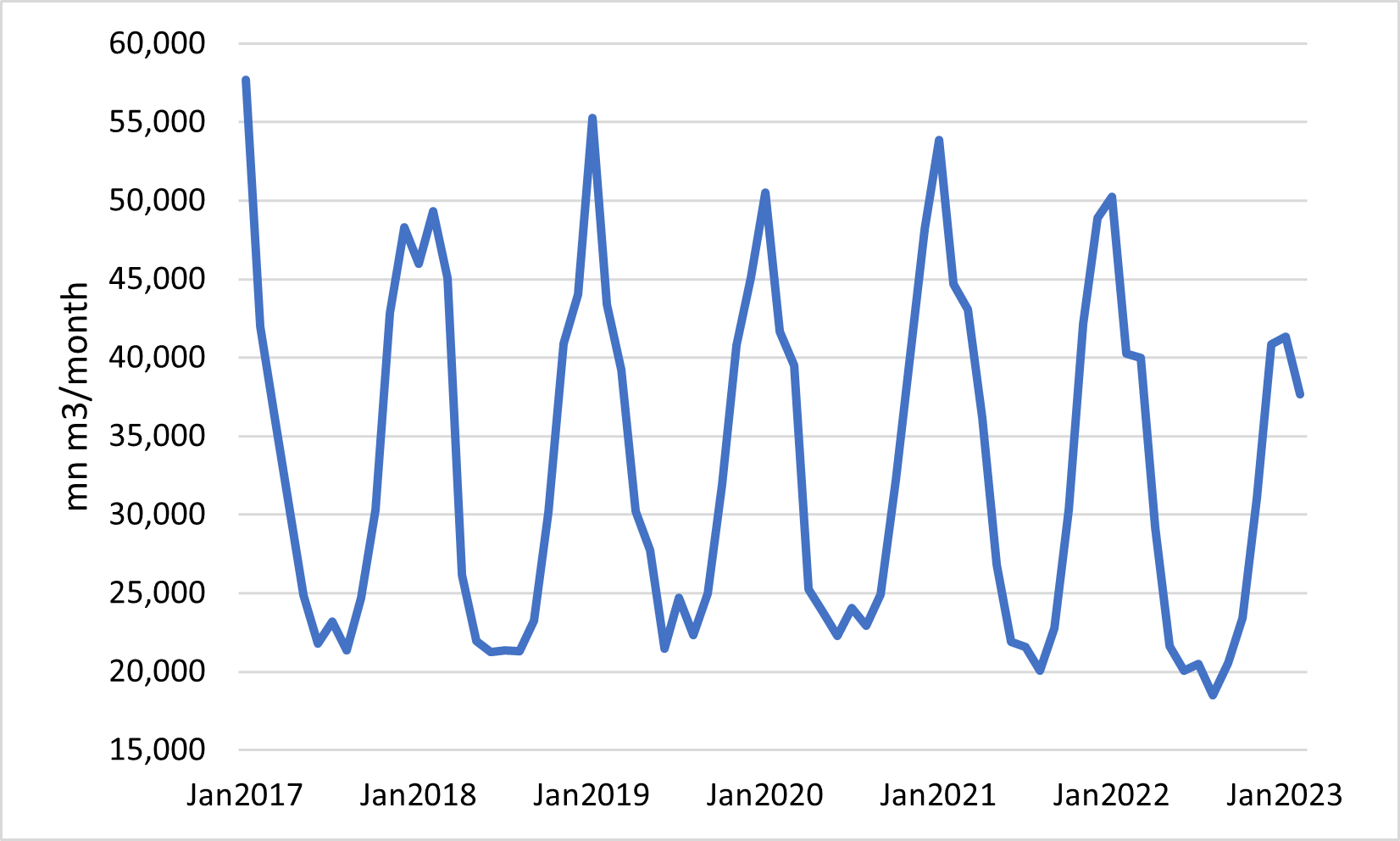 Source: Jodi
The drop in EU gas demand so far has been so severe that it did put Germany into recession due to industrial demand destruction. But with lower gas prices we now need to re-evaluate this narrative of a gas demand that would only go south.
Assuming all flows were broadly the same in May 2023 and May 2022 except for Russian pipe gas, Groningen gas and LNG, we have year/year 5.8bn m3 less Russian pipe gas, 0.2bn m3 less from Groningen and 1.4bn m3 extra of LNG, meaning a net loss of 4.6bn m3. Storage refilling was 5.4bn m3 less during this time, meaning that the estimated demand in May 2023 could be up 0.8bn m3, or 4%, versus May 2022. This would be the first time we have a year/year growth since January 2022. As we are now outside the heating period, we can assume that this growth does not come from residential users, as that consumption should be flat year/year.
Power generated by gas went down massively in May 2023 (22.4 TWh) versus May 2022 (29.7 TWh) or 25% less with total electricity generation down by 6%. This is in line with the trend so far this year: EU electricity generation is down by 6% with gas fired power generation down by 19%. So, gas demand for power generation was reduced by 1.5bn m3 in May 2023 versus May 2022.
EU monthly power generation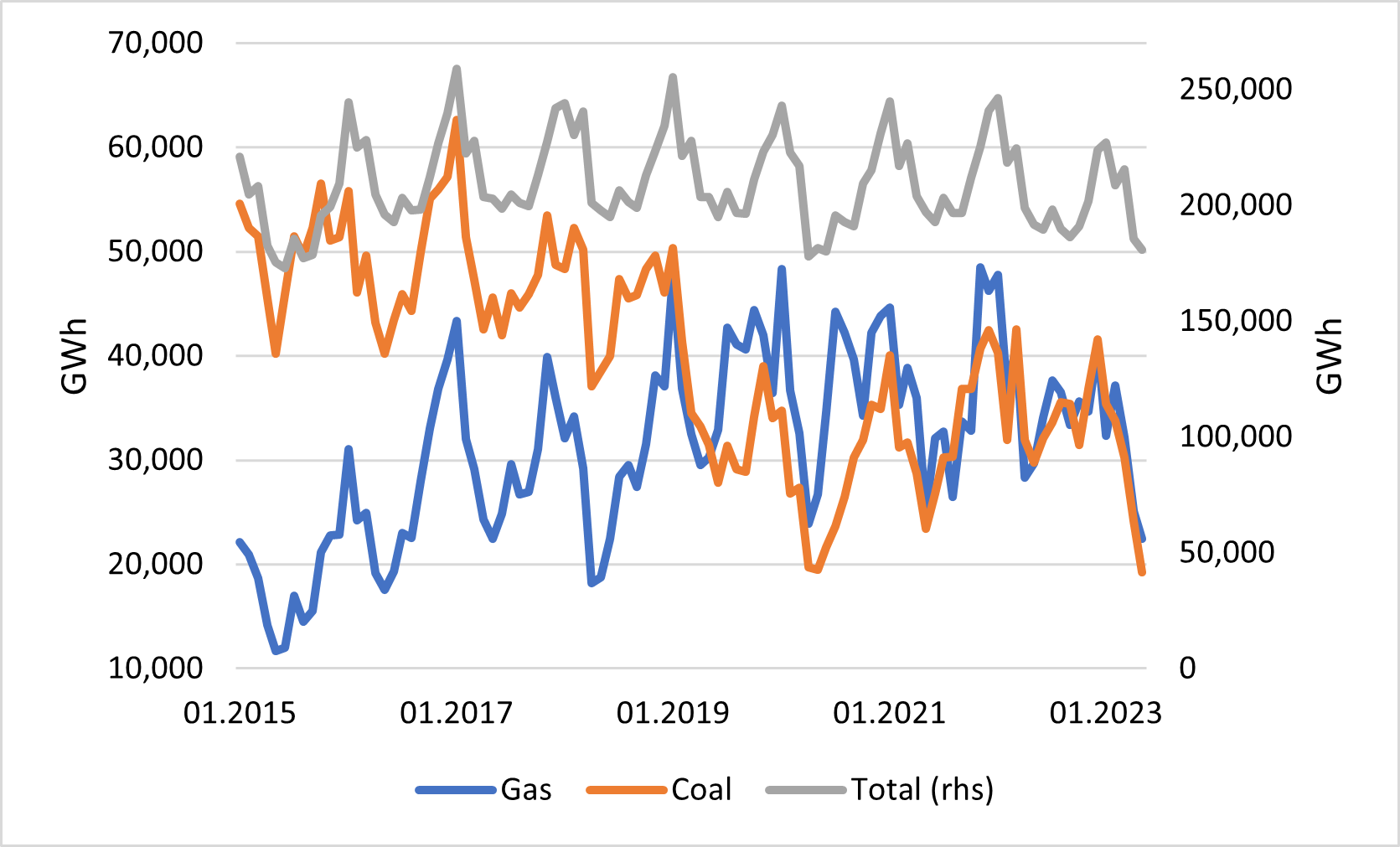 Source: Energy-charts, thierrybros.com
This means that industrial demand restart was in fact 0.8+1.5 = 2.3bn m3 in May. This is in fact a very bullish number if it was to become permanent. As expected, if record high gas prices entailed demand destruction in 2022, today lower prices are boosting demand.
In conclusion, industrial gas demand rebound started in May and could be, in fact, stronger than expected. If total gas demand is effectively up year/year this could change the political thinking that believes that gas demand will continue to go down forever.
Dr. Thierry Bros
Energy Expert & Professor
June 7, 2023