Europe on edge while NS1 is down
Europe is on edge and the region is counting down the days until Nord Stream 1 is scheduled to return to its already sub-optimal operational level.
Should Nord Stream 1 not come back online, Europe's fiscal and energy policies set up to deal with restrictions in gas flows will face their first major test.
Going through demand destruction and limitations on gas sales during the summer months may be a blessing in disguise, however, as a cut in supply this autumn or winter would hit at the worst time possible.
Even so, Europe needs supplies now to build up its stocks before the heating season.
The outage at Sleipner yesterday has been fixed by this morning and reinforces that while Europe may be able to survive without Russian gas, they are vulnerable to other supply cuts
The key source of Russian supplies to Europe, the Nord Stream 1 (NS1), has delivered zero flows into Europe since 11 July due to planned annual maintenance of the pipeline (Figure 1).
NS1 has also been delivering reduced flows, at around 67 million cubic meters (MMcmd), for the past few weeks due to compressor issues.
The market is beginning to question if the pipeline will resume on the set date of 21 July following maintenance.
The resumption will depend on Canadian turbines from Siemens making it to Russia.
Recent news from the Canadian government about the turbines securing permit to return to Russia puts the ongoing program a step closer to completion.
News that NS1 volumes will increase once the turbines are returned added downward pressure to prices. Even tough gas flows through NS1 have halted due to maintenance, gas flows from the Ukrainian transit have held steady at around 36 MMcmd.
Since the news of the halt in flows, Dutch TTF prices hit a high of $48.8 per million British thermal units (MMBtu) on 11 July.
Ample uncertainty surrounding Russian supplies remain amid persistent fears of the continent running out of gas during the heating season.
Market participants continue to closely monitor the restart of the pipeline and the supply flows through the route.
Norwegian flows are currently at 242 MMcmd as of 12 July, roughly 90 MMcmd lower than a week ago. Reduced flows from Norway are a result of annual planned maintenance, which normally takes place during summer, and some outages, such as the Nyhamna gas facility connected to the Sleipner field on 11 July.
With reduced Russian supplies, Europe is heavily dependent on Norwegian gas exports, crucial for Europe's energy security.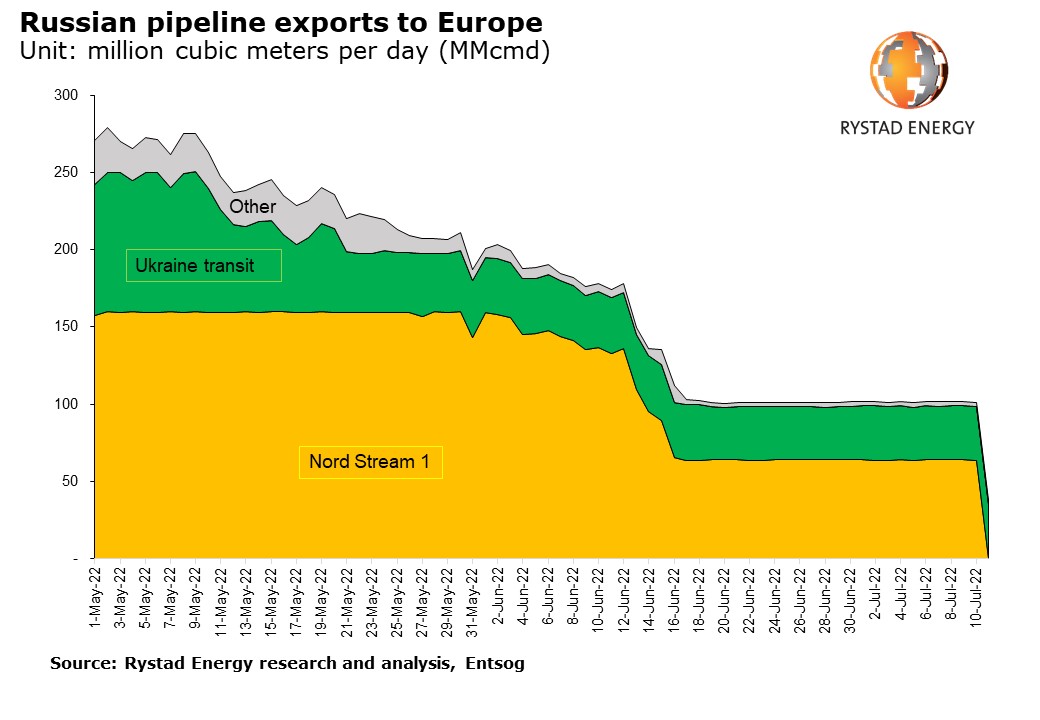 Current EU storage is now 59.09% full.
If the turbines from Canada are delivered to Russia, and the NS1 runs at its full capacity of around 167 MMcmd after 21 July, it will provide a downside risk to prices.
With NS1 back at 100% capacity, Europe is set to reach the target of filling 80% of capacity by 1 November (Figure 2).
If the system continues to deliver reduced exports, at 67 MMcmd through the rest of the year, Europe is on track to reach storage levels of 72% by the end of October instead of the targeted 80%.
If Nord Stream 1 were to stop exports completely after the maintenance on 21 July, EU storage levels would reach only around 65% before winter, creating a real risk that the continent could run out of gas during the heating season, adding further upside to the currently elevated market.
The statements, opinions and data contained in the content published in Global Gas Perspectives are solely those of the individual authors and contributors and not of the publisher and the editor(s) of Natural Gas World.