EU Funds Eastring Project Study
The European Union's Innovation and Networks Executive Agency (INEA) and Slovak transmission system operator (TSO) Eustream have agreed on funding for a study into the planned Eastring gas pipeline project. The study will be funded under the Connecting Europe Facility (CEF) with the sum up to €1mn ($1.12mn) or half the costs.
The CEF co-ordination committee, composed of representatives of the 28 member states, agreed to fund the feasibility study for the Eastring pipeline under the EU's Connecting Europe Facility (CEF) on 17 February 2017.
Eastring will link western European liquid hubs and the Balkan region, an area with a potential to be a highly liquid region offering new natural gas sources from the Caspian, eastern Mediterranean and the Middle East. There are also believed to be sizeable gas reserves in the Romanian section of the Black Sea.
Possible Eastring routes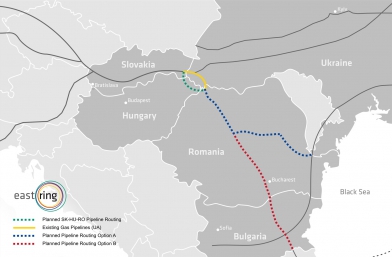 (Credit: EU)
The project will enhance the security of supply for the Balkan region as well as for whole Europe by creating a new corridor for new natural gas sources, and will help to improve competition by enabling diversification of routes and sources. The feasibility study will define the technical details of the project including the possible routing options and serve as the basis for the final investment decision on the project. The grant application was submitted with support from TSOs from Hungary (FGSZ), Romania (Transgaz) and Bulgaria (Bulgartransgaz).
William Powell