Eni Starts Ghana's OCTP Project Early
Eni has launched production from the integrated oi and gas development project, in the Offshore Cape Three Points (OCTP) block, off Ghana's western coast, the Italian company said May 20. The process took two and a half years from final investment decision, and was three months ahead of schedule, reaching another record time-to-market, it said.
The development is made up of the Sankofa Main, Sankofa East and Gye-Nyame fields, which are about 60 km off Ghana's Western Region coast. The fields have about 770mn barrels of oil equivalent in place, of which a third is non-associated gas totalling 40bn m³, which will be used in the Ghanaian market.
The John Agyekum Kufuor floating production, storage and offloading unit (FPSO) will produce up to 85,000 boe/d through 18 underwater wells. A 63-km submarine pipeline will transport gas to Sanzule's Onshore Receiving Facilities (ORF), where it will be processed and transmitted to Ghana's national grid, supplying about 180mn ft³/d.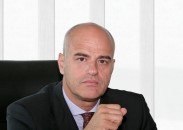 (Credit: Eni)
Eni CEO Claudio Descalzi (pictured above) said the early start "was an extraordinary achievement" testifying to Eni's "exploration skills and knowledge", as well as to its field development vision.
He said it also confirms the effectiveness of its new operational model, where Eni has a central role in project management, aimed at improving time-to-market. "The launch of OCTP will provide gas to Ghana for over 15 years and the resulting electricity will give a real boost to the country's development. All of this has only been possible thanks to the unwavering commitment of Ghanaian authorities and of our partners," he said.
Vitol CEO Ian Taylor also said: "This is great news for the project and for Ghana."
However the UK-based Jubilee Debt Campaign has expressed concerns about the high level of debt taken on by the OCTP project, believing that some of the liabilities rest with the government which is already in debt crisis (see May 22 issue of NGW Magazine).
Eni is operator of the OCTP block with 44.44%, while Vitol holds 35.56% and Ghana National Petroleum Corporation 20%. Last year Eni won a new exploration license, Cape Three Points Block 4, which is adjacent to the OCTP Block and which could also benefit from a fast-tracked start-up if the company deems it commercial. The drilling of the first exploration well is expected in 2018.
William Powell