Eni Meets Algeria's Bouterfa, Extends Licences
Eni chief executive Claudio Descalzi was in Algiers June 21 to meet the new energy minister Noureddine Bouterfa and state oil and gas producer Sonatrach's CEO Amine Mazouzi. Similar visits were made by Descalzi to Algiers in November 2015 and April 2016.
Descalzi expressed his hope for closer cooperation with Algeria either by re-launching gas development activities in existing concessions and/or by embarking on new renewable energy activities. "The aim is to further strengthen the partnership between Italy and Algeria, and between Eni and Sonatrach, through a development model capable of enhancing the existing facilities of Eni and Sonatrach in Algeria," said the Italian company.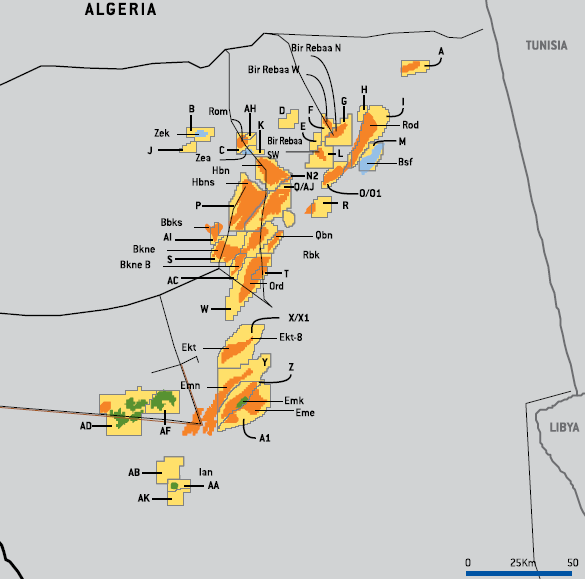 Algeria's ROD field is in the top right corner, near to the Tunisian border (Map credit: Eni 2015 Facts Book)
Eni's production in Algeria currently amounts to more than 100,000 barrels of oil equivalent/day, of which about four-fifths is oil.
The Eni and Sonatrach chiefs signed an agreement relating to extending production licenses for the ROD reservoir and its satellite fields (SFNE and SF) in blocks 401a and 402a, which accounted for 14% of Eni's Algerian equity production in 2015, and three Block 403 fields (BRN, BRW and BRSW) which accounted for a further 10%; the oilfields are in central-eastern Algeria, close to the Tunisian border.
Eni said the accord "will bring about an ambitious programme of activities that will include advanced techniques for hydrocarbon recovery" and also laid the foundations for completing a unitisation process between SF field (100% Sonatrach) and the SFNE field, jointly operated by Eni and Sonatrach.
Eni has been in Algeria since 1981 and invested $11.5bn in Algeria's upstream in 2010-15, a quarter of such foreign investment during that period.
In March, the Algerian government reportedly indicated it would offer foreign firms direct talks over licences, rather than go through licensing rounds, and that Sonatrach was having such talks with Eni.
Meanwhile Eni said June 21 that negotiations to sell off a majority stake in its Italian Versalis bio-refining and eco-chemicals business to US investment fund SK Capital had been "terminated due to an impossibility to reach a resolution on certain issues, including the future governance of the company."
Mark Smedley | www.naturalgaseurope.com | www.naturalgasafrica.com