Eni's Mammoth Discovery and Egypt's Chance
Securing foreign investments and establishing more attractive terms when it comes to its natural resources, have been the two items on the top of the new Egyptian government's agenda according to Credit Suisse. This allowed for an energy exploration deal to be signed between Egypt's oil ministry and Italian energy giant, Eni SpA, back in June. This deal, worth $2 billion, followed a memorandum of understanding in March, and allowed Eni to explore in Sinai, the Gulf of Suez, the Mediterranean and areas in the Nile Delta. Eni is no stranger to Egypt; it has been operating there for over 60 years through its Egyptian subsidiary IEOC (International Egyptian Oil Company) which produces a daily output of around 200,000 barrels of oil.
On Sunday Eni claimed to have discovered a "supergiant" gas field with "a potential of 30 trillion cubic feet of lean gas in place." This deep-water deposit is located in the Zohr Prospect in the Shorouk block, off Egypt's Mediterranean coastline at a depth of 1,450 meters. The field covers an area of about 100 square kilometers and if Eni's figures prove to be valid, it is the largest gas discovery in the Mediterranean Sea to date.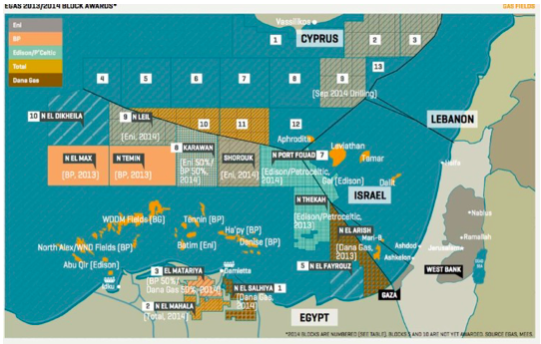 This discovery "is changing the game for Egypt … It is very important for Egypt, but also for the Mediterranean in terms of stability," said Eni's CEO, Claudio Descalzi, in an interview on Monday. Egypt has seen its gas output declining since 2011 following the overthrow of Hosni Mubarak. The aftermath was a hit to investments in exploration and production. Furthermore, local demand for electricity has grown by more than 7 percent a year while Egypt's population – currently estimated to amount to 87 million people continues to grow. Egypt started buying liquefied natural gas cargoes this year from companies including Noble Group Ltd, BP Plc and Vitol SA. Nevertheless, this is all about to change.
According to a report published on Monday by London-based Energy Aspects Ltd., an independent research consultancy, Eni will achieve a "significant level" of production at Zohr around 2018 or 2019. "The region will be long natural gas," it said. "This could enable Egypt to restart its own LNG exports by providing feedstock for Eni's dormant export facility at Damietta or freeing up gas for export from BG Group Plc's facility at Idku", Energy Aspects said.
However, the entire production will go toward domestic consumption as was confirmed by Hamdy Abdel Aziz, director of the Egyptian Petroleum Ministry's information department. "The field's reserves can meet Egypt's needs for more than 10 years," said Aziz. This marks a reversal in fortunes for Egypt's energy policy, reducing reliance on LNG imports and spelling potential problems for Israeli and Cypriot gas exports intended for Egypt from the Leviathan and Aphrodite fields respectively. But this will not be an easy feat. Securing the necessary investments for the development of such a field, requires certain political and financial assurances which Egypt will have to produce if it wishes to persuade the potential investors of their viability as a long term reliable and creditworthy buyer.
However, Cyprus may still be in good fortune. As exploration on the Zohr prospect is still under way, there is a very high probability that the deposit "Zohr-1X", on the boundary between Egypt's and Cyprus' EEZs (exclusive economic zone), extends within the Cypriot Exclusive Economic Zone. Should this be the case, then the relevant production sharing agreements will be activated. "If you consider that our own blocks, 10, 11, and 12, are adjacent and just six kilometers away, you realize that no one can deny that the areas within which there may be so much capacity are not extended to the vicinity," said the President of Cyprus, Nicos Anastasiades. "It is not excluded that it also extends to the Cypriot EEZ," was the statement made by Cypriot Energy Minister George Lakkotrypis. Furthermore, Lakkotrypis confirmed that "a project to build a gas link to Egypt from a field discovered in waters off Cyprus will be reviewed as the two countries study data from the Zohr prospect," in an interview with state-run RIK TV.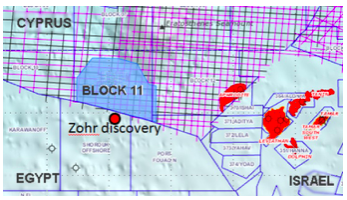 With a low and volatile gas price and rising environmental constraints, news of this mammoth gas discovery in the Zohr Prospect could not have come at a better time for both Egypt and Eni but also the wider region. On the one hand, it will reignite the fading interest in the upstream prospects of the area. On the other hand, it will allow Egypt to get on its feet and it is a good first step to ensure stability in the Eastern Mediterranean and the Middle East. Furthermore, as we reassess our environmental targets for today and the years to come, gas along with renewables offers perhaps the only realistic option for the future of our energy system. Hence, securing as many deposits as possible will ensure the longevity of the commitments we set for our energy and environmental commitments.
Christos Brakoulias is Deputy Head of Greek Energy Forum in Brussels, and Dr. Angelos Gkanoutas-Leventis is Deputy Chairman of the Greek Energy Forum. The opinions expressed in the article are personal and do not reflect the views of the entire Forum or the companies that employ them.