Eni Approves Coral FLNG Investment, But FID Yet to Come
Eni's board has approved the investment for the Coral South phase one development in the deep waters of the Rovuma Basin (Area 4), offshore Mozambique – but this is not quite the final investment decision (FID).
The investment involves a floating gas liquefaction (FLNG) facility with capacity of over 3.3mn mt/yr (5bn m³/yr), connected to six subsea wells. The Coral field, discovered in May 2012 and outlined in 2013, is entirely located within Area 4 and contains about 450bn m³ (16 trillion ft³) of gas in place.
The approval by Eni's board is "another fundamental step towards the FID on the project, which will turn effective once all Area 4 partners have approved it and the project financing, which is currently being finalized, has been underwritten," said Eni November 18. It added that the project highlights "Eni's technological leadership in the development of deepwater gas fields via FLNG facilities."
Exploration in Mozambique's offshore Area 4 (Photo credit: Eni)
Mozambique authorities approved the project development plan in February and in October, BP agreed to buy all its offtake for a 20-year period. That sale marked "the first significant step towards the development of the 2,400bn m³ of gas discovered in Area 4," said Eni,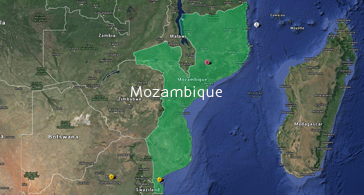 Eni is the operator of Area 4 with a 50% indirect interest – owned through Eni East Africa (EEA), which holds a 70% stake in Area 4. Galp Energia, South Korean state Kogas and Mozambique's state Empresa Nacional de Hidrocarbonetos (ENH) each own a 10% stake. CNPC owns a 20% indirect interest in Area 4 through Eni East Africa. The overall investment in the Coral FLNG project is estimated to be in the region of $4.5bn, according to statements by Eni in March, although this figure was not detailed in Eni's latest statement.
Nor did Eni make any mention of progress over its plan to farm out part of its indirect 50% interest in Area 4.
Mark Smedley