Engie Quits UK Shale, Sells to Ineos
Ineos said March 9 it completed the acquisition of the entire UK onshore shale exploration portfolio of French utility Engie, comprising minority stakes in 15 licences. It increases Ineos's total UK shale acreage to over 1.2mn acres, making it the largest such portfolio. No financial details were disclosed.
When Engie entered the UK shale sector in 2013, paying Dart Energy (now part of IGas) $12mn cash for interests in 13 blocks, plus a pledge to carry a share of exploration expenses (in the event, never required), the French firm declared: "We are very confident about the potential of shale gas in the UK."
Engie now has said its exit was in response to a decline in commodity prices, but honours commitments to the UK government and former partners.
Its divestment now involves minority interests in 15 licences, seven of which Ineos held an existing interest in. The remaining eight complement its existing acreage in northern England and the east Midlands. Three of the licences are operated by Ineos, eight by IGas Energy, and four by Cuadrilla.
The new interests in the 15 blocks is available here. There is still no shale gas production in the UK, but shale exploration drilling is close to resuming after a gap of six years. Total and Centrica, as well as specialists like IGas, Cuadrilla, and Switzerland-based Ineos, continue to have interests there.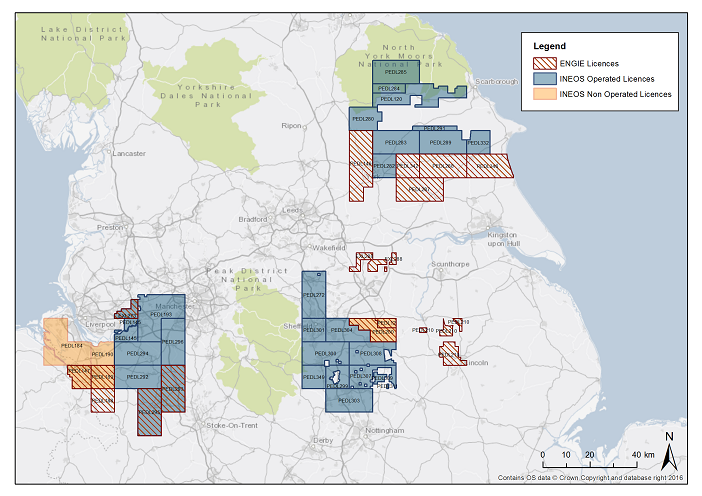 Map credit: Ineos
Engie did not mention its UK shale exit on its website, instead announcing the opening of 21 new French filling stations for gas (CNG/LNG) as a vehicle fuel over the coming 12 months.
Separately, Nottinghamshire county council's Planning and Licensing Committee will consider the county's second application for shale gas exploration wells on March 21. Both this application, and one already approved last year, are in respect of IGas licences. No hydraulic fracturation (or fracking) has been requested at either licence. IGas is expected to receive a capital increase shortly.
Mark Smedley