Energy transition: the next chapter? [NGW Magazine]
The FT held its annual Energy Transition Summit in London in June and it reflected the sense of urgency that has entered discussions regarding energy transition this year. It attracted industry, oil and gas companies and policy leaders in a series of presentations, interviews and panel discussions that covered the subject all the way from policy to counter climate change, to industry decarbonisation, to the future of renewables and the challenges of mass electrification and the rise of shareholder activism.
But it also asked the question: "Are we moving into the next chapter?" With renewables are advancing, absorbing twice as much investment for power generation as coal, gas, oil and nuclear combined last year, sales of EVs gaining momentum, and battery costs declining rapidly, it would appear so.
However, despite this progress, fossil fuels are still at the same level as they were ten years ago, providing about 81% of the global energy mix in 2018. The international Energy Agency (IEA) predicts that they will still be providing 74% of the energy mix in 2040. This prompted the FT to rightly ask the question: "Given this scenario, are we really in an energy transition, and if so, what are we transitioning from and to, and where are we headed?"
The industry view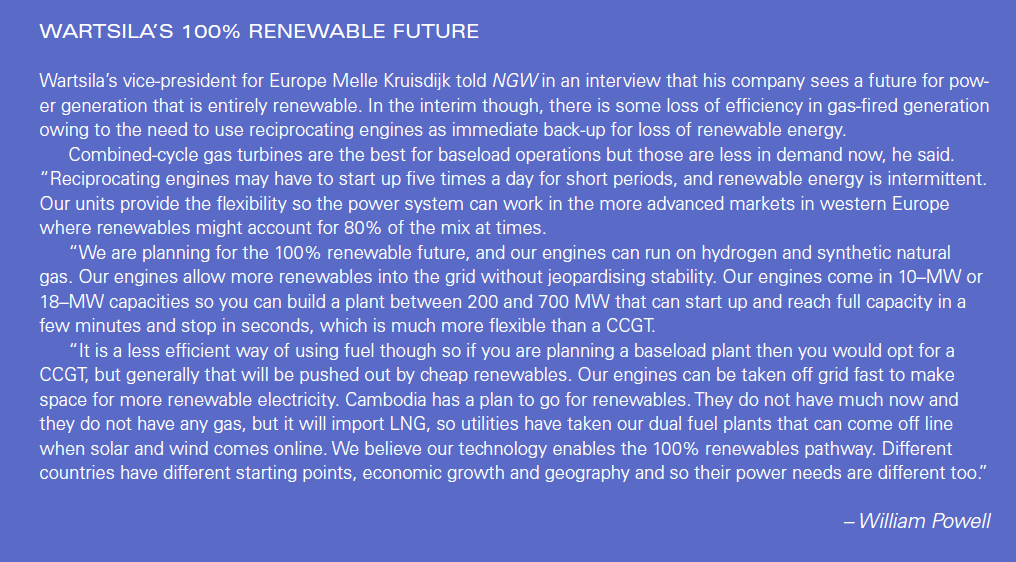 In its overview the FT said "Decarbonisation of the industrial sector, heating and transportation, as well as the development of zero emissions technologies, including CCS and hydrogen, are the new frontier, as well as the mass electrification which will be needed to achieve this."
But are renewables a mere 'dependent output' of the fossil fuelled economy, or the baseload of the future? Developments currently underway in renewables procurement and generation, as well as financial, technological and project innovation point to a different future.
Jan Anderson, senior market development analyst, Wartsila Europe, said that the tipping point for renewable energy has now been reached globally, albeit mostly in power generation. But at present flexibility and seasonality still need natural gas.
However, he sees a future where the roles will be reversed. The grid will be running on renewables, with gas plants needed only to provide support to the grid. It will not be MW but MWh that will matter.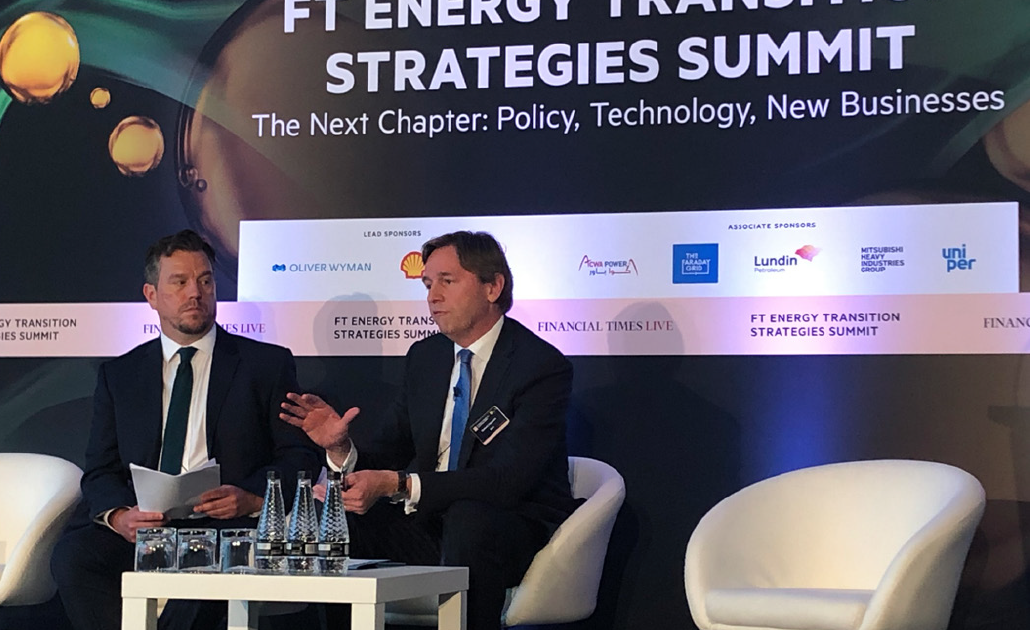 Conference chair David Sheppard (left) with Huibert Vigeveno, executive vice-president Global Commercial, Shell.  Source: Shell
Between 20% and 80% renewables become the baseload. The need for flexible generation disappears once the 80% threshold is breached. At 100% renewable electricity is no longer just a product.
Policy is needed to continue driving change, but it should not be prescriptive with regards to technology. It should be flexible to allow the best, and most competitive, technology to develop. Price competitiveness will be key in addressing related social issues. The winners will be those who have access to cheap energy.
What is worrying though is that renewables remain fragmented, lacking the capacity for sustained long-term investment on a global scale. Global renewables growth stalled in 2018, while global spending was actually 14% down during the first half on 2019, in comparison to the corresponding period in 2018.
The oil and gas companies view
On the other hand, despite the exponential growth of renewable energy, fossil fuels remain resilient. Most forecasts show that oil and gas has a role to play in transition, and it is still making high returns, by embracing change, improving efficiency through automation and AI and lowering operating costs.
Huibert Vigeveno, executive vice-president Global Commercial, and Sinead Lynch, UK Country Chair, said, Shell believes in energy transition and it is optimistic that achieving the 2degC target is possible. Shell is increasingly providing products with lower carbon content and emissions and it is targeting to reduce carbon intensity of the energy products it sells by 20% by 2035 and by 50% by 2050. It can do more only in response to what its customers need and demand and it provides choices for its customers to improve efficiency. But ultimately its business is to provide what its customers want, including oil and gas.
Many say that Shell's investment in electricity is cosmetic because it is not moving away from oil and gas. But it is serious about its New Energies division and its prospects. This was set up as a result of seeing its customer needs changing and it is responding to this. Shell has made power its fourth main business, investing in batteries and electricity. It is also looking into hydrogen as a fuel of the future.
The challenge is how can Shell maintain its margins in the future as it transitions to clean energy. The company is one of the largest dividend payers on FT100 and its investors expect that. This requires Shell to invest wisely to ensure these returns, something which requires long-term planning.
While growing its New Energies division, Lynch said "Shell is still investing in oil and gas as it sees both as fuels of the future – perhaps less oil but more gas."
While companies plan for energy transition and the future, they still need to appeal to customers and shareholders if they are to survive and be part of this future.
Oil and gas companies have many skills needed to successfully deliver energy transition. During this, hybrid solutions – gas+renewables+storage – are becoming increasingly essential. The challenge is readiness to experiment in large scale, bringing more projects into industrial scale. Companies are moving in this direction.
David Eyton, BP group head Technology, said that the company tried twice in the past, in 1997 and 2007, to invest in low carbon technology, but not successfully. However, it is now investing in over 50 clean energy start-ups and some of them are already scaling up – BP is excited about future prospects.
Renewables business are like 'brick and mortar business' – you invest to build them, but you do not need to keep on investing to maintain production. This is not the case with oil and gas. Not only you need to invest to build them, but you also need to carry on investing to maintain production. Eyton said "You cannot turn-off oil and gas just like that and the world goes cold turkey."
The world is facing the dual challenge of meeting the need for more energy but with lower emissions. Many new technologies are being researched, with BP investing in biofuels, automation, carbon sequestration such as CCUS, and others. The future will be: electricity, hydrogen and biofuels.
But it will take time to bring costs down. Also policy is key to drive energy transition. BP fully supports carbon taxes or anything else equivalent to this.
In the meanwhile, shareholder activism and public acceptance are forcing companies to change. The pressure on energy companies going forward will only increase. However, balance is needed between allowing the companies to operate and grow while moving towards delivering net-zero emissions by 2050. But ultimately, it is the role of company management to set up strategy – and it is the role of shareholders to be convinced that this is justifiable.
The energy transition future is heavily dependent on evolution of new technologies and government policies to drive it.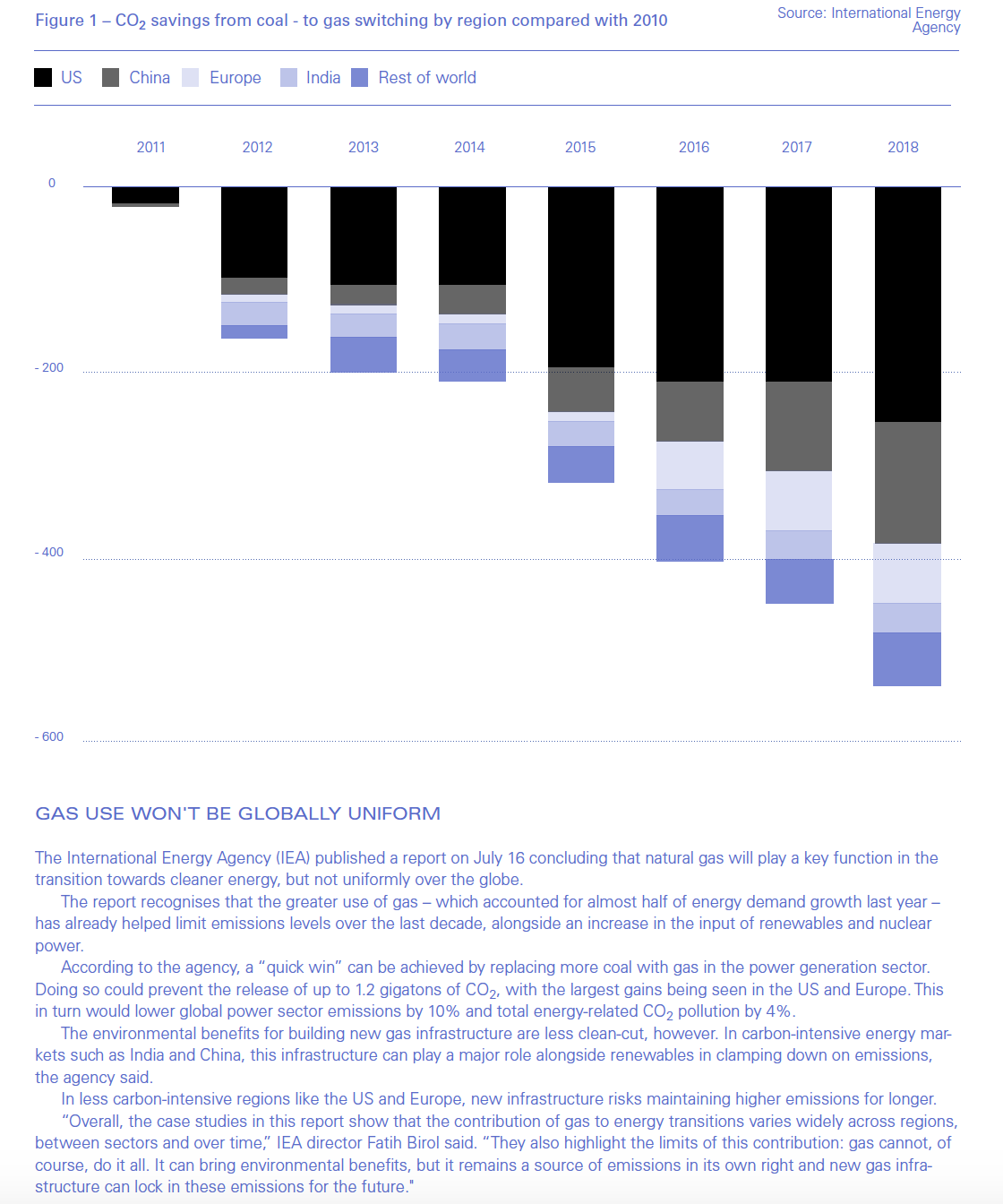 The policy-makers view
With time to keep global warming to the 1.5C above pre-industrial levels considered to be running out, politicians in Europe remain divided against a backdrop of growing populism and signs of a rising carbon backlash. In Europe the two ends of the spectrum are embodied by the UK and Poland.
The UK opportunities and challenges were highlighted by Julian Critchlow, Director General Energy Transformation and Clean Growth, UK Department for Business, Energy and Industrial Strategy. The UK, determined to show global leadership, has become the first major economy to legislate for net-zero carbon emissions by 2050. It has even set-up an independent authority to monitor progress.
In a recent survey, about 80% of people in the UK expressed concern about climate change. But only two years ago, in a widespread debate, concern was also expressed about the cost of energy. The contradiction is evident. On the one hand people want action to combat climate change, but only as long as it does not have a significant impact on lifestyles. Clearly the two need to be reconciled.
So are plans to grow the UK economy while at the same time reduce emissions. At a global scale, so far this is proving to be difficult. As this year's BP's 'Statistical Review of World Energy 2019' showed, global energy demand grew by 2.9% in 2018, but so did carbon emissions, growing by 2%.
But there are still ambiguities about the cost of energy transition in the UK. The cost to achieve 80% decarbonisation by 2050 was previously estimated to be 1% to 2% of GDP to 2050. It is believed that the cost implications of achieving net-zero emissions by 2050 will still be similar due to efficiencies. But this still needs to be shown to be the case, especially as in June Phillip Hammond, the Chancellor, estimated the cost be in excess of £1tn.
The challenges of energy transition were brought home by Tomasz Dąbrowski, Undersecretary of State for Energy, Poland. Transition has to be gradual. Characteristically, he said "we do not want yellow vests", referring to the resistance to climate change-related taxes that caused so much trouble in France. Learning from this, the Polish government wants people to be at the centre of climate change decision-making. It also needs to ensure stable electricity supply during transition.
Poland is starting from a position where about 80% of its power generation is provided by coal. In order to achieve transition to cleaner forms of energy, such as offshore wind and nuclear power, it needs time but also major investment.
Poland estimates that just to completely replace coal in power generation, it will require investments totaling about €900bn – it has not yet addressed the impact on other sectors. And that does not include social costs which are also expected to be high. Currently about 100,000 people are employed in the coal sector and they will need to be redeployed.
It recently opposed EU's 2050 emission reduction plans because it first needs to know what the total cost of transition will be, the impact on its economy and how the social cost and impact will be mitigated. Once these issues are addressed, Poland is prepared to review its position again in December. It wants to avoid major economy dislocation. The social factor and security of energy supplies during transition are key - Poland will need help from Europe.
But despite these challenges, Dominguez Abascal, state secretary for Energy, Spain, believes that Europe should up its ambition and lead the world in energy transition. Spain has joined the UK, aiming for net-zero emissions by 2050.
The Asian contrast to Europe was provided by Arunabha Ghosh, CEO, Council on Energy, Environment and Water (CEEW), India. He said that multiple transitions are taking place simultaneously in India. In addition to being committed to energy transition, India is in the process of connecting people to electricity for the first time as well as implementing renewable energy at a rapid pace – it aims to achieve 500GW renewables by 2030. India's current installed renewable energy capacity is about 80GW. And while doing so it needs to provide the required additional energy as its growing population becomes more prosperous.
But these come with social and economic costs. In addition to policy and ambition, India needs to consider costs and finance. The cost of finance is a critical component in making renewables cost-effective. India is not finding it easy to attract the required investment.
India is still building new coal plants, but these were planned earlier on. No new coal plants are currently being planned.
India's industry is a heavy user of coal. It is not currently known what will be the cost impact of revamping and decarbonising industry.
But a key driver in Asia is that prosperity growth and emerging middle classes demand lifestyle improvements. This drives energy demand growth – but at competitive energy prices. Politicians are under pressure to respond to this.
Clearly the cost implications of energy transition are an issue for all. And most have been addressing decarbonisation of the electricity sector – the impact on other sectors has not yet been properly addressed by all. It is relatively easy to commit to 2050 targets, as there is a long way to go. The difficulty comes when setting up priorities now to get there.
Future planning cannot be based on 'assuming that technology will be there when needed'. What is needed are technically feasible options. Some are emerging, but more are needed. There is a need for policy and regulation, sooner than later, required to support investment.
So are we moving into the next chapter? The answer is probably yes, but only just. There is still a long way to go before energy transition advances worldwide, not just in Europe, and before it encompasses all industry sectors, not just electricity. But, nevertheless, it is happening