Egypt ramps up its LNG exports [LNG Condensed]
Egypt was the world's eighth biggest LNG exporter in 2009 with three trains on two separate projects. However, population growth and energy subsidies fuelled domestic consumption over many years, while a relatively unattractive investment regime deterred exploration investment. As a result, gas production fell from 6.1bn ft3/d in 2009 to 4.3bn ft3/d in 2015, according to figures from the state owned Egyptian Natural Gas Holding Company (EGAS).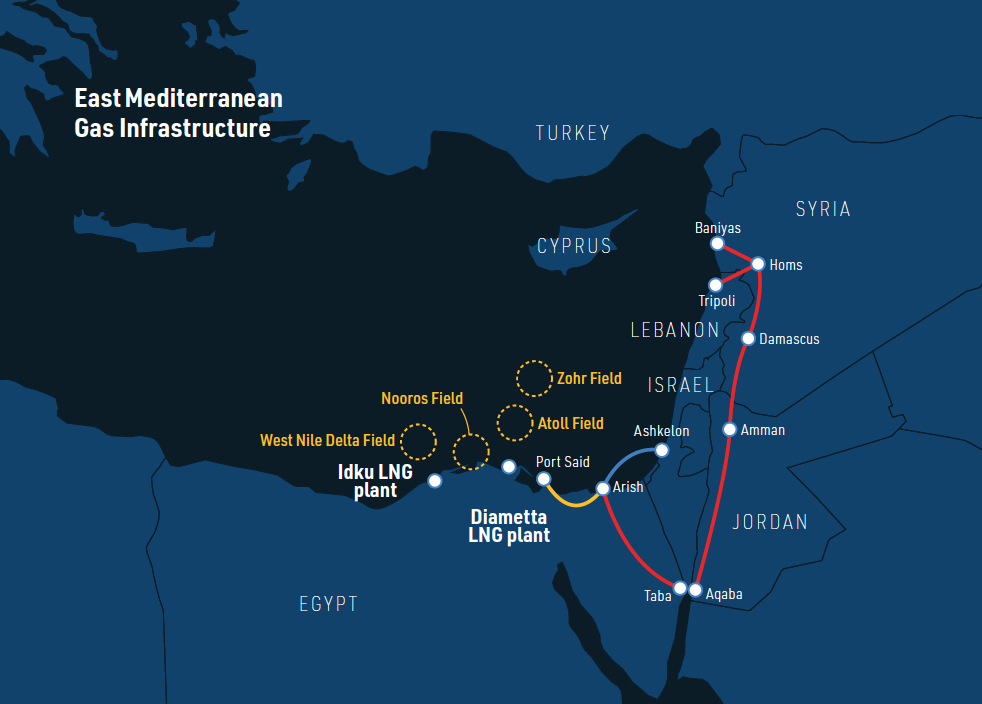 There were gas shortages in 2013 and 2014. Successive governments prioritised domestic needs over gas exports, with the result that LNG exports nosedived from 2014. One of the country's two LNG schemes, Idku, exported just five cargoes in 2014, down from 50 in 2013. The country began importing LNG via two floating storage and regasification units (FSRUs) in 2014 and an import pipeline from Iraq was even suggested.
Rapid turnaround
However, the situation has been turned around in a remarkably short time, principally because of a string of new discoveries which have been brought quickly on-stream, including the huge Zohr field. Discovered by Eni in 2016, Zohr is located 155km offshore on the Shorouk Block and is thought to be the biggest gas field in the Eastern Mediterranean with estimated reserves of 30 trillion ft3.
Eni and partners Rosneft and BP are in the process of investing $12bn in the field. Production reached 2bn ft3/d last September and the government expects output to reach 3bn ft3/d by the end of this year, slightly ahead of Eni's original development plan. While the domestic market is likely to absorb much of the gas, Rosneft has said that it expects to export gas from the field.
In addition to Zohr, BP is increasing output on its North Alexandria West Nile Delta project from 400mn ft3/d to 700mn ft3/d over the course of this year. The third phase of the development, the Raven field, will add more production also by year's end.
BP has brought 1.5bn ft3/d of new production on stream since the start of 2015, while Eni began producing gas on the 883mn ft3/d Nooros project last January. Additional gas will come from the Atul and Salamat fields. Eni's Nour prospect has also been widely heralded by the media, but the Italian firm is still appraising the size of the find.
Egyptian gas production averaged 6.5bn ft3/d last year, the highest level since 2012. The ministry of petroleum and mineral resources expects national output to reach 7.5bn ft3/d in 2020.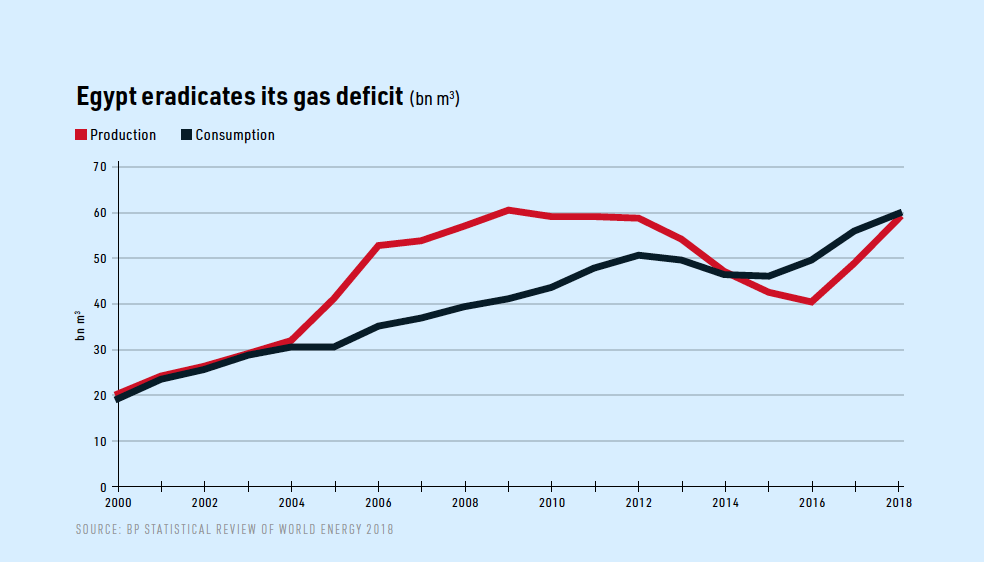 LNG exports resumed
The government was able to cancel an option for a third FSRU in December 2017 once it became clear that the planned imports would not all be needed. The number of import cargoes was much lower in 2017 and 2018 than expected and it appears that the final LNG cargo arrived in Egypt in September 2018.
Petroleum and mineral resources minister Tarek El Molla said the FSRU at the port of Sokhna will remain in place, but only for "strategic" reasons. This will allow the country to import gas during the period of peak consumption in the summer, if required.
Higher domestic production has also allowed LNG production to resume at the Idku plant, with the number of export cargoes rising from three a month at the start of the year to six in June. Idku exported 800mn ft3/d in February, twice as much as it exported in the whole of last year. This is the equivalent of 6mn mt/yr, not far off the plant's 7.2mn mt/yr nameplate capacity.
Idku, which is located about 50km east of Alexandria, is owned by the Egyptian LNG (ELNG) consortium of Shell, Petronas, Engie, Egyptian General Petroleum Corporation (EGPC) and EGAS.
The government has announced the imminent resumption of production at the country's second LNG plant several times this year, but it appears that ongoing legal disputes between the operating company and the government, relating to the failure to supply sufficient gas feedstock over the past few years, have still not been resolved.
SEGAS, which operates the Damietta facility, is 40% owned by Eni, 40% by Union Fenosa of Spain, 10% by EGAS and 10% by EGPC. It is located 60km west of Port Said and has production capacity of 5mn mt/yr.
Domestic consumption
Efforts to maximise exports will rest on how fast domestic gas demand increases, how much new gas is discovered and how quickly new finds are brought on stream.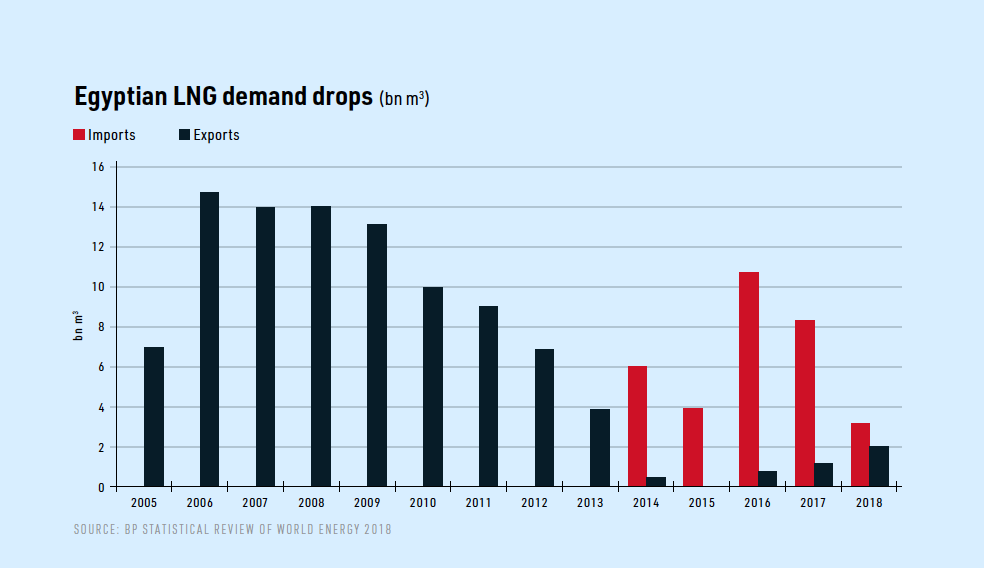 Domestic demand should be constrained by rising prices. Egypt's economic difficulties forced Cairo to turn to the International Monetary Fund for help in November 2016 and the Fund agreed a $12bn loan to be paid in tranches in return for a succession of economic reforms.
The money has now all been sanctioned and the enacted reforms have included cuts to energy subsidies. However, while upstream gas prices have now been partly deregulated, the price paid for gas used in power generation remains regulated at a low level.
The power sector accounts for about 65% of total domestic gas consumption, and the price mechanism remains a disincentive to gas producers. The government has promised to create a commercial gas market without any subsidies, but for the moment EGAS' retains an automatic allocation of a proportion of national gas production at sub-commercial rates.
Moreover, the world's three biggest combined cycle gas fired plants – Beni Suef, New Capital and Burullus – were completed by Siemens last July for the Egyptian Electricity Holding Company and have combined generating capacity of 14.4 GW. In addition, Cairo has set a target of increasing the number of residential gas customers from 4mn in 2017 to 10mn by 2025.
The ministry of electricity and energy expects power demand to grow at more than 6% a year for the foreseeable future, although the government intends to lift all power subsidies by 2022. In addition, planned new construction projects and the government's plans for agricultural expansion suggest that gas demand from cement and fertiliser plants will increase.
Power trading with Saudi Arabia could also affect Egypt's ability – positively or negatively – to export LNG, as the two governments hope to oversee construction of a cross-border interconnector with up to 3 GW of capacity.
On the production side, Zohr and the other recent finds have generated interest in securing new Egyptian acreage and the ministry of petroleum is regarded as being more flexible now in the deals it strikes with upstream investors. BP, Eni, ExxonMobil and Shell were all awarded blocks in February. More blocks were offered in the Red Sea in March, while eleven blocks are expected to be included in a licensing round covering the western part of Egypt's Mediterranean territory in late 2019 or early 2020.
El Molla has also said that the country will cooperate with Saudi Arabia on exploring for oil and gas in the Red Sea, after Riyadh announced gas finds there in March.
Future gas hub
Government officials and the World Bank have talked about turning Egypt into an international gas hub, with the country importing and exporting large volumes of gas, perhaps backed up with substantial gas storage capacity. This vision should be strengthened by the government's decision to end its monopoly on gas imports and distribution last year. The keys to Egypt's gas hub ambitions are further market deregulation and cooperation with other countries in the region.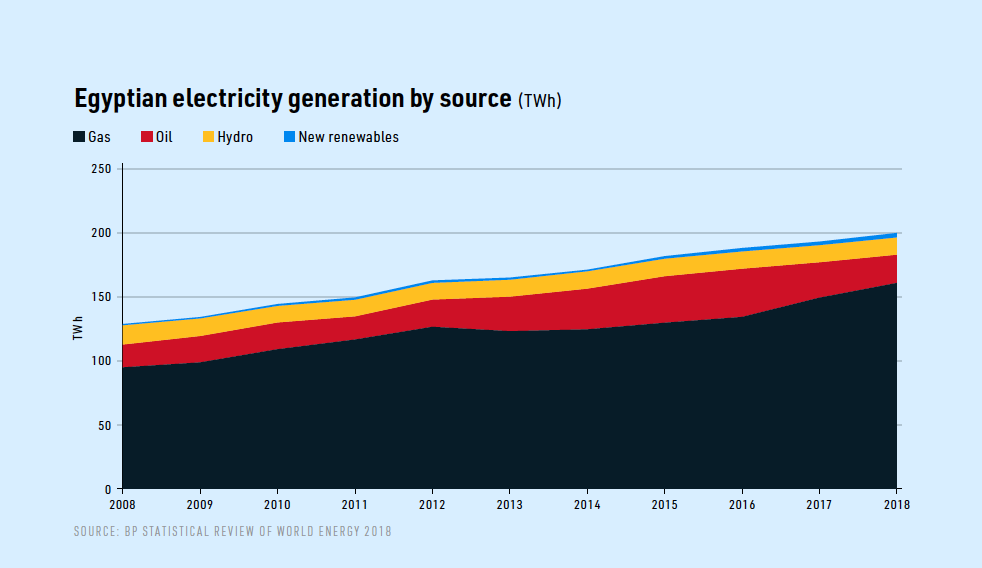 Despite the big jump in domestic production, Egypt is to continue importing gas, but via pipeline rather than in the form of LNG. Under an agreement signed in February 2018, Noble Energy and Delek are to pipe gas from Israel's Leviathan and Tamar fields to Egypt over ten years via the East Mediterranean Gas (EMG) pipeline, which connects Ashkelon in Israel to El Arish in Egypt. The 90km line is owned by Noble, Delek and Egyptian firm Sphinx; tests are already underway, with commercial supplies due to start later this year.
The way for Israeli imports was paved by Cairo's agreement in mid-June to pay $500mn to Israel Electric Corporation for breaking a contract to supply Egyptian gas in 2012. The payment is a big reduction on the fine of $1.7bn that was imposed by the International Chamber of Commerce in 2015 and the money will be paid over eight and a half years. The EMG was repeatedly bombed by Islamist militants in Egypt and supplies were halted entirely in 2012 at a time when Egypt was experiencing its own gas shortages.
Noble says that it expects to export at least 350mn ft3/d through the line, under its contract to supply 689bn ft3 to Dolphinus Holdings in Egypt over ten years. Some of this gas may be used to produce LNG, which could be exported to states that would not accept Israeli gas.
At the very least, it will be used to satisfy domestic demand and free up Egyptian production capacity that can be used to supply the country's two LNG plants.
Despite continued political difficulties, there could be further cooperation between Egypt, Israel and also Cyprus in developing the spate of discoveries that have been made in the Eastern Mediterranean. In May, the Cypriot government agreed to take a smaller share of the revenues from the development of its undeveloped Aphrodite field to allow Noble Energy, Shell and Delek to pipe gas from Aphrodite to the Idku plant in Egypt. The government had wanted an LNG plant to be built at Vasilikos on Cyprus.
Potential new LNG capacity
While the turnaround in Egypt's gas fortunes should ensure that the country's existing LNG production capacity comes fully back on stream, it seems less likely that any new LNG trains will be developed in Egypt in the short term. The International Energy Agency expects Cairo to continue favouring domestic gas needs over exports. In addition, it has become a lot more expensive to import components since the Egyptian pound lost a lot of its value after it was allowed to float freely from November 2016.
However, investment conditions are improving. Cairo is close to clearing its long standing debts to international oil and gas companies, so confidence in the government may be higher than for several years. A combination of regional cooperation and further substantial discoveries could see new trains built in the longer term. The Idku plant was developed with six trains in mind, so there is plenty of scope for expansion, but investors here and on any other project are likely to want guarantees from the government that feedstock supplies will be sustained for at least 20 years.
LNG Condensed is a Free digital publication brought to you by Natural Gas World's Editorial team.
NOW AVAILABLE: Volume 1, Issue 6 - June 2019
Volume 1, Issue 6 - June 2019
In this Issue:
India's gas infrastructure challenge
Egypt ramps up its LNG exports
LNG and the methane emissions challenge
Argentina - Hanging in the balance
Mozambique LNG
Korean Competition for GGT
and more!
LNG Condensed brings you independent analysis of the LNG world's rapidly evolving markets.
Covering the length of the LNG value chain and the breadth of this global industry, it will inform, provoke and enrich your decision making. Published monthly, LNG Condensed provides original content on industry developments by the leading editorial team from Natural Gas World.
LNG Condensed is your magazine for the fuel of the future.
Sign up to NGW Basic FREE now to receive LNG Condensed monthly (you will find every issue of LNG Condensed in your subscriber dashboard)