Egypt new bid round: going for gas [Gas in Transition]
Egypt's natural gas sector is on a roll. After achieving record production and LNG exports in 2022, Egypt has announced a new bid round and new gas discoveries.
Last year was its most successful in terms of revenues from LNG exports that rose to $8.4bn, providing relief for its beleaguered economy. But with natural depletion, and energy demand rising due to a growing population, Egypt is in constant need for new gas discoveries.
New bid round
The Egyptian Natural Gas Holding Company (EGAS) launched a new bid round on December 28 that includes six offshore and six onshore blocks (see figure 1). The deadline for offers has been set for April 30, 2023.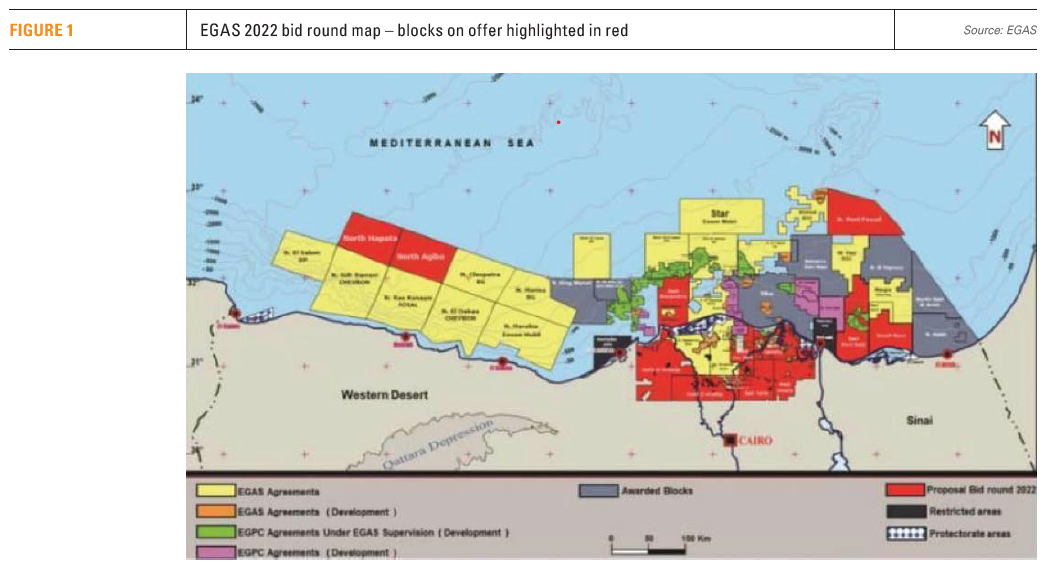 Egypt is intensifying efforts for a new Zhor-size gas discovery to boost gas production that is currently flagging – it was down in 2022 in comparison to 2021. It is targeting 36tn ft3 from this new bid round.
Egypt is responding to a surge of interest from the likes of Eni, BP, ExxonMobil and Chevron, currently very active in its EEZ, with the first three signing new blocks late 2022. The new areas covered, and which are bound to attract considerable interest, are in the promising 'North of Sinai' and 'West Mediterranean' regions. The onshore blocks are in the prolific Nile Delta region.
The new bid round comes as Egypt has seen an increase in its energy reserves in 2022, with 53 new discoveries, 42 oil and 11 gas wells, according to a report by the country's petroleum ministry.
Eni is the dominant player in the Egyptian EEZ, and has made Egyptian offshore its main focus. It plans to use the acquisition of the rights to another 5 blocks early January to drive further exploration and development. Following the award, Eni said "The licences are placed within prolific basins with proven petroleum systems able to generate liquid and gaseous hydrocarbons and can also rely on nearby existing producing and processing facilities and on a demanding market that will allow a quick valorization of the potential exploration discoveries."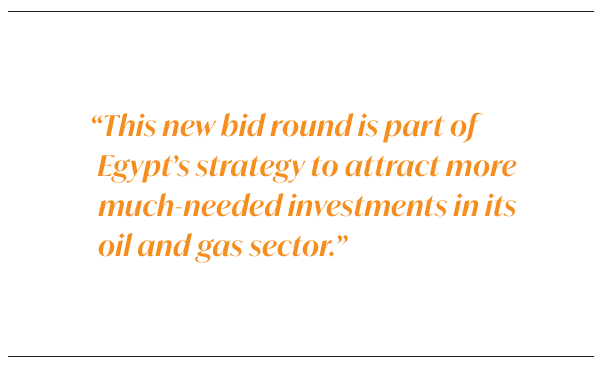 ExxonMobil also appears to be increasing interest in the East Med. It acquired two large deepwater blocks earlier in January on the Egyptian side of Egypt's maritime border with Cyprus. These adjoin its existing Cyprus blocks 5 and 10 and its Egypt Star acreage. The company sees the East Med deepwater as potentially a major new gas production region.
In Cyprus, following the appraisal of its 4 to 5tn ft3 Glaucus gas field in block 10 in 2022 – with results still to be announced – ExxonMobil is carrying additional surveys in Block 5. It has also excited Greek interest and expectations with its revived exploration plans west and south-west of Crete.
ExxonMobil appears to be on the hunt for large finds that would support development of its own LNG terminal. Following discovery of Glaucus, the company indicated that an onshore LNG terminal in Cyprus is its preferred development option. It is estimated that this would require 15tn ft3 of discoveries.
BP also boosted its interests in the Egyptian EEZ with the acquisition of 4 new blocks in 2022. Confirming this, BP's regional president said: "We have been awarded four new exploration blocks and a block extension in 2022, which offer the potential for gas discoveries that could be developed using existing infrastructure. Acquiring this acreage is part of our strategy to maintain a longer-term plateau production rate."
Egypt's oil Minister, Tarek el-Molla announced on December 22 that – despite its economic problems - Egypt plans to invest $2.1bn in oil and natural gas exploration until 2025. Its goal is to drill 45 gas wells over that period, with most of them offshore in the Mediterranean Sea.
This new bid round is part of Egypt's strategy to attract more much-needed investments in its oil and gas sector. According to the minister, total investments in the sector reached $74bn in the period 2014 to 2020.
These developments, the promise of more gas discoveries and the increasing reliance of Egypt on its offshore oil and gas sector prompted President Sisi to proceed with unilateral delineation of Egypt's maritime border with Libya mid-December, despite protests from Libya. This follows an agreement with Greece to delineate their EEZ borders in 2020.
In another twist to the long-lasting maritime border disputes in the East Med, a Libyan court, Tripoli's appeals court, suspended the maritime and energy exploration deal signed between Libya and Turkey last year.
Egypt is determined to press on with new licensing rounds and exploration in the Western Mediterranean part of its EEZ, considered to be prolific in gas.
New gas discoveries
Chevron's discovery at the Nargis block, confirmed in January, the first for Chevron since it entered Egypt in 2019, has also spurred interest in the lightly-explored North of Sinai region. Initial estimates are that the new find may hold about 3.5tn ft3 of gas, at 309-m water depth. Development of the discovery can be fast-tracked by taking advantage of its proximity to Eni's existing infrastructure and facilities. The operator is Chevron with 45%, with Eni holding 45% and state-owned Tharwa 10%. With the new discovery in Egypt, East Med is gaining momentum in Chevron's future plans.
Once developed, this will provide a much-needed boost to Egypt's gas production. This could take Egypt's total proved natural gas reserves to over 65tn ft3.
Eni has also been reported to have struck gas at a new well currently being drilled at the Thuraya prospect in the North East El Arish block. This is next to Chevron's Nargis discovery and it has the potential to be substantial, but it is too early to really say. Results are expected in a few weeks. If confirmed, it will give Egypt's gas plans a major boost.
Eni and partner Energean are "evaluating a large Zohr-like structure" at the Orion prospect in the Northeast Ha'py block. They are planning to drill during the first half of 2023. BP is in negotiations to farm-in to the block.
In addition to Egypt, Eni has been making progress in Cyprus, where it made two new discoveries in 2022. These are the 2.5tn ft3 Cronos and 2 to 3tn ft3 Zeus in block 6, where it discovered the 1 to 2th ft3 Calypso gas field in 2018. With Eni being the operator of the Zohr gas field – not far, to the southeast of Cyprus' block 6 – a development option is to tie these gasfields to the Zohr facilities that are currently underutilised. These were designed with a capacity to process 3.2bn ft3/d, but are capped to 2.6bn ft3/d due to water infiltration problems.
Egypt's new gas discoveries, not only improve the country's energy security, but could also boost its much talked-about aspiration to become East Med's energy hub.
Egypt's natural gas production
Egypt's gas production achieved a record 6.94bn ft3/d in 2021, but fell to around 6.5bn ft3/d in 2022. This was mainly the result of the output cap of 2.6bn ft3/d that was placed on Zohr in September 2021 to arrest water infiltration.
With no major new discoveries, this adds to concerns that Egypt's gas production may peak soon and decline later this decade, in line with the giant Zohr, where production is expected to start declining after 2028.
The need for new gas discoveries later this decade to reverse the risk of declining production is illustrated by a forecast produced by the US Energy Information Administration (EIA) (see figure 2).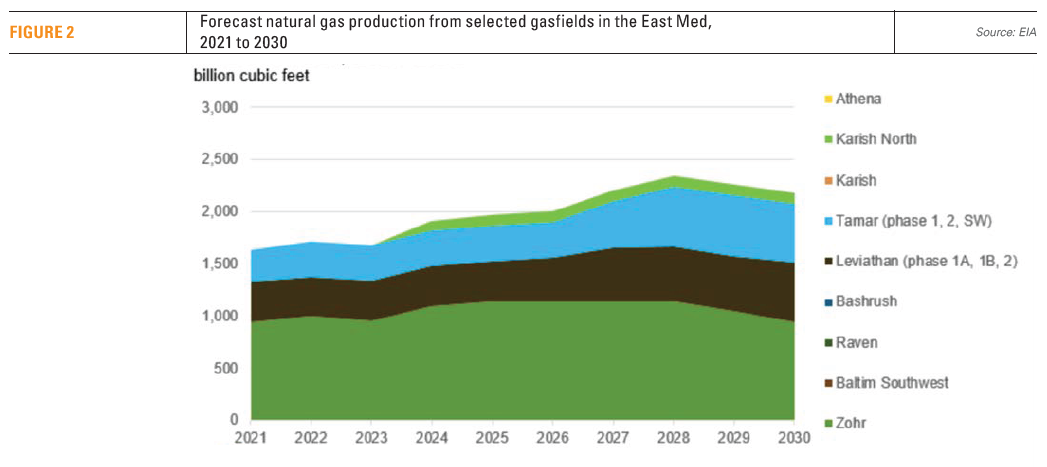 Combined with rising domestic demand, this means that Egypt is in constant need of more gas discoveries to maintain output. This is key to Egypt's ability to maintain surplus gas for LNG exports that are proving to be a lifesaver for its troubled economy.
LNG exports
Egypt's LNG exports achieved a 12-year high of 7.14mn metric tons in 2022, 7% up from the 6.66mn mt in 2021. These were helped by record pipeline gas imports from Israel that averaged just under 600mn ft3/d in 2022, compensating for the 6% drop in Egypt's domestic gas production.
Exports of Israeli gas to Egypt may be boosted further by a new 46-km subsea pipeline, expected to be ready by May.
Following the EU-Egypt-Israel memorandum of understand (MoU) in June last year, to help Europe replace Russian gas, in 2022 close to 50%, or 3.4mn mt, of Egypt's LNG exports found its way to Europe. Despite the cool political relationship between the two countries, Egypt also exported close to 1.6mn mt to Turkey.
Revenues from LNG exports more than doubled from $3.5bn in 2021 to $8.4bn in 2022. This has been a key contributor to Egypt's drive to counter its economic woes.
The nameplate capacity of Egypt's two liquefaction plants is 7.5mn mt/yr at Idku and 5mn mt/yr at Damietta. So, there is more capacity for exports and Egypt wants to take advantage of it now, and over the next few years, while LNG prices are high.
For that, it needs new discoveries and increased production, or new imports from neighbouring Israel and Cyprus. But Chevron in Israel appears to be opting for an FLNG at Leviathan, to benefit directly from high LNG prices, and gas from Cyprus may not be forthcoming that quickly.
Cyprus' energy minister confirmed earlier in January that Chevron is about to submit its plans for the development of the Aphrodite gas field discovered in Cyprus' EEZ in 2011. The preferred option appears to be to transport the gas to Idku for liquefaction and export, starting in 2027 – but with no commitments yet in place that remains to be seen.
As matters stand, with gas production in 2023 expected to fall further, hopes that Egypt might increase – or even maintain – LNG exports in 2023 rest on further gas deliveries from Israel.
In the longer term, new gas discoveries in Egypt, and the renewed surge in interest from majors, should bolster Egypt's gas supplies and ability to increase LNG exports.
But at present, in order to maximise lucrative LNG exports, the government has implemented a plan to rationalise electricity consumption in order to provide surplus natural gas to the LNG plants. It is doing this by replacing natural gas with fuel oil in the country's power generation mix, in addition to the implementation of power saving initiatives, announced in August 2021, that are freeing more gas for export.
Promising region
In 2022 the East Med had a succession of new, but relatively small, gas discoveries in Egypt, Cyprus, and Israel, totaling close to 7.5tn ft3. None of these discoveries would have attracted attention on their own, but collectively they contribute to continued exploration, development and production in the region. The options for export are connections to existing infrastructure, for example Cyprus gas to Egypt's LNG plants, or building new infrastructure.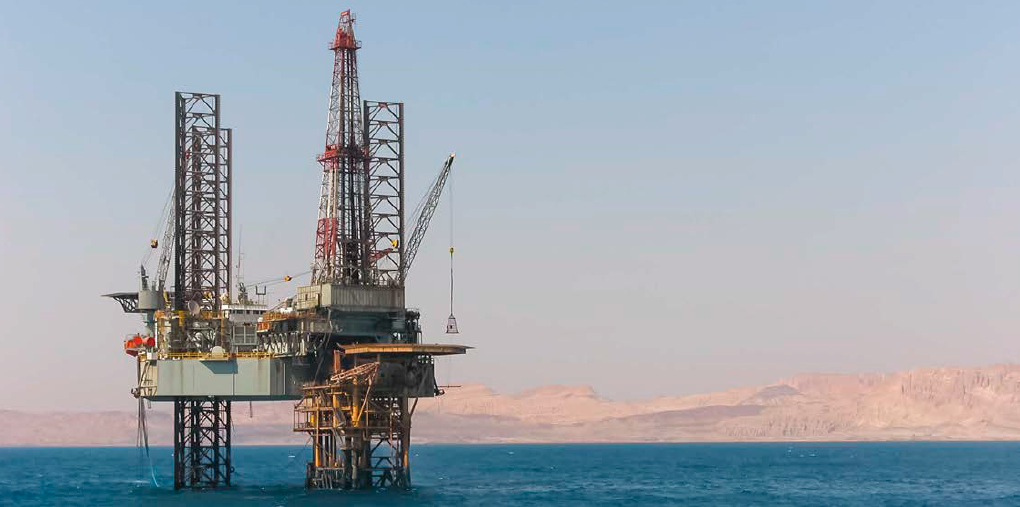 Projects being considered include an FLNG at Israel's Leviathan, FLNG by Energean in Cyprus and possibly revival of earlier proposals for onshore LNG in Cyprus. It remains to be seen which options will progress and when. It is quite possible that little happens in 2023, but the direction in which these developments may lead should become clearer this year.
Egypt is going through a serious financial crisis. In December the country agreed a deal with the International Monetary Fund (IMF) to improve its economic outlook. Under this, Egypt pledged to slow down investment in public projects, including national projects, so that it can reduce inflation, now running at more than 21%, and conserve foreign currency.
But despite its financial woes, Egypt has continued to be a major international player in energy. Its growing internal energy market, its oil and gas potential and the strong support provided to the sector by its president and energy minister continue to attract the interest of all majors. Greater economic stability could boost the sector further.
East Med's natural gas potential could be boosted when eventually the EU accepts that it needs a realistic energy transition plan that recognises that until the required green technology is available, reliable and sufficient, there will be a need for multiple energy sources, including natural gas. The EU will come round to the fact that natural gas will remain a key part of the global energy mix in the longer term.