EBRD Funds Polish Plant Conversion
The European Bank for Reconstruction and Development (EBRD) said October 17 it is providing a long-term loan of up to zloty 320mn (€75mn) for the conversion of a combined heat and power (CHP) plant located at a steel works near Krakow into a gas-fired unit.
The switch from coal to gas is expected to reduce greenhouse gas emissions by up to 200,000 metric tons of CO²yr and bring the plant into compliance with the EU's Industrial Emissions Directive which enters force in Poland in autumn 2018. The plant belongs to Tameh Polska, which is 50-50 owned by Indian-owned steelmaker ArcelorMittal and Polish utility Tauron. It provides nearby Mittal steel plants with electricity, heat, blast and compressed air.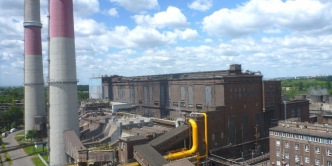 The CHP to be modernised (Photo credit: Tameh Polska)
Last month the EU approved a Polish subsidy scheme until 2018, with an annual budget of over zloty 1bn (€232mn), that supports high-efficiency CHP plants, including the conversion of some to gas. Poland still generates 85% of its power from coal. Campaign groups such as Bankwatch and Poland's StopEP however have been critical of the high level of public subsidies paid to coal-fired generation in Poland and elsewhere in eastern Europe.
Mark Smedley