Eastern Australia runs short [NGW Magazine]
The Australian east coast gas market has undergone a profound change in the past few years since the start-up of the three LNG export projects in Queensland.
ConocoPhillips-Origin Energy's Australia Pacific LNG (APLNG), Shell's Queensland Curtis LNG and the Santos-led Gladstone LNG rely on coalbed methane (CBM) from the Bowen and Surat Basins, unlike the conventional gas that feeds Australia's older west coast LNG industry.
The ramp up of these projects has led to sharp increase in demand for east Australian gas, tightening the supply for domestic use. In 2018, Queensland projects shipped a record 20.57mn mt of LNG, up 1.7% year-on-year. This global demand for east coast gas has created a tight supply situation in the domestic market. With new acreage hard to come by in the eastern states, the tightness is expected to continue and it seems that imports will fill some of the demand.
There are at least five companies that have proposed LNG import facilities on the east coast. One of them is South Korea's Epik, which is developing a floating storage regasification unit (FSRU) project in New South Wales (NSW).
Latent demand
In December last year, Epik entered into an agreement with the Port of Newcastle in NSW to start the preliminary works on a proposed FSRU. The project, named Newcastle LNG, will be within the Port of Newcastle, and will serve the NSW gas market. In February, Epik and Hyundai LNG Shipping signed an agreement to work together, developing FSRU projects around the globe, including the NSW FSRU project.
Epik believes that there is already a significant supply issue and that gas demand today in NSW – and southeast Australia in general – is short of its potential.
"Demand in the region has been restricted by inadequate supply and price fluctuations. Practical solutions are needed today, and our Newcastle LNG project provides a long-term answer for the region," a company spokesperson said.
The potential investment for the Newcastle LNG project is estimated to be between $400mn and $430mn, which will include a 170,000 m3 class new-build FSRU and associated on-shore infrastructure. Epik expects to place an order for the FSRU new-build with a shipyard subject to receiving regulatory approvals for the project, which the company currently estimates to receive by early 2020.
"Owing to the relative size and capacity capabilities of the FSRU, we have the ability to increase – or decrease – capacity at the terminal as needed by the market, while maintaining the compelling economics. For this reason, we see our Newcastle LNG project as not only an energy solution, but a vital piece for the broader NSW economy, providing the supply and price certainty the market needs to flourish," the spokesperson said.
According to Epik, total annual consumption in NSW today stands around 140 petajoules (3.7bn m3) or about 2.5mn metric tons of LNG.
The company will be marketing the capacity at the FSRU terminal to established, global LNG traders with a portfolio of LNG sales and purchase agreements looking to expand their positions in downstream markets. Through such a business model, Epik does not need to enter into LNG purchase agreements or negotiate potentially dozens of individual gas sales agreements, but instead, can work directly with one or maybe two large traders. According to the spokesperson, this in turn will allow Epik to project finance the infrastructure much more easily than when trying to underpin a financing structure based on dozens of gas sales agreements with different buyers all with varying commercial terms and credit ratings.
In addition to the import terminal, Epik said it is exploring the possibility of additional gas related infrastructure that would be of benefit to the NSW region, including potential gas-fired power and LNG bunkering facilities.
"In addition to NSW's natural gas supply challenges, additional power generation is needed as energy demand continues to grow and large-scale coal-fired power plants, such as the 2-GW Liddell power plant, are decommissioned. This creates a gap in the power market that needs to be addressed," the spokesperson said.
Epik is also exploring LNG bunkering facilities to provide the benefits of clean-burning LNG to marine vessels. Increasingly, the maritime industry is turning to LNG as a cleaner alternative to current fuel systems.
"We see these projects as potentially high-value additions to the Newcastle LNG project," the spokesperson added.
While Epik's focus is on taking the Newcastle LNG project to a positive final investment decision (FID) by early next year, it is in the process of evaluating numerous other LNG FSRU project opportunities across the world. "While we cannot speak to the specifics of these projects at this time, these opportunities include LNG import projects in countries in south and southeast Asia with growing natural gas demand, as well as potential projects in Europe," the spokesperson said.
Market operator signals import need
The Australian Energy Market Operator (AEMO) late March warned that the east coast will face a gas shortage from 2024 and highlighted the need for further investment in existing reserves or alternative gas supply infrastructure developments. These could include an additional north to south pipeline or gas import terminals.
Continued interest in LNG import terminals, particularly in Victoria, NSW, and South Australia, would be expected to help relieve pressure on meeting southern gas demand during peak periods and assist in reducing pipeline constraints, but may do little to ease gas pricing pressures, AEMO said in its 2019 Gas Statement of Opportunities (GSOO) report.
Queensland exports projects face problems
Although the three Queensland projects have been exporting record volumes of LNG, they also face significant headwinds owing to a gas supply shortage. According to a report published by consultancy EnergyQuest in February, Queensland faces partial shut-down of a third of its barely decade-old A$84bn ($60bn) LNG industry by the middle of next decade, together with diversions to the domestic market.
"This would cut output to four LNG production trains from the current six trains built on Curtis Island off Gladstone by three project owners," EnergyQuest said. The report's findings show that there is now doubt if sufficient Queensland CBM will be available for the three Gladstone plants to ever achieve full-scale production. The plants operated at only an average 82% capacity in 2018, it said.
A shortage is expected by 2025 and will be exacerbated by potential political pressure for the LNG operators to divert gas to the domestic market. Gladstone plant shut-downs are not expected to dampen Queensland's new status as a major global LNG supplier, but the hopes of the backers will not materialise: "now is as good as it will get…. The three Australian east coast projects are all successfully producing, with China the biggest market (70% of 2018 Queensland exports) followed by Korea (16%) and Japan (9%). However, two projects, the Shell-operated QCLNG and the Santos-operated GLNG, are operating well below capacity," said EnergyQuest CEO Graeme Bethune. He said this was due to upstream gas shortages and diversions to the domestic market. In 2018, QCLNG output averaged 87% and GLNG only 65% of their capacity.
"Queensland will remain a significant LNG exporter, one of the world's largest, but with more like four trains fully utilised, reducing medium-term exports to around 17mn mt/yr," he said. The three plants have a combined nameplate capacity of 25.3mn mt/yr.
"We have to recognise that the capacity of the east coast's CBM resource base to feed multiple LNG trains was largely untried. The emerging and critical shortages are resulting from the fact the CBM LNG projects were sanctioned on ambitious estimates of proved and probable (2P) reserves, not proven (1P) reserves that underpin conventional LNG projects," he said.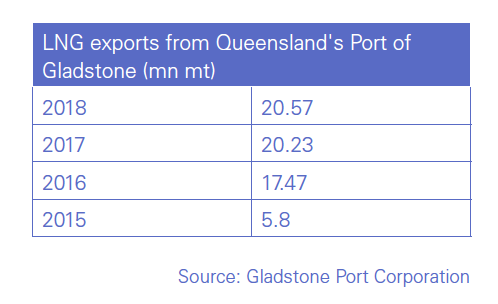 According to Bethune, even maintaining the current, below-par export levels will require drilling an ultimate total addition of more than 18,000 wells.
EnergyQuest noted that Santos GLNG had already negotiated down its offtake contracts from 7.2mn mt/yr to 6mn mt/yr and is yet to reach even this level.
Oz watchdog calls for increased investment
Speaking at the Australian Domestic Gas Outlook conference in Sydney early March, the Australian Competition and Consumer Commission (ACCC) chair Rod Sims said producers must accelerate investment in gas exploration and development, and governments must, in turn, allow access to gas resources and encourage development of gas infrastructure.
"To avert the current crisis, these actions were required a number of years ago," Sims said. "What is puzzling is why we are not seeing more investment in new gas supplies now."
The watchdog would be closely monitoring decisions made by gas producers to develop their reserves and resources, he said.
Governments must also actively monitor gas producers' compliance with their licence requirements, Sims said, and ensure large gas producers do not withhold gas from development and production to suit their own commercial priorities.
Addressing the same event, former Australian energy minister Martin Ferguson said that the exports from Queensland were not the real problem: what was needed was more supplies in states that have applied moratoria on production, he said, rather than LNG import terminals, which would raise prices, not dampen them. Gas in the east was becoming more, not less expensive to produce and shipping it south would not solve the problem.
Ferguson was energy minister when the Queensland coalbed methane-based LNG projects got underway.