Dutch Groningen Field Output, Flexibility Down
The Dutch Groningen field could have its annual production ceiling lowered further to 24bn m³ and its output maintained at a steady rate over the course of the year, if the advice of the state supervision of mines (SODM) is implemented fully, the agency's inspector-general Harry van der Meijden told NGE June 24.
"Seasonal swings have a severe possible impact on the frequency and magnitude of the earthquakes," he said. Studies had shown, with a high degree of confidence, that the speed of production changes, up or down, was a key factor causing lighter as well as heavier earthquakes, he said, while the ratio of heavy to light earthquakes itself had become less since the output cuts. In 2013 the field produced 54bn m³ and in 2015 just 27bn m³.
These findings led SODM to recommend gas production be kept at a steady rate, or 2bn m³/month. He said the ceiling would allow demand to be met in half the winters that SODM had studied. "It may be necessary to open the taps if it is very severe, but this must be done very carefully as the faster you change the rate, the greater was the risk of earthquakes," he said. This implies no more rapid response output increases to meet demand surges during freezes.
He did not comment on the impact this regime would have on Dutch storage activity or on the government's finances. The Netherlands exports gas to Germany, France, Belgium and the UK. In another change, SODM will also be able to recommend changes to the regime if it detects problems at the field, without waiting to be asked to advise, he said.
Economy minister Henk Kamp will begin a public consultation on July 1 which will run for 6 weeks and by October 1 the government must decide what should be the level of output and what terms should attach to it.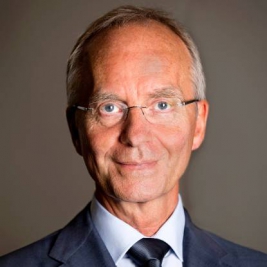 Dutch economy minister Henk Kamp (Photo credit: Dutch government)
Several earthquakes, peaking with one of 3.6 magnitude on August 16 2012, have been officially blamed on gas production at the giant field, and hundreds of households have filed a lawsuit for compensation to their damaged properties. Most tremors since have been more slight, although 2.3 magnitude 'induced' quakes were felt in the Groningen area on September 30 and October 30 last year, plus a separate 3.1 also on September 30.
Groningen is owned 60% by NAM and 40% by state holding EBN, and NAM's owners Shell and Exxon both reported significantly lower year-on-year gas production volumes and earnings from the Netherlands in 2015.
William Powell