Continuously monitoring methane [Gas in Transition]
While oil and gas operators have deployed a wide range of techniques to find and eliminate fugitive methane emissions, one that has gained increasing attention in recent years has been continuous monitoring devices. Whereas manual inspections of equipment, by workers using optical gas imaging (OGI) cameras, are a common and useful practice, the drawback is that leaks could go undetected potentially for months between site visits. Continuous monitoring devices, on the other hand, can enable leaks to be detected in real time, and therefore eliminated much faster.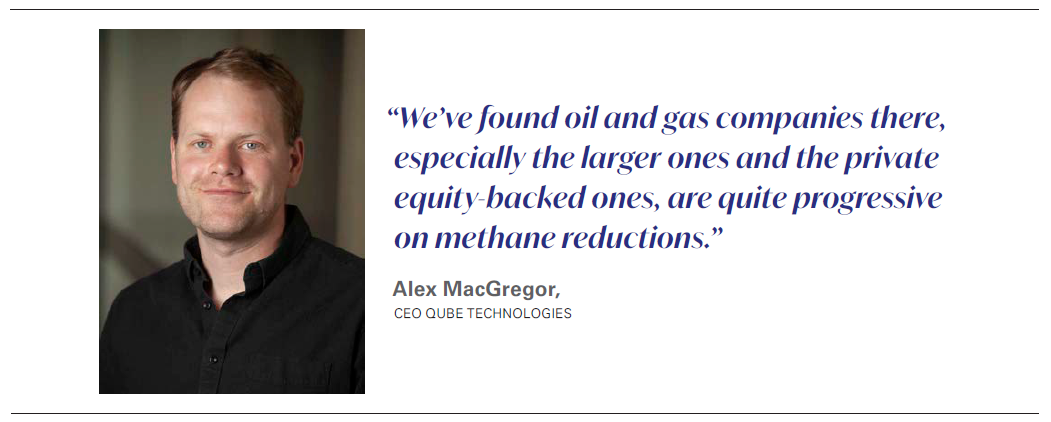 One company working in this field is Calgary-based Qube Technologies. Founded in 2018 by Indian-born engineer Tej Grewal, now the company's vice president of innovation, Qube touts its Axon device as easy to install – within 30 minutes – and designed for the toughest conditions on earth, equipped with solar-powered rechargeable batteries with a lifespan of five years. Its gas sensors are individually calibrated and compensate for temperature and humidity. The data they collect is transmitted straight to the cloud for quick retrieval. The technology automatically sends out alerts when leaks are detected, and AI is employed to determine their quantity, location and classification, allowing operators to act quickly.
Qube estimates that its technology can reduce fugitive emissions by up to 90%, and also at a relatively low cost. Its devices can also detect a host of other gases, including CO2 and hydrogen sulphide.
The company started off by reaching out to oil and gas operators in Canada, viewing the technology as a fitting way to help them comply with federal rules requiring a 40-45% reduction in the sector's methane emissions by 2025, versus the level in 2012. Once it had found early adopters, this enabled the company to apply to the federal Canadian government and the Alberta provincial government for funding, and it secured some $12mn in grants.
The company secured regulatory approval in Canada in 2021 to use its technology as a replacement to traditional leak detection and repair practices. And in November that year, it completed a Series A funding round, bringing on board investors including Houston-based venture capital firm SCF Ventures.
Even though Qube has brought its technology to the market relatively recently, it has branched out into the US and now works with many of the country's largest operators, CEO Alex MacGregor tells NGW. Indeed, the US now accounts for around two thirds of the company's business. It is also building up a global focus, having deployed its devices in Australia, Bahrain and Indonesia.
While it was largely regulatory pressure that has spurred efforts to reduce methane emissions in Canada, Qube has found that in the US, where regulation is laxer, the driving force has mostly been company initiative.
"We expected the adoption of the technology would be quicker in Canada because there was more of a regulatory need, but we've actually found we're growing quicker in the US," MacGregor says. "We've found oil and gas companies there, especially the larger ones and the private equity-backed ones, are quite progressive on methane reductions."
Qube now has two offices in Calgary and Houston, and plans to use its Series A funding to accelerate project development and sales, he says. Looking forward, its ambition is to branch out further internationally, in the Middle East, Europe and Asia, and also into other methane-emitting sectors such as agriculture and waste, where it already has pilot projects underway.
Qube shared with NGW several successful case studies with customers in the field. One such case occurred on December 21, 2021, the company's sensors started detecting high concentrations of methane in excess of 100 ppm from two devices near tanks at a well battery in Oklahoma in the US at 11:30. In half an hour an alarm was issued to the site operator informing them of the leak rate and probable location. By 14:00, the operator notified field staff of a potential thief hatch leak, and by 08:00 the next day, the open thief hatch was closed.
"We were notified within an hour of the detection event and were able to send a field operator to have a look within 24 hours to confirm the leak and remediate: other continuous monitors either missed the event or only partially detected it," the site supervisor commented on the incident in a statement.