Colombia Problems for Gas Natural
Spanish utility Gas Natural said November 15 that it has been told that "as a precautionary measure" its 85.38%-owned Colombian subsidiary Electrificadora del Caribe (Electricaribe) has temporarily been taken over.
The Spanish firm said it had cooperated with Colombian authorities and would continue to do so. Electricaribe had suffered from "very heavy cash-flow volatility as a result of the non-payment of a large number of customer invoices in large part with mandatory supply," it noted.
According to the subsidiary's audited financial statements at end 3Q 2016, non-payments amounted to 4.05 trillion Colombian pesos (€1.26bn), on top of which Gas Natural said there was also "significant fraud in consumption." That contrasted with Electricaribe's own funds of just €581mn.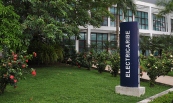 Electricaribe supplies over 2.5mn customers in the coastal area of Colombia and has a distribution network of 54,000 km; it is also an energy supplier (Photo credit: Electricaribe)
Spain's ABC newspaper said the takeover was ordered by Colombia's Superintendency of Public Utilities in order to safeguard power supplies.
Gas Natural asked for talks earlier this month with the Colombian government on a new framework whereby it could chase up unpaid bills. The Spanish company said it did not expect the temporary takeover to affect its own net result, cash flow, or current dividend policy.
Mark Smedley