PetroChina Surges up the Rankings
As major listed companies have all published their FY2019 results1 it is now possible to compare their gas production level2. Gazprom stays the undisputed leader with a 12% worldwide market share followed, this, year by PetroChina. And four partially state-owned Russian and Chinese companies are controlling 19% of worldwide gas production.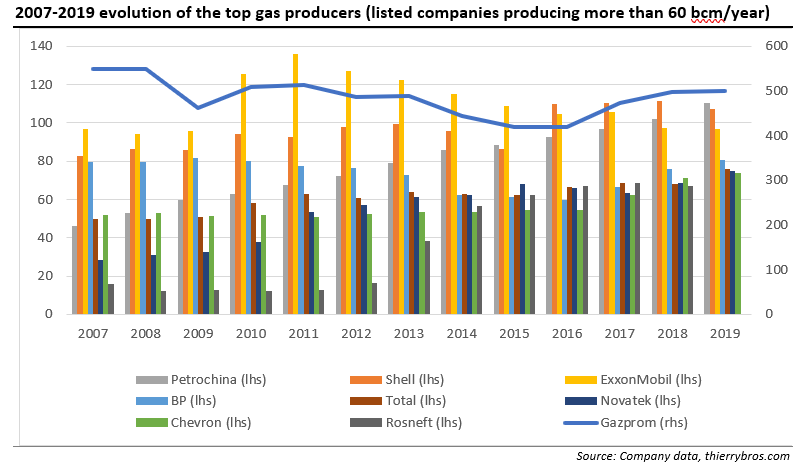 • As well as producing 500bn m³ of gas in 2019 3, Gazprom is the only company that invests in spare production capacity (estimated at 57bn m³ for 2019 by taking its maximum daily production and comparing it to its annual production). After trending down from 130bn m³ in 2016 to a low 50bn m³ in 2018, this number increased in 2019 with the commissioning of the Bovanenkovo field's third production facility in December 2018 and should continue to increase in 2020 with the Coronavirus demand destruction.
From 2019, owing to a global oversupply, Gazprom is not the only producer with de facto spare capacity. And this could affect 2020 ranking…
• PetroChina with its gas production focus, has overtaken respectively ExxonMobil in 2018 and Shell in 2019, to win its second position. With a 5.2% 2014-2019 organic compound annual growth rate (CAGR), PetroChina is way above Shell (2.3% thanks in part to the BG acquisition). PetroChina managed, in particular, to increase its domestic production by an astonishing 9.3%.
• With a 3.9% drop in gas production, Shell is moving back to its third position, where it was before the 2015 BG acquisition.
• ExxonMobil's gas production growth in 2010 was the consequence of buying the American shale gas producer XTO. But since this acquisition, production is trending down, leaving ExxonMobil in fourth place. As oil used to be much more profitable than gas, ExxonMobil stays more focused on oil and has not, as its European competitors have, shifted its focus to gas. Its 2014-2019 CAGR is – 3.4%.
• BP's revival [excluding its Rosneft share] post the 2010 Macondo disaster is still on-going with the highest 2014-2019 CAGR (5.4%).
• With the highest 2019 growth (+11.6% vs 2018), Total is leap-frogging from eigthh to sixth, thanks to its acquisition of Engie's LNG assets and new projects.
• With another 8.6% growth in gas production thanks to Yamal LNG ramp-up, Novatek stays in seventh.
• Chevron's growth (3.9%) is not enough to keep its position and therefore goes down from sixth to eighth.
• Rosneft, Equinor and Eni stay at the end of this ranking.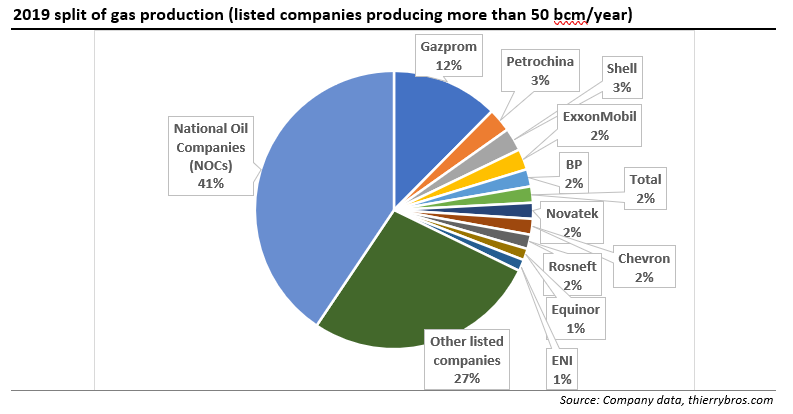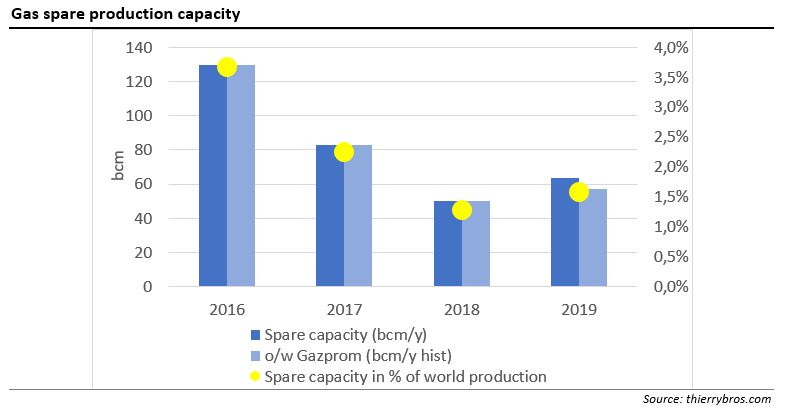 [1] PetroChina was the last one providing data: March 26, 2020
[2] Not all companies provide the exact same units for their reporting; the data here are as "raw" as possible vs those provided directly by the companies.
[3] In Russian bn m³ to keep in line with Gazprom's reporting.
[4] http://www.gazprom.com/press/news/2018/december/article469885/
Thierry Bros
28 March 2020
Advisory Board Member Natural Gas World