Chevron: leveraging existing strengths in the energy transition [LNG2023]
Chevron aims to leverage its existing strengths to provide lower carbon solutions, but also affordable and reliable energy to a world that needs more and more of that energy every day, John Kuehn, the US major's president of supply and trading, tells NGW.
"We're going to leverage our strengths to lower the carbon intensity of our existing value chains and traditional fuels," he says. "At the same time, we're also building new lower-carbon businesses. It's a two-pronged approach."
Advertisement:
The National Gas Company of Trinidad and Tobago Limited (NGC) NGC's HSSE strategy is reflective and supportive of the organisational vision to become a leader in the global energy business.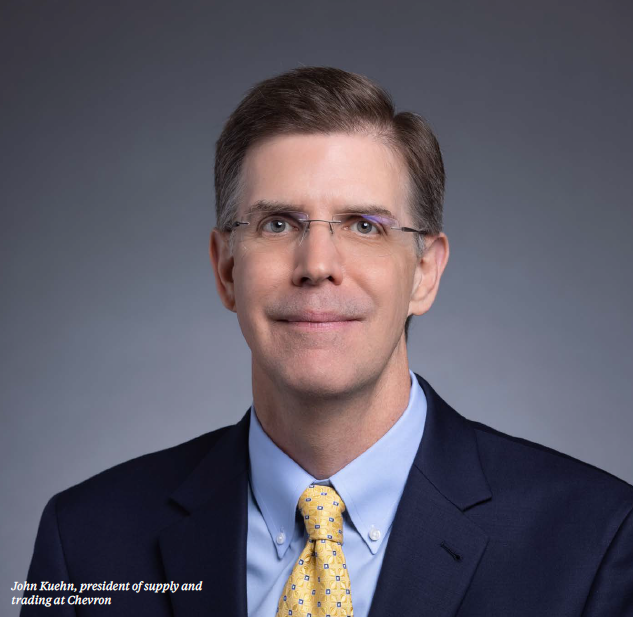 In 2021 the company established its Chevron New Energies unit, which is focused on "commercialisation opportunities in hydrogen, carbon capture, and offsets and support of ongoing growth in biofuels." During its second stage of development, the business aims to look at ways of scaling up these technologies.
Chevron is targeting 100,000 barrels/day of renewable fuels production by the end of this decade, and as part of this strategy, acquired market player Renewable Energy Group (REG) last year for $3bn.
The company will focus on delivering both higher returns and lower carbon energy as the energy transition progresses, Kuehn says, investing in businesses where it has a competitive advantage. Regarding renewable fuels, this advantage comes from Chevron capitalising on the value chains it has already developed for traditional fuels. When it comes to carbon capture and sequestration, Chevron will apply its existing geological expertise.
Kuehn believes natural gas will have a role both in the transition towards cleaner energy and to reach goals which advance a net-zero future.
"Energy systems have been evolving for hundreds of years, so we're always finding ourselves in energy transitions and this one is no different," he says. "Countries, people and stakeholders are looking for fuels that are affordable, reliable, and ever cleaner."
"Natural gas has long been a very affordable and reliable fuel, and it's one of the quickest ways to lower carbon intensity of the energy value chain, through switching from coal," he continues. "And if you start pairing up natural gas with some of the new technologies, such as carbon capture and hydrogen, you are firing on all cylinders."
Chevron is already a big LNG player in the Pacific basin, where it has supply projects in Australia. Last year it also announced long-term offtake deals with Cheniere Energy and Venture Global for a combined 4mn metric tons/year of LNG supply from the US Gulf Coast.
"We're evolving to become a global portfolio player," Kuehn says. "We do a lot of benchmarking versus our peers; we are looking at buyer surveys. We are looking for ways to always improve what we can offer to customers, to governments, to countries and stakeholders."
Chevron also gained a position in the East Mediterranean through its acquisition of Noble Energy in 2020 for $5bn. Through the deal it gained Noble's stake in the yet-to-be-developed Aphrodite field off Cyprus, which could supply gas for liquefaction.
The last two-to-three years have been a "wild ride" for the LNG market, amid turmoil created by the COVID-19 pandemic and the Russia-Ukraine conflict, Kuehn says.
"Stakeholders around the world have realised that what's required is a balance between affordable, reliable and ever cleaner energy," he says. Before the next wave of LNG comes in the latter half of this decade, the LNG market will likely remain tight.
How does Chevron seek to set itself apart from its peers? Kuehn says the company's focus is on optimisation of its systems and helping its customers do the same.
"What differentiates us from our peers is our customer focus and our focus on optimisation. We benchmark what the customers want and think about how we and our customers can be successful together," he says.
One keyway that Chevron is innovating in its business is by better assessing and reducing the greenhouse gas (GHG) intensity of its value chains. It is certifying an increasing amount of its US gas production as responsibly sourced. It also applies GHG reporting methodology to its LNG cargoes that it developed with Pavilion Energy and QatarEnergy.
"This helps increase transparency, increase customer stakeholder competence and allow investments to move faster with lower carbon initiatives," Kuehn says.
On LNG pricing, oil linkage will remain a major pricing mechanism as customers balance affordability and reliability and lower carbon options, he says. But increasingly, customers are eager to look at hybrid pricing, based on pricing indexes at platforms such as Henry Hub and TTF.
At LNG2023, Kuehn is looking forward to discussions about markets, energy security and lower carbon opportunities, and downstream infrastructure and applications.
"Vancouver is going to do a fantastic job hosting the event," he says. "Meeting together face-to-face has a real place in this industry – that's how relations get made and get cemented, and how business gets done."
This interview was originally published in the LNG2023 Daily, produced by NGW during the LNG2023 conference in Vancouver July 10-13.