Chariot Books 2016 Loss, But Advances Strategy
UK-based explorer Chariot Oil & Gas reported March 15 a net loss after tax of $5.64mn in 2016, only slightly down on its 2015 loss of $7.1mn, but said it built a solid portfolio of Atlantic margin prospects including a well to be drilled by Italy's Eni early 2018 and a gas prospect offshore Namibia.
The 2016 loss included a $5.2mn impairment charge, after it chose in June 2016 not to enter the first renewal phase of the C-19 licence in Mauritania.
CEO Larry Bottomley however emphasised the positive: "We have now achieved our zero-cost aspiration on one of our assets and look forward to the drilling of the giant JP-1 prospect in the coming year." This was achieved through the farm–out to Eni in the Rabat Deep block, offshore Morocco, which secured funding to drill the JP-1 prospect (768mn bbls gross mean prospective resources); the well is expected to spud in 1Q 2018.
The 40% equity farm-out was completed only in January this year, and took nine months to secure. Gas and liquids have been found offshore northwest Africa, although Morocco's deepwater remains thinly explored. Rabat Deep is now Eni-operated (40% interest); partnered by Woodside 25%, Chariot 10% and Moroccan state ONHDM 25%. Chariot also secured a 75% operating interest in another large Morocco block, Kenitra Offshore.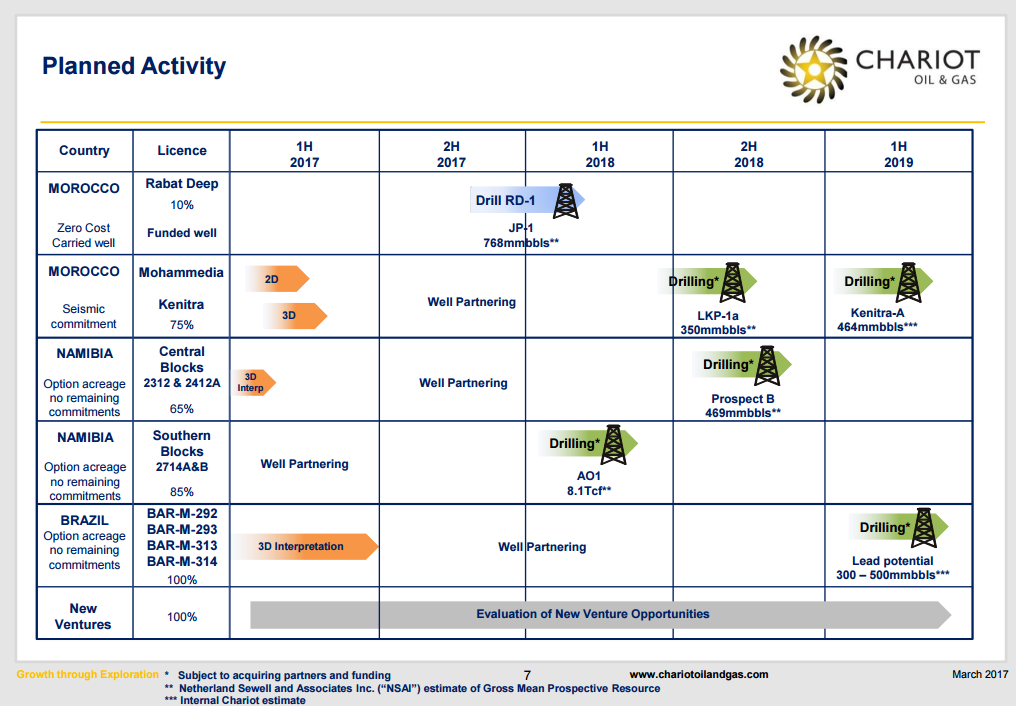 Chariot's planned activity from 2017 (Credit: Chariot's 15 March 2017 presentation)
Guernsey-incorporated Chariot last year undertook 3-D seismic programmes on its Namibia and Brazil (Barreirinhas basin) acreage in 2016, fulfilling its commitments there, at a cost of $15.3mn.
In Namibia, it reported a "material gas prospect AO1 with a gross mean prospective resource in excess of 8.1 trillion ft³ in its southern blocks offshore Namibia" following 2-D and 3-D analysis and an estimate by Netherland Sewell & Associates.
"Through our continued data acquisition and ongoing analysis we have built a drilling inventory with four giant priority prospects, each with follow on potential," said Bottomley. With the newly acquired acreage off Morocco, he said Chariot's aim is to be involved with three wells in the next two years.
Mark Smedley