Large-Scale CCS 'an Imaginary Solution': Engie
Carbon capture and storage (CCS) is not a mass-scale solution for slowing down the rate of emissions, Engie's head of gas, Didier Holleaux, told NGW late June. But it is a convenient, future technology for producers to talk about, in order to distract the public's attention from the present realities, he said.
Speaking on the sidelines of the World Gas Conference in Washington, DC, the French energy company's board member said that CCS might work in some places but not on the scale needed to meet the ambitions of the United Nations' Paris Agreement.
"Other companies who say that CCS is a part of the solution are lying through their teeth as they need to protect their licence to operate. They can say that CCS will come," he said, referring to oil majors who have talked about investing in the technology to export CCS from power plants into depleted offshore gasfields to be absorbed by the carbonate rock.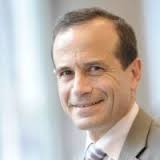 "And for the International Energy Agency, it is the missing link in their plans to reach the carbon target. The IEA needs something to plug the gap as they aim to limit global warming. But we must put that aside if we want to decarbonise quickly.
"As a mining engineer, I am not comfortable with injecting something as acidic as CO2 underground. There are exceptions such as gas fields that already have a high carbon dioxide content, such as K12B in the Netherlands where we reinjected CO2 for a dozen years. Those rocks had held CO2 for millions of years. Or it could work in enhanced oil recovery where the presence of oil lining the rocks protects them from the acid," he said.
"But putting acidic gas in rocks that have never contained it is a major issue but it is completely ignored. If you look at all the places where there has been hydrogen sulphide or carbon dioxide, you would be lucky if you could store 1% of the annual output of CO2 in them.
"So we do not believe that CCS is a mass-scale solution. It might have opportunities here and there but not on a big scale. It won't be accepted by the local population and it is too expensive to do it offshore."