Caspian Overview: China Eyes Growth in Azerbaijan
China has held negotiations with Azerbaijan's state oil company (Socar) over a $17bn downstream project twice in the last two months, this time leading to a memorandum of understanding.
China National Petroleum Corp (CNPC) has been involved in development of three Azerbaijani oil fields, Kursangi, Karabagli and Gobustan, based on production-sharing agreements (PSA) since 2002. It produces only around 200,000 metric tons/yr of oil and 8mn m³/yr of associated gas from these in total.
But the president of Socar, Rovnag Abdullaev, announced on May 31 that China's largest oil and gas producer and supplier CNPC was interested in participating in the Oil & Gas Processing and Petrochemical Complex (OGPPC) project.
He said after a meeting with the CNPC board member and deputy president Wang Shihong that CNPC is interested in taking part in a wide-range projects with Socar, without giving detailed information. The following day they signed an MoU on cooperation in upstream oil and gas and petrochemicals.
He had also said in March that a number of Chinese companies and Chinese Exim Bank had also shown interest in the OGPPC project.
Wang Shihong and Rovnag Abdullayev (Credit: Socar)
The giant project is aimed at processing 12bn m³/yr of gas, refining 8.6mn mt/yr of crude oil as well as producing 1.1mn mt/yr of petrochemical products. The first phase of OGPC should have started in 2015 and been completed in 2023, but Socar is still continuing negotiations with foreign companies to select a partner for the first phase of the project, which will cost $7bn.
Earlier, Abdullaev said that Japanese Mitsui's proposals to become involved in OGPC were not cost-effective and Socar rejected their proposals.
Abdullaev said in October that the front-end engineering and design stage was being finalized and that Azerbaijan would determine the project's investors by mid-2016. The MOU suggests that CNPC has won the project, which would represent a big expansion for CNPC on the western side of Caspian Sea.
CNPC is involved in dozens of up/down-stream projects in Kazakhstan, Turkmenistan and Uzbekistan, while it imports gas from all of these countries.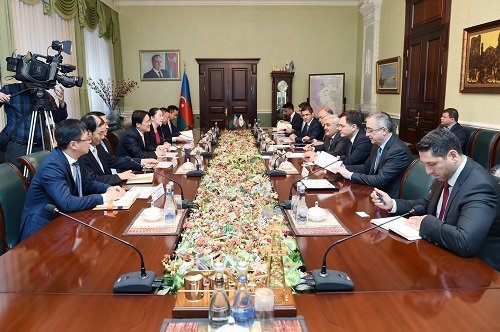 (credit: Socar)
Azerbaijan and Russia also are in talk over gas deal. Russia's gas giant Gazprom will hold talks with Azerbaijan on the possible Russian gas supplies in June, the deputy chairman of Gazprom Alexander Medvedev announced May 31.
Socar has asked Gazprom to deliver 3.5-5bn m³/yr of gas to Azerbaijan since the beginning of year, but the deal hasn't been finalized yet.
A source in Socar told NGE that there is a major disagreement over the gas price. He didn't unveil the price, but said that Socar wants a 10%-15% discount.
Armenia, Azerbaijan's neighbor could gain discount from Gazprom on May 31. Russia decreased gas price for Armenia from $165/'000 m³ to $150/'000 m³. In 2015, Gazprom supplied Armenia with 1.9bn m³ of gas.
In late September 2015, Azerbaijan's AzMeCo company started importing 5mn m³/d of gas from Gazprom at $160/'000 m³, but it stopped the deal after 22 days, owing to high prices. Before Gazprom, Socar delivered gas to AzMeCo at $128/'000 m³. Socar's available gas for sale is becoming less.
Azerbaijan desk