Canada's upstream seeks to define its ESG brand
Wines and cheeses enjoy protection from competition from cheap substitutes: labels identify their region of origin. Food that is organically reared is similarly marked as such to reward the farmer's extra costs.
Why can't this method be extended to energy products and specifically, natural gas and crude oil? Such a designation would go a long way to meeting consumer demands for low carbon fuels while articulating specific metrics to show it has been ethically and sustainably produced.
This is why Canadian industry leaders are working toward a designation based on environmental, social and governance (ESG) principles which would simultaneously allow consumers to make informed buying decisions while promoting the virtues of domestically sourced producers. Such a designation would also go a long way to dispel the established narrative – especially, but not limited, to oil sands – that Canadian energy is some of the dirtiest and most damaging to the planet.
Convincing consumers
Opening Natural Gas World's Canadian Gas Dialogues (CGD) webinar series in mid-September, private energy fund manager Mac Van Wielingen said it was important for the energy industry to reach out to what he termed "anonymous consumers" to build relationships.
Van Wielingen is a founder and partner of Calgary-based ARC Financial, a private capital firm devoted to investing in all aspects of the Canadian energy sector. He was previously chairman and CEO of ARC Resources, an affiliated upstream producer, and has advocated extensively for Canadian energy in Ottawa as well as provincial capitals such as Edmonton.
Van Wielingen said Canada has several environmental and social advantages that may be used to press the advantages of Canadian energy resources at home and abroad, as the country seeks out new export markets, especially for LNG.
Canada consistently ranks high on the United Nations' social development rankings for human rights, rule of law, worker safety and environmental protection – although the latter has been challenged by so-called dirty oil activists opposed to oil sands development. He agrees the oil sands in particular has tarred the whole Canadian energy industry with the same brush.
Defining ESG
What would a 'country of origin' label for natural gas look like, and what would it comprise, specifically with respect to energy? "These are things that aren't easily quantifiable", Van Wielingen said in a subsequent interview with NGW.
Although he supports the concept of a "Canadian brand", he said he's still not sure what that would entail or how it could be applied within a broader "green energy shift" and transition to lower carbon fuels as espoused by prime minister Justin Trudeau as the country recovers from the Covid-19 crisis.
Likewise, Bryan Cox, CEO of the Canadian LNG Alliance, agreed in a later CGD webinar examining ESG that the concept is "ill-defined" despite broad agreement that it is essential to moving forward. "How do we define ESG in a way that can be measured?"
The lack of a definition hasn't stopped Canadian producers and like-minded environmental groups from trying. Chris Severson-Baker, a regional director with the Alberta-based Pembina Institute, said his group has been approaching domestic as well as US oil and gas producers to sign up to an emerging clean energy standard which can help distinguish energy products in the marketplace.
In February, Calgary-based Seven Generations Energy and Quebec's main natural gas distributor, Energir, entered into a natural gas supply agreement governed by the EO100™ Standard for Responsible Energy Development. Globally, this is the first transaction executed under the EO100™ framework, which Severson-Baker said establishes a new standard for transparency across the value chain.
Developed by Energir as a means to provide a better understanding of the product it purchases and distributes in order to ultimately reduce its environmental foot-print, this natural gas procurement initiative aims to promote business partnerships with likeminded producers through public disclosure of relevant operational information and ESG best practices. Energir aims to have about a fifth of its system gas purchases dedicated to this initiative in the first year.
Severson-Baker said Pembina hopes to have at least four other Canadian and US producers signed on by the end of 2020.
The initiative is also significant for Pembina, which has been a frequent critic of federal and provincial environmental policies and presents a more pragmatic, non-confrontational approach on the part of environmental activist groups.
Seven Generations has also proven to be an industry leader with respect to partnerships with Canada's indigenous community – its name refers to an ancient Iroquois principle which holds that decisions made today should result in a sustainable world seven generations into the future.
Severson-Baker said the partnership acknowledges that Canada is making progress on emissions while "embracing ESG and climate leadership".
LNG Canada, the 14mn mt/yr export terminal now under construction on BC's northern coast, embraces the same principles as well as the co-operation with indigenous communities espoused by Seven Generations.
Susannah Pierce, LNG Canada's director of corporate affairs, said the project has pumped more than C$2.2bn (US$1.6bn) into native-owned companies and communities as part of a broader reconciliation effort to distribute the economic and social benefits evenly.
First Nations support is increasingly important for any new energy project in Canada given the Supreme Court's recent rulings on native consultation.
But many critics of the Canadian industry – especially those involved in First Nations issue – are of the mind that any effort on the part of producers or their supporters to bring strong ESG principles, including reconciliation, to the table, are merely paying lip service to those ideals: they talk the talk, but they don't walk the walk.
Despite the seeming show of unity surrounding Canada's ESG record, ESG panel members expressed wide-ranging consternation with government policies they say unfairly discriminate against the energy industry and make it more difficult to meet environmental goals.
Unfortunately, Canada's fractured federation and fragile national unity pits energy producing regions in the western provinces of Alberta, BC and Saskatchewan against the major population centres and consuming regions of Ontario and Quebec. Reducing emissions is often seen as an all-or-nothing proposition which will ultimately result in discriminatory policies against the western regions – such as carbon taxes and clean fuel standards – for purely political reasons.
Resources not a priority
Van Wielingen in particular said he has spoken directly with Trudeau and his key advisors about those concerns but has come away frustrated by their response. He wants another 'E' tacked onto 'ESG' to represent "economics" to emphasise the business case for environmental best practices, but the power base in Ottawa has so far been unimpressed by his arguments.
"I don't think I'll ever be invited back to the PMO (Prime Minister's Office)", he quipped. "Ultimately it becomes a political question. Governments need to say, 'don't be afraid to say we're pro-business and pro-investment'".
A Speech from the Throne on September 23 to reopen parliament did little to assuage those concerns. Although it said incentives were coming for manufacturing electric vehicles in Ontario, it failed to mention the western Canadian energy industry even once in more than 7,000 words of copy read aloud by governor general Julie Payette.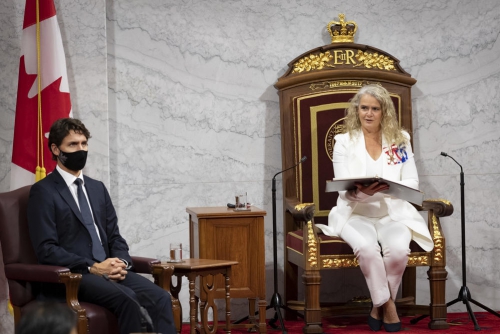 On the flip side, it also failed to provide any mention of a proposed C$100bn green shift – Canada's equivalent of the US Green New Deal and the EU's Green Deal – which would impose harsh new caps on emissions that would ultimately decimate the fossil fuel industry.
Van Wielingen agreed that any such restructuring of the Canadian economy is impossible without the participation and co-operation of energy producers, especially as the country recovers from Covid-19.
He also spoke of "materiality" given that climate change is a global problem. While slashing Canada's emissions to net zero by 2050 is a worthy goal, he said it would have little impact on global emissions as a whole.
Instead, he argued the federal government should be working to increase exports of cleaner Canadian natural gas to other countries – particularly China – to displace coal-fired power generation. Likewise, exports of Canadian technology would go further towards materially reducing emissions on a global scale.
But impressing that global need on the minds of the Canadian public is a matter of cutting through the misinformation and half-truths spread by social media and aimed at dividing opinion.
Michael Cleland, chair of Positive Energy and director of the University of Ottawa's Institute for Science, Society and Policy, said overcoming the polarisation between "the shouting classes" of environmental activists, who dominate the debate, policy makers, energy producers and consumers – who will eventually foot the bill for any green shift – will be key to restoring confidence in Canada's regulatory systems and meeting climate change goals.
"How does ESG contribute to workable policy decisions? We've been waiting 20 years for a Canadian energy and climate policy…ad hoc solutions aren't working".