Canada's Coastal GasLink Names Prime Contractor
Canada's Coastal GasLink (CGL), tasked with building the C$6.6bn (US$4.9bn) pipeline that will feed LNG Canada's 14mn mt/yr liquefaction terminal, said June 16 it has named Aecon Group as its prime facilities contractor.
Aecon will lead construction of compressor and metering stations that will be the anchor points for the 670-km pipeline, which stretches from near Dawson Creek, in northeast BC, to Kitimat, on BC's northern coast.
"We are pleased to welcome Aecon to our high-quality team of prime contractors that's been assembled to safely and effectively deliver this world class project," CGL president David Pfeiffer said.
Aecon's first task will be to complete the Wilde Lake compressor station, at the start of the CGL conduit, and the Kitimat meter station, at the pipeline's terminus.
Construction work at Wilde Lake will begin in July as part of CGL's 2020 summer work programme that will see employment along the right-of-way ramp up to an estimated peak of 2,500 workers in September.
Work over the coming weeks will focus on environmental monitoring and field work, grading and grubbing along the right-of-way and completion of workforce accommodations. Pipe deliveries are ongoing at staging points (banner image, courtesy CGL) along the route, with some stringing and pipe assembly possible as early as July – although the project's first in-field welds took place near Kitimat earlier this month.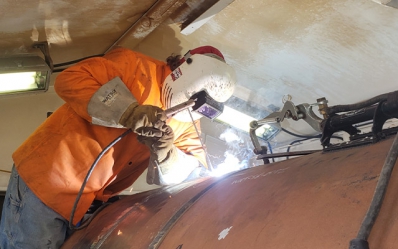 As construction ramps up, Coastal GasLink is implementing enhanced project-wide health and safety standards at all worksites and workforce accommodations, designed in accordance with provincial health guidelines and with ongoing collaboration with northern BC health agencies and communities.