Canada's cleantech builds on gas [NGW Magazine]
As global energy and environment ministers opened the 10th Clean Energy Ministerial (CEM-10) in Vancouver late May, the International Energy Agency (IEA) released a report chastising the cleantech sector for not keeping pace with long-term goals.
In a May 27 update to its Tracking Clean Energy Progress (TCEP) report, the Paris-based agency said only seven of the 45 technologies tracked by TCEP are aligned with its sustainable development scenario, a pathway it says can help reach the goals of the Paris Agreement on climate change, deliver universal energy access and significantly reduce air pollution.
In March, the IEA said energy-related CO2 emissions rose 1.7% in 2018, to an all-time high of 33bn metric tons.
Some clean energy technologies – energy storage, electric vehicle sales and solar photo voltaics – remain on track, although solar PV did level off in 2018, the IEA said. But others, including technologies to mitigate flaring and methane emissions in the upstream oil and gas sector and to help the buildings sector reduce emissions, were lagging.
"Given the urgency and scale of actions needed for clean energy transitions around the world, this year's TCEP features much greater emphasis on recommended actions for governments, industry and other key actors in the global energy system," the IEA said. "The analysis also includes in-depth analysis on how to address more than 100 key innovation gaps across all sectors and technologies."
At CEM-10, while ministers were discussing policy actions, the cleantech sector was showcasing what it has available now to push global greenhouse gas (GHG) emissions lower. Included among the more than 100 exhibitors at the Innovation Showcase was the Canadian Gas Association (CGA) and some of its member utilities as well as some of the cleantech providers funded under the CGA's Natural Gas Innovation Fund (NGIF).
"Canadian natural gas distribution companies have a long history of driving energy efficiency and clean technology innovation, all while maintaining an extraordinary affordability advantage for our customers," CGA CEO Timothy Egan said. "We are proud to have the opportunity to showcase our leadership across the country and across the value chain and how we can support clean growth in Canada and abroad."
Funding the future
The NGIF, established by the CGA and five of its natural gas distribution utility members in 2016 to advance clean energy technologies in the utility sector, has since expanded into the upstream, with the addition in December 2018 of seven producer partners. Those producers contributed a total of C$3mn ($2.2mn) in funding commitments to help the NGIF source and support cleantech developments targeted specifically to the upstream natural gas sector.
"Our vision is to position Canada, which is already a leader in the responsible and economic production of natural gas, as even more competitive and to become a global leader in innovation across the natural gas value chain," NGIV managing director John Adams said in a presentation at the CGA's 'Cleantech for Canada's Natural Gas Pavilion' at CEM-10. "We are advancing what we think are the most promising cleantech innovations and supporting them to see their projects through to commercialisation."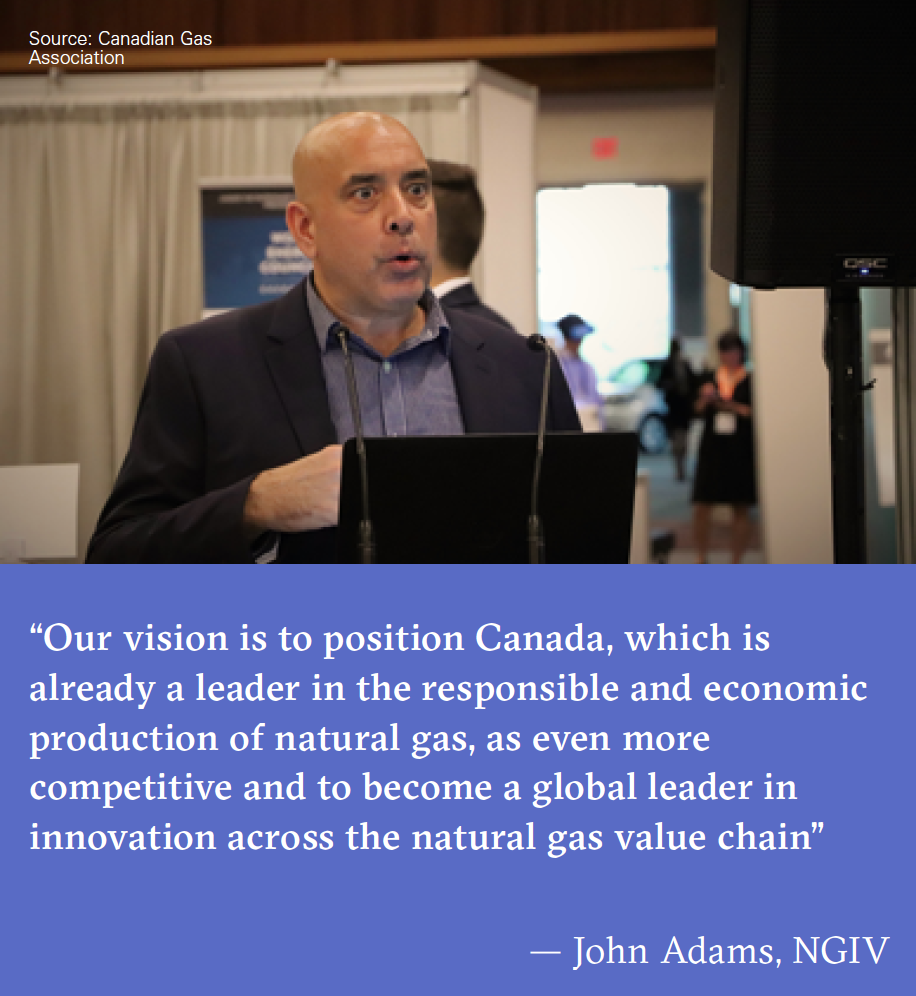 Since the NGIF was established, Adams said, it has completed five funding calls in which the fund and its utility partners and various government co-funders have looked at 193 investor decks. Funding from the NGIF in the form of non-dilutive reimbursable grants amounting to $8.9mn has been approved for 44 projects from 13 active companies.
A handful of those companies participated at CEM-10 with the CGA, including NextGrid, which is developing a micro combined heat and power (CHP) unit fueled by natural gas for the residential market, and iGEN Technologies, which is developing a hybrid smart furnace (HSF) that uses natural gas to generate both heat and electricity in a residential setting.
Leveraging the NGIF contribution to a project – which can account for a third of eligible expenses to a maximum of $1mn – is important, Adams said, because many of the funding proposals he looks at require far more help than the NGIF alone can provide.
"We don't do this alone," he said. "It takes a long time to de-risk a technology; we have trusted partners that also have non-dilutive funds available, as we have, and we co-fund projects together."
At the provincial level, the NGIF's co-funding partners include Emissions Reductions Alberta and Alberta Innovates, the Ontario Centres of Excellence, BC's Innovative Clean Energy (ICE) Fund and Saskatchewan Innovation. Federally, Natural Resources Canada is a partner, as is the National Research Council of Canada.
Three funding calls are underway, Adams said. In the upstream sector, and flowing from the addition of the seven producer partners late last year, 11 semi-finalists in a C$3mn call that closed earlier this year were announced by Adams at the Global Petroleum Show in Calgary on June 12.
The semi-finalists include Linear Motion Technologies, RadMax Technologies (two projects) and Winterhawk Well Abandonment, who are all pursuing methane mitigation technologies; GHGSat and Luxmux Technology, who are looking to advance emission monitoring and quantification technologies; Belton Energy Services, Saltworks Technologies, Turkana and FalconX, who are pursuing new technologies related to sustainable production and water management; Distributed Gas Solutions Canada, which is developing wellhead micro-LNG technology; and Marnoch Thermal Power, which is developing heat to power generation using stranded gas assets.
RadMax is receiving consideration for a second project in the energy efficiency space.
Adams also announced six semi-finalists in a C$1mn funding call targeting clean technologies and efficiency improvements in residential and small commercial applications.
Those semi-finalists include EnviroPower, Thermolift, demonstrating heat and power generation technologies; MA Procense, which is developing carbon capture technologies; Innovative Fuel Systems and Hiller Truck Tech, who are developing clean transportation options; and Feed Engineering, which is developing a highly-efficient waste heat recovery system for gas-fired power generators.
And submissions closed June 17 for a C$1.5mn funding call to advance cleantech solutions in three strategic focus areas – energy efficiency, renewable gases (including renewable natural gas and hydrogen), and carbon capture – for natural gas distribution and end use industry in Canada.
At the GPS conference, the CEO of producer Perpetual Energy, Sue Riddell Rose, said the goal of zero emissions from natural gas is "a very real possibility. We are actually very close to that goal." Other executives, including Nicole Deyell, vice president, development at Petronas Canada and Mike Rose, CEO of producer Tourmaline Oil, said NGIF is a critical component of the innovation process needed to get natural gas to zero emissions.
The latest funding calls from NGIF, Adams said, are addressing many of the areas cited as falling short of expectations by the IEA: methane emissions and other GHG reduction measures in the upstream and carbon capture for the natural gas distribution and end-use sectors.
"Methane is a hot topic lately, with federal and provincial regulations coming by 2025, so we're particularly interested in clean technologies that could help industry become compliant with those coming regulations," he told NGW on the sidelines of CEM-10.
Cleantech now
The NGIF is supporting clean technologies in the natural gas sector that have yet to reach commercialisation, but the CGA and its members are also actively putting cleantech to work today, with a significant presence in the renewable natural gas (RNG) development space.
In 2014, the CGA released a renewable natural gas technology roadmap aimed at charting a course to take advantage of Canada's RNG potential, estimated in 2013 at some 1,200bn ft³/year – about 36% of Canada's 2017 natural gas demand.
Today, CGA member utilities are developing RNG opportunities in BC, Ontario and Quebec and are collectively working towards a target of 10% RNG in natural gas distribution systems by 2030. This volume could fuel 3.1mn homes each year and reduce GHG emissions by some 14mn mt/year – the equivalent of taking 3mn cars of Canadian roads each year.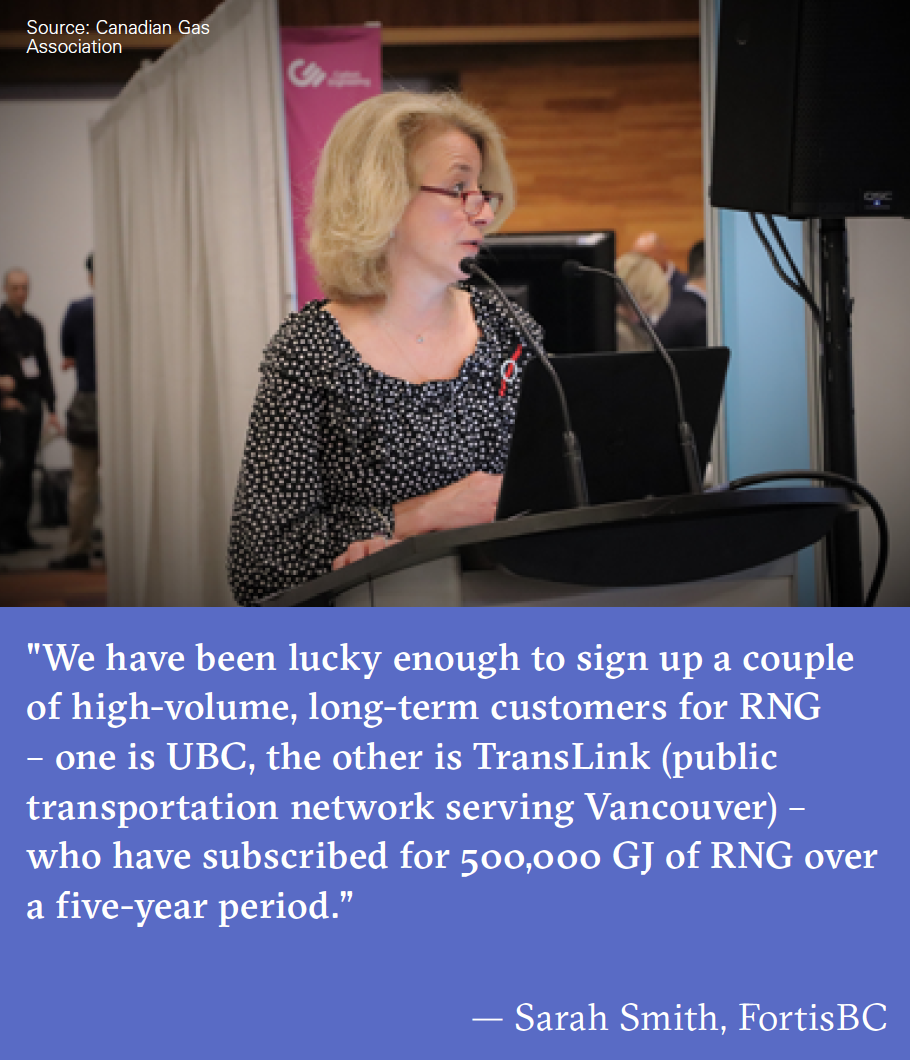 BC is a leading proponent of RNG, and CGA member FortisBC is at the forefront in that province, with five projects approved and one more awaiting approval from the BC Utilities Commission (BCUC), which regulates the province's natural gas distribution system. And it has a customer-facing voluntary subscription program with 10,000 customers who have chosen to take at least a portion – ranging from 5% to 100% – of their daily gas needs as renewable content.
"Those customers pay an incremental price for renewable gas, which ranges up to about $7/GJ at 100% renewable gas," Sarah Smith, FortisBC's director, natural gas transportation and renewable natural gas, said in a presentation at CGA's pavilion. "We have been lucky enough to sign up a couple of high-volume, long-term customers for RNG – one is UBC, the other is TransLink (public transportation network serving Vancouver) – who have subscribed for 500,000 GJ of RNG over a five-year period."
With demand for RNG growing, FortisBC is actively developing new supply sources, Smith said.
"Right now, we are working towards about 7 PJ of total RNG supply, but we are going to be looking for more," she said, noting that the province's CleanBC policy earlier this year included a call for 15% RNG in the province's distribution system, which would represent about 30 Pj of RNG.
That would be some distance from where FortisBC began with RNG in 2010, when the BCUC approved a maximum 0.25 Pj in its distribution system. That was elevated in 2017 when BC introduced greenhouse gas regulations which, among other measures, enabled FortisBC to incorporate up to 5% of its throughput – or 9 PJ – as RNG. And it allowed the utility to add the difference between RNG costs and conventional gas costs to its rate base, effectively spreading the higher RNG costs to all its customers.
And it's also some distance from where FortisBC is on RNG supply. Five projects – two agriculture and three landfill – are supplying about 295,000 GJ/yr of RNG – well short of the 30 PJ targeted by the provincial policy.
To bridge the gap, FortisBC issued a request for expressions of interest in July 2018 for new supply proposals. A total of 33 proposals were filed, representing about 6 PJ of supply, and from those, 24 are still under evaluation, representing about 4.4 PJ of supply, Smith said.
A majority of the proposals, she said, came from out-of-province, and the first of those is before the BCUC, with a decision expected soon.