KrisEnergy's Cambodia Oil Project 'Could Pave Way for Gas'
The Cambodian government and KrisEnergy have signed a fiscal and technical agreements for the south east Asian nation's first oil field development in Cambodia Block A in the Gulf of Thailand.
KrisEnergy, the Singapore-listed operator of the Cambodia Block A since 2014, said August 23 it plans to develop the Apsara area in the north eastern section of the concession, which is one of seven geological trends in the licence where there is potential for oil and/or gas to be trapped.
Under the terms of the agreements, KrisEnergy has 60 days to declare a final investment decision thereby signalling the formal launch of the Apsara project, which is expected to take up to 24 months to produce first oil.
A 5% stake in Cambodia Block A will be retained by the government of Cambodia while KrisEnergy holds the remaining 95% participating interest.
The agreements also trigger the second relinquishment phase of the concession, whereby 25% of the block area is returned to the authorities leaving 3,083 km2 under KrisEnergy's operatorship.
Cambodia's secretary of state for economy and finance Chou Vichet said that after two decades of economic growth: "We are starting to develop a new oil and gas sector that will help increasing state revenues and job creation that will contribute to boosting our Cambodian economy further. We congratulate KrisEnergy for its efforts and dedication to make the oil and gas development project in Cambodia Block A a reality."
However consultancy Wood Mackenzie's Asia upstream analyst Jean-Baptiste Berchoteau said: "KrisEnergy will benefit more attractive fiscal terms than the default Cambodian terms notably in terms of income tax, tax holidays and export duty [so] it is premature to say whether or not this agreement could attract more upstream investment into Cambodia."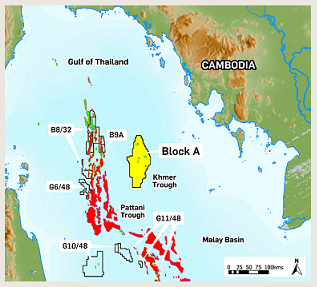 Map showing Block A offshore Cambodia (Credit: KrisEnergy)
Besides Cambodia block A, KrisEnergy participates in five oil and/or gas contract areas in the Thai sector of the Gulf of Thailand: G6/48 containing the Rossukon oil development (as operator); G10/48 containing the producing Wassana oil field and the Wassana satellite oil development (operator); G11/48 containing the producing Nong Yao oil field (non-operator); B8/32 & B9A, a multi-field oil and gas producing complex (non-operator).
Shardul Sharma