Cairn Hones Senegal, Acquires New Atlantic Acreage
UK independent Cairn Energy foresees producing first oil from Senegal in 2021-2023, expects first oil this year from two UK North Sea projects and has expanded its Atlantic acreage offshore Ireland with two new farm-ins there announced March 8.
Cairn reported a smaller net loss of $95mn last year ($516mn loss in 2015) including unsuccessful well costs of $70mn chiefly in Mauritania and Norway's Barents Sea (down from 2015: $97mn). CEO Simon Thomson said: "Cairn continues to deliver positive progress across its balanced portfolio... against a backdrop of increased financial flexibility" with net cash at end-2016 of $335mn.
Offshore Senegal where it announced its positive SNE-5 well result on March 7, Cairn said it expects to choose a development concept this year and from 2018 onwards with partners to submit the Exploitation Plan and proceed to a final investment decision, with first oil expected in 2021-2023.
Woodside's entry to the Senegal venture "brings extensive experience in developing and operating floating production, storage and offloading (FPSO) facilities," argued Cairn; its Australian junior partner FAR though has contested the way in which ConocoPhillips sold its Senegal stake to Woodside.
In the UK, Cairn's 20% and 29.5% stakes respectively in North Sea Catcher and Kraken developments are "on track for first oil from 2017" with peak net production to Cairn of some 25,000 boe/d.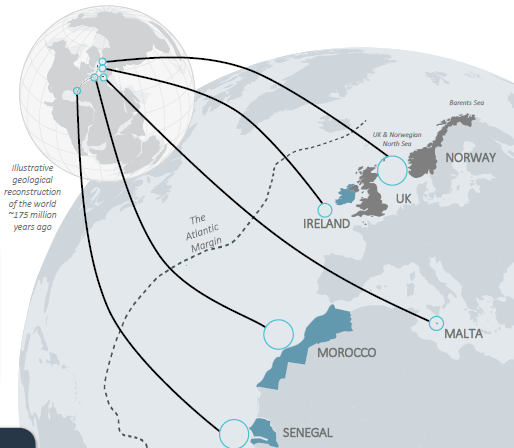 Cairn's frontier prospects lie on what 175mn years ago was the dividing line between continents (Map credit: Cairn Energy presentation, March 8 2017)
Off Western Sahara, with Kosmos as operator, Cairn expects to start 3D seismic acquisition this year in Boujdour Maritime. Norway's Oil Fund divested from both firms mid-2016 as it considers Moroccan annexation of Western Sahara as illegal. Kosmos has proven significant gas off nearby Mauritania.
Farm into two Irish Atlantic blocks
Off Ireland's Atlantic coast, Cairn secured one licence as operator last year and March 8 announced an additional farm-in (with operatorship and 70% interest) to Europa Oil & Gas's adjacent block, with plans for 3D seismic there in 2017. Cairn will fully fund up to $6mn of Europa's work programme,
Also March 8, Cairn became a 30% partner in a Providence Resources-operated FEL 2/14 block in the southern Porcupine basin off southwest Ireland, where one firm well is planned this year. In return for its stake, Cairn will pay 45% of costs of drilling 53/6-A well there in June 2017, subject to a gross well cap of $42mn. The block lies in 2,250 meters water depth. Cairn will also pay $2.82mn to Providence and partner Sosina, that being 30% of their sunk costs to mid-2016. If the trio agree to a subsequent appraisal well, Cairn will drill for 40% of its costs up to a gross cost of $42mn. The new equity stake in FEL 2/14, subject to Irish government approval of the farm-in, will be operator Providence 56%, Cairn 30% and Sosina 14%.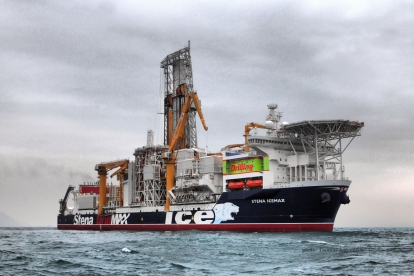 Stena ICEMax will drill the mid-2017 exploration well for Providence Resources off southwest Ireland (Photo credit: Sosina/Thomas Aanundsen)
Mark Smedley