BW Offshore Farms into Namibia's Kudu
In a surprise move, Singapore-based BW Offshore, a leading floating production shipbuilder and operator, has agreed to farm into the Kudu gasfield offshore Namibia as its majority stakeholder.
When UK independent Tullow and its Japanese partner Itochu relinquished their interests in the Kudu offshore licence in 2015, they said the gas field was uneconomic to develop; since then Namibian state upstream firm Namcor had found no alternative investor.
However BW, which is also Oslo-listed, said February 7 its subsidiary BW Kudu has entered into a farm-in agreement for a 56% stake in the Kudu offshore license. Namcor will retain 44%; for the past two years it has held 100%.
BW Kudu will pay for past costs upon transfer of the field interest to the company. It said final investment decision (FID) is planned for 4Q 2017.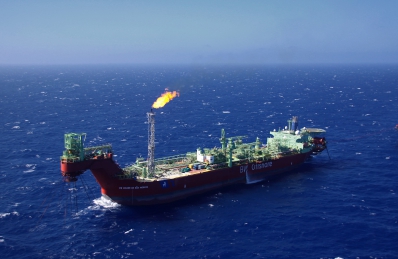 One of BW's floating production ships, BW Cidade de Sao Vicente, is on charter to Petrobras offshore Brazil until 2019 (Photo credit: BW Offshore)
"BW Offshore will now start the work with the Namibian government, Namcor, NamPower (the Namibian power utility), large infrastructure investors and other stakeholders to get this very exciting project to FID," said BW Offshore CEO Carl Arnet.
Chevron discovered the Kudu field 170 km offshore Namibia in 1974, and seven appraisal wells have been drilled since then by various companies including Shell, and Tullow (at one stage partnered by Gazprom).
BW said the Kudu gas-to-power project calls for gas to be produced by a floating production unit before being exported by pipeline to a new 885-MW power plant onshore Namibia. It noted that the Kudu field has 2C contingent resources of 1.33 trillion ft³ (37.7bn m³).
"Kudu represents another opportunity for BW Offshore to take a proactive development role in a project that will produce for 15 to 25 years. Falling development costs after the 2014 drop in oil prices has helped in making the project economically feasible. Electricity generated by the power station will reshape electricity supply in south-western Africa, providing a secure long-term supply to support the development of Namibia and potentially neighboring countries," added Arnet.
The claim that Kudu will now be economically feasible will be scrutinised, as the gas-to-power project has been on the table for a decade now, in both low and high cost operating periods.
Namcor managing director Immanuel Mulunga said: "The Kudu gas-to-power project is a key strategic power generation project for Namibia, which will significantly reduce reliance on imported power while at the same time accelerating economic development." He said it would not only enable Namibia to entirely cater for its own power needs, but also become a net exporter of power to regional markets.
No project costs were given in the BW statement. Nor did it say if a newbuild or existing production ship would be deployed, if FID is taken later this year on Kudu.
Mark Smedley