Bulgaria and Iran hope to Expand Energy Cooperation
Bulgaria's energy minister Temenuzhka Petkova discussed opportunities for deepening bilateral cooperation in the energy sector, particularly in the field of natural gas with her Iranian counterpart Bijan Namdar Zangeneh in Tehran, the ministry said in a statement.
Iran is working on a list of priority projects for the next four years, including building export terminals to export liquefied natural gas from the Persian Gulf.
"Minister Zangeneh underlined that Iran considers Bulgaria as its close partner, which could be the gateway for Iranian energy resources to European markets. He stressed that Iran's natural gas reserves in the Persian Gulf are among the biggest in the world," the statement said.
Petkova updated her Iranian counterpart on a priority of the government ֪– the diversification of energy sources and supply routes for Bulgaria and southeast Europe.
One of the possible routes for the supply of Iranian natural gas to Bulgaria could be an LNG import terminal at Alexandroupolis and the gas interconnector Greece-Bulgaria (IGB).
Bulgaria plans to participate in the Alexandroupolis LNG project, establishing a joint venture with Greece. "We expect that by the end of October to have clarity on technical, financial and legal aspects of the project," Petkova said in a statement.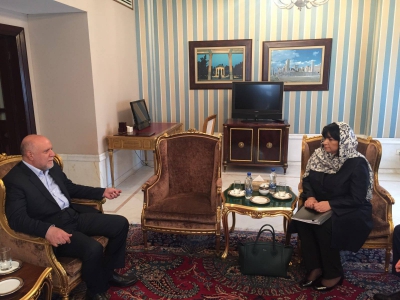 Iran's oil minister Bijan Namdar Zangeneh and Bulgarian energy minister Temenuzhka Petkova (Credit: energy ministry of Bulgaria)
"Energy was one of the major issues on which we can cooperate with our partners from Iran," Petkova said, Focus agency reported. "…Speaking of the construction of the LNG terminal in Alexandroupolis, there are many clear preconditions for the possibility to deliver natural gas from Iran in about 3-4 years," the minister explained.
Petkova invited Zangeneh to visit Bulgaria to see the capabilities of the modernized Bulgarian gas transmission network, according to ministry statement. It is expected that over the next few months a joint Bulgaria-Iran energy committee as well as a joint working group on natural gas will resume activity.
The meeting between energy ministers was part of an official visit by Bulgaria's prime minister, Boyko Borisov, to Iran. Separately, Borisov announced that Bulgaria and Iran would explore a transport corridor project that would link Bulgaria and Iran through Armenia and Georgia that could carry gas.
A new transport corridor between the Gulf and the Black Sea, linking Iran, Armenia, Georgia and Bulgaria will be discussed during forthcoming expert meeting in Sofia, according to a prime minister office statement.
"We built a highway Trakia and Maritsa speed railway lines... I said that today we can accept through our ports and across Europe such transport corridor, making it look not only for freight but gas transmission," said Borisov. Cooperation in nuclear energy sector is also under discussion.
However analysts consider Turkey the easiest option for delivering Iranian gas to Bulgaria. Mikhail Korchemkin, owner of consultancy East European Gas Analysis, told NGE that Iran can quickly increase gas exports by adding loops to the existing pipeline to Turkey. "Other loops could expand the capacity of gas pipeline that runs across Turkey. It would be enough to supply at least 50% of Bulgarian market," he said.
According to Korchemkin, Bulgaria will be able import Iranian gas via the virtual reverse flow scheme – taking gas from the transit flow and replacing it by matching volumes of Iranian gas at the border of Turkey and Iran.
Earlier this week Iran's ambassador to Bulgaria Abdollah Norouzi expressed the similar ideas with his interview for Bulgaria's Evropa TV. He said that the Iranian business in general was interested in investing in Bulgaria's energy sector, including oil and gas export and oil refinery in Bulgaria.
"We have to see how much the Bulgarian side is ready for this. Having in mind that our gas network is quite developed and we have pipes leading to the border with Turkey, certain agreements for cooperation have to be signed," he said.
Iran has a spare capacity in the pipeline that delivers gas to Turkey, the nation's energy ministry said.
Kama Mustafayeva