British Power Grid On Supply Alert
Britain's available power generation might be insufficient to meet demand, creating the risk of supply cuts in the first week of November, analysts said, as power prices rose. Power transmission grid operator National Grid issued its most urgent market notices November 2, warning of a narrow margin between demand and supply between 16.30 and 18.30 GMT November 3, with reports in the press that it has contacted coal-fired power generators to warm up their plants in readiness.
In a tweet November 3, National Grid said: "The tight margins on the electricity system are the result of a number of factors including the weather, demand for electricity and the availability of generators." This does not mean that power cuts are imminent though, merely that the safety margin is thinner than desired.
Other contributing factors might be the nation watching the US elections, and the need to make the most of things before the imposition of lock-down measures for a month from November 5.
Energy trader Hartree Solutions said November 3: "Yesterday the Irish auctions out turned at a premium to the UK and so will be scheduling full exports to Ireland whilst the remaining UK interconnectors are scheduled to import. The wind forecast has evolved slightly and now show that tomorrow (November 5) will be the absolute low in wind generation this week extending the tightness across both today and tomorrow."
Hartree said November 2 that it was expecting "robust peak demand during the winter Covid restrictions. This is a stark contrast to the effects we saw during the summer." Then, prices plunged on low demand, with prices in the negative, meaning payments were made to use electricity for some of the day. The UK grid works in half-hourly slots, unlike gas which is balanced against demand on a daily basis.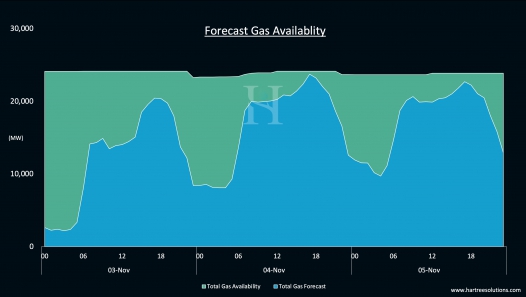 Source: Hartree Solutions, forecast from October 31